Billy Bragg and Frank Turner: Two ages of protest – or how musicians can bridge the social divide
Adam Sherwin meets the singer-songwriters from different generations and backgrounds who have come together for a lunchtime busk to campaign against homelessness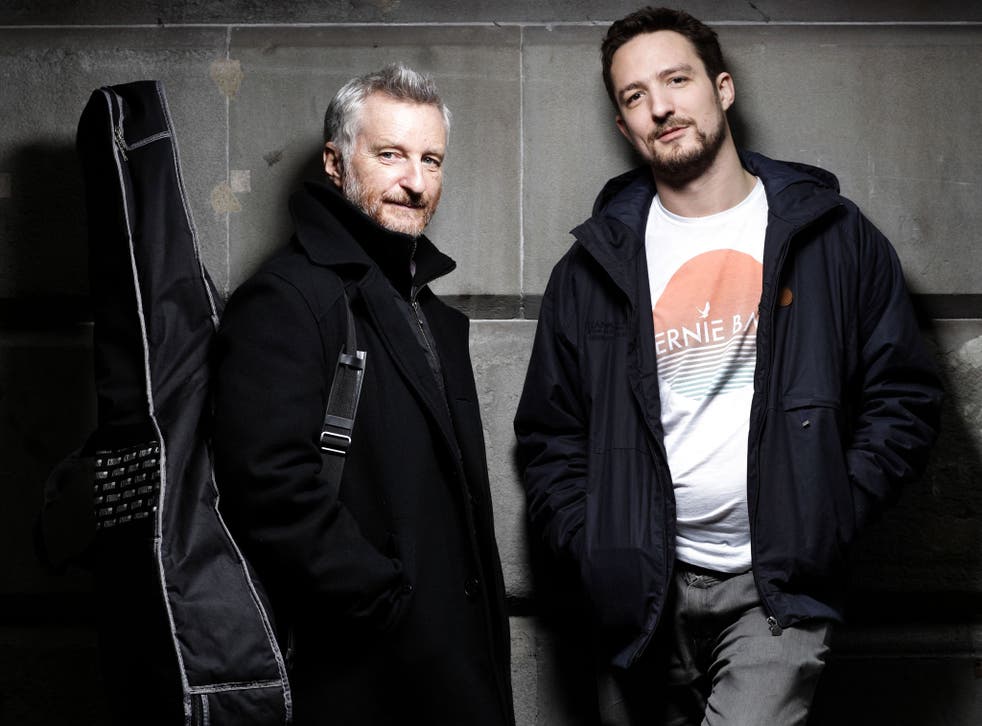 "Singer-songwriters can't change the world and that's a shame," laments Billy Bragg, the veteran purveyor of protest songs. "But that doesn't mean we have to live in James Blunt's world either." This dig at the expense of one of pop's blander exponents sends Bragg's friend and strumming soulmate Frank Turner into paroxysms of laughter.
Bragg and Turner make an unlikely duo. The former is the 55-year-old patron saint of leftist causes whose political blooding occurred during the miners' strike of the 1980s; the latter is Eton-educated, 24 years Bragg's junior and a rather different kind of anti-authoritarian. Turner has inherited Bragg's folk-punk mantle, adapting the tradition in a way that appeals to teenagers more interested in stage-diving than waving placards. Now the two musicians have come together for a street-busk and concert this week, both events in aid of Shelter, the homelessness charity.
The pair are in an office at Sony/ATV, Bragg's publisher, where they run through likely songs for the lunchtime busk, to take place near King's Cross on Tuesday. "Do you know 'The Drugs Don't Work'?," Bragg asks Turner. "That's really easy to play." Turner proposes "Wild Horses" by the Rolling Stones. "Everyone can sing the chorus but they don't remember the verses." Bragg teases Turner over his appearance in Celebrity Mastermind to be shown in the new year – specialist subject Iron Maiden. Turner chides Bragg for getting the verses to "The Times They Are a-Changin'" wrong when they sang the Dylan classic at Turner's sold-out Wembley Arena show in 2012.
There's a bond between the pair which belies their contrasting backgrounds and philosophies. In 2012 Bragg, the "bard of the Barking", was protective towards his friend when an attempt by the Winchester-raised singer to explain his political leanings – a sympathy for anti-authoritarian libertarianism – was misinterpreted as Thatcherism. "If you're making the kind of music Frank and I make and you play the kind of gigs we do, there's bound to be an overlap of issues," said Bragg. "You come together on issues like the homeless, and playing together makes it a special event for Shelter."
The musicians say they were shocked to learn that 80,000 children will wake up on Christmas morning homeless and in temporary accommodation, according to government figures. The number of families in emergency bed and breakfast housing stands at a 10-year high and a Shelter investigation found that conditions in many B&Bs were unsafe, with children exposed to drug use and threats of violence.
"It's pretty gross that in a society as wealthy as ours there are people who don't have a basic roof over their heads," said Turner. "I don't pretend to be an expert on homelessness and I hate it when people sound off about things they don't really know about. But I'm massively in favour of supporting organisations like Shelter which can have a short-term impact on making the situation better."
Bragg, who identifies "Thatcher selling off council houses" as the root of the crisis, condemns the Government's plan to deport rough sleepers from EU countries and bar them from re-entry to the UK for 12 months – measures proposed to deter Bulgarian and Romanian migrants from claiming benefits in Britain when movement restrictions are lifted in January. "We spent a lot of time trying to free those people from Soviet tyranny only to tell them to fuck off now," Bragg says. "The whole point of the Cold War was to get rid of the Berlin Wall, to make them free, but all of a sudden it's 'you're not that free, mate.' Why wouldn't they want to experience that freedom? You feel people want to put the Berlin Wall back up again. These are people who have a statutory right to stay in the country as EU citizens."
Bragg is the author of The Progressive Patriot, the singer's search for a non-nationalist British identity, and Turner tells him that the book inspired his own reflective England Keep My Bones album. "Thank you mate, I appreciate that," says Bragg. The pair discuss the relevance of politics in songwriting today. "There are a lot of people writing political songs right now and playing to a lot of people," says Turner. "Look at Enter Shikari and Plan B." It's a surprise when Bragg cites Ed Sheeran as a mass-appeal protest singer. "His video for 'The A-Team' is about a young woman, sleeping on the street, taking drugs. She becomes a prostitute and she dies in the end. It's had 94 million views. It can't just be one kid pressing repeat!"
Bragg contrasts the scope to protest when he was young with the wealth of outlets available today. "When I was 19 I really only had one medium open to me if I was pissed off and that was to play one of those," Bragg says, pointing to his trusty guitar. "During punk, music was the only social media we had. Now you've got the internet, Twitter, Facebook."
Enjoy unlimited access to 70 million ad-free songs and podcasts with Amazon Music Sign up now for a 30-day free trial
Sign up
Both singers appeared on a Channel 4 documentary last week which posited folk music as "the new cool". An affronted Turner claims: "I have never been cool and have no desire to become cool. That's for the kids with skinny jeans, the ones looking over their shoulders to check that other people are into what they're listening to. The ones who used to not involve me in their parties when I was a kid." Bragg adds that "folk is always there, doing its thing whether you or I give a shit about it or not. Every now and then it comes back into fashion but it's not music that gets rammed down your throat".
The social realism that fuel's Turner's songs was initially a reaction against David Bowie. "The whole archetypal rock star alien lifeform thing was never to my taste. 'I'm from Mars'. OK but I don't really care what you have to say in that case because I am not." Even Turner's attempt to write a Christmas hit lacks the essential seasonal uplift. "It's going to be called 'Christmas With Jesus'," he discloses. "And it's about sitting on a table on your own with a revolver and a glass of whisky on Christmas day. It's not going to be played on the radio."
The partners-in-rhyme may one day record new material together – although Turner's 200 shows-a-year schedule is too heavy for Bragg's liking. He lives in Dorset and says he needs more days off now. "I've done my time on that particular slave ship."
They return to joshing over song choices for the gig at Wilton's Music Hall in east London on Wednesday. A Jon Boden song, "Pilgrim on the Pennine Way" – a brief history of working-class struggle – promises to show where their political outlooks intersect. "You can sing the Tom Paine verse and I'm gonna sing the Scargill verse," Bragg tells Turner. "You can have your libertarian and I'll have my leftie."
"I was hoping we might do a scene from A Christmas Carol," suggests Billy. "With a clanking Bob Marley's ghost singing 'No Woman No Cry'." And the pair dissolve into laughter once again.
Bragg and Turner: The essentials
Billy Bragg
Bewhiskered inheritor of Woody Guthrie travelling songsmith tradition.
Product of Barking Abbey Secondary School.
Hymns socialist values rooted in working-class protest movements – but handy with love songs too.
Headlines May Day concert at Hammersmith Apollo in 2014.
Frank Turner
Tattooed Joe Strummer-style rebel poet inspired by hardcore punk and Iron Maiden.
Bahrain-born, schooled at Eton College.
Classical liberal who adds wry social comment to folk-pop anthems of rebellion and heartbreak.
Headlines O2 Arena in February after selling out 12,000-capacity Wembley Arena.
The venue for the Bragg/Turner busk will be revealed on Twitter by @frankturner and @billybragg on Tuesday morning. To support Shelter's emergency Christmas appeal, visit shelter.org.uk or text HOME to 87080 and donate £3 to answer a call for help
Join our new commenting forum
Join thought-provoking conversations, follow other Independent readers and see their replies