Christine and the Queens interview: 'I'm working the excess, in a way that a masculine hero is excessive'
As her UK tour kicks off, the French singer talks to Alexandra Pollard about her new album 'Chris', dating 'macho men', and the problems that come with queering the mainstream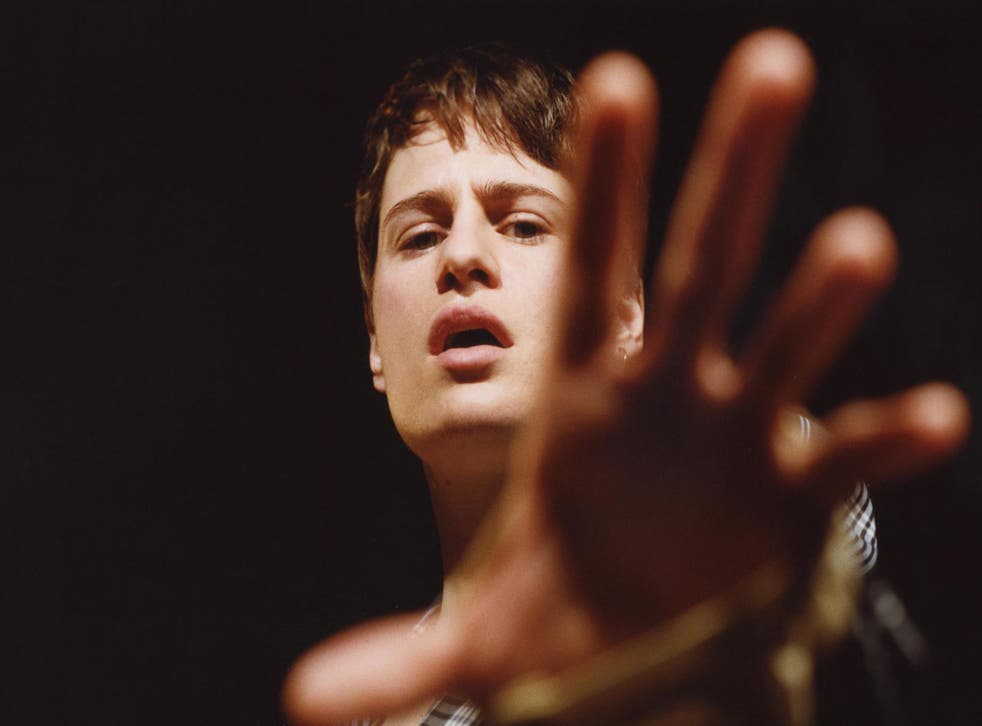 Héloïse Letissier's back is on fire. Last night, the French chanteuse, better known as Christine and the Queens, showcased her thrillingly kinetic, funk-laced album Chris, in front of 3,500 people at Berlin's Columbiahalle. A few songs in, she wrenched a back muscle so hard that she was in agony for the rest of the show. She considered telling the crowd, "but then you ruin it for them", she says.
Today, sitting bolt upright in a white turtleneck jumper in the cavernous restaurant of her hotel, the 30-year-old's clearly still in pain. Onstage, though, she hid it brilliantly, her intense, urgent physicality displayed amid dry ice and snow machines, as she explored the album's themes of body politics and desire.
In fact, as the show progressed, Letissier only seemed to become wilder. At around the midway point, she undid her red buttoned shirt, leaving her athletic body exposed. "The physicality of that, of an exposed body in a non-natural, non-social way, is typical of a hero," says Letissier, who is touring the UK this month. "There's something pure and sexual at the same time. And when I thought of Chris, I was like, 'I want her to have that physicality of a hero which is often a bit more masculine.'"
"Chris" is the character that Letissier cultivated for her second album. It is an alter ego of an alter ego: she dreamt up the stage name Christine and the Queens after a life-changing evening with a group of London drag queens. "I was already constructing identities, but I was just trying to please other people," she explained when we last met in 2016. "With Christine, it's just about trying to please myself and to be myself."
This time around, though, the softness of Christine didn't quite cut it. Her electropop-laden debut, Chaleur Humaine, which explored the loneliness that can coincide with queerness, was the sound of someone reaching out a tentative hand in search of connection. But when that hand was grabbed by a wider audience than Letissier had anticipated, part of her wanted to snatch it away again.
As her status grew, Letissier found herself not only being accepted – she was invited onstage by Madonna, had her music played on the HBO comedy drama Girls, performed on The Graham Norton Show, and sold a million copies of her album worldwide – but held up as an artist indelibly queering the mainstream. She couldn't help but see that as an oxymoron. "I'm sometimes a bit scared of how it's started to be digested, cleverly, by a system of profit," says Letissier, who identifies as pansexual. "Because it's sexy right now, quoi?" (A lot of her sentences end in "quoi", or "fin", or – if she's getting really worked up – "man".)
"I mean it's really wonderful," she adds, "because it seems like a reconciliation, but it's a bit puzzling. The second album is made with a bit more defiance, because I wanted to be sure people really knew who they met the first time." She became, she says, "someone who was a bit heard and seen, and just wanted to make sure that this was really going on for the right reasons".
Indeed, her second album, Chris, is both harder and more intricate than before, channelling Prince's groove and the swagger of Michael Jackson, and combining them with her own twitchy electropop, to express carnal needs. In the run-up to recording, she cut her hair into a short crop, chopped off part of her name too, and waded into her desires with clenched fists. As she put it on stage: "I am a tiny, angry, horny, joyfully wanting thing full of desires I don't really understand. It's fine. I like the idea of exploring them."
On "5 Dollars" – which builds synths upon synths, percussion upon percussion, to create something equal parts delicate and robust – she's singing, she says, about "some kind of love, the kind you can buy". On the album's lead single, the Eighties funk jam "Girlfriend", she pushes back against the role of a passive, female lover: "Boys are loading their arms, girls gasp with envy/ F-f-for whom are they mimicking endlessly?" Discussing that line with the lyric website Genius, she said: "Those love parades, where every role is scripted to the point of exhaustion, used to infuriate me when I was young. It was always them who got to play the tiny scoundrels, with their invisible guns; all that was left for us to do was stare and clap."
She had big ideas for the video for "Doesn't Matter", one of the album's standout tracks and a moment of existential melancholy. "I had this idea of like, me having a duet with a male dancer in a tyre wasteland, with a dead lion next to me." She bursts into laughter – as she does often, usually unexpectedly – then swiftly apologises when its sharp staccato echoes around the room. "I was searching for an epic image of despair. OK, I don't take any drugs, I'm just obsessed with the idea that you could have one still of the video and you'd have the emotion of the whole song. But it was impossible to do. I didn't want to kill a lion," she shrugs, "and the wastelands were toxic, so we ended up doing it in a parking lot. But the substance of the video is there."
Top Ten Musician Biopics

Show all 10
She was surprised when people conflated the album's defiance with rage. "For me, it was about empowerment," she says, "and [there was] a certain lightness to asserting that I was desiring and sexual. There was a joy to it. But I think because of who I am, and because, I dunno, the haircut, people were putting way more anger and weight into it. I was like, 'But I'm just trying to run in front of everything that could scare me! It's not especially angry.'
"I think, feminist book 101 open," she continues, flamboyantly opening an imaginary tome in front of her, "that a woman intense is always associated with negative energies, like anger and resentment. But no, I'm just working the excess in a way that a masculine hero is excessive. When you think of Romeo", she says, referring to Shakespeare's tragic hero, particularly as played by Leonardo DiCaprio in Baz Luhrmann's 1996 film adaptation, "Romeo is f***ing excessive. He's just projecting a desire [onto someone] who is, at first, receiving it with bewilderment. She's a bit like, 'Oh, slow down', and he's wanting more because he doesn't want to wait. And in the show, I'm searching for so much love that sometimes I'm scaring people a bit away." In one such vignette last night, a lover turned on their heels, erupted into smoke and bolted.
In her life off stage, Letissier sought love from a multitude of "macho men". She's said before that she learned how to be a woman from the drag queens she met. Did she learn anything about masculinity from these men? "I learnt about intricacy," she says. "[All my life], I had to deconstruct my femininity because of how I felt, and who I loved... but people all deal with that complexity. I deal with it out in the open, because in a way I was forced to, but some people deal with it more secretly, and sometimes it creates wounds that never stop bleeding."
For some of the men Letissier dated, she was the catalyst they needed to deconstruct their own masculinity. "They were confiding in me about those things they couldn't deal with. And also I was taking a bit from their masculinity to [put] on my femininity. I feel like a weird composite. It's one of my kinks to explore that. And the more I explore it, the freer I feel. But even in relationships that were supposed to be 'woke', with people who were as queer as I was, there were systems of oppression that were lingering. I'm just learning that actually, nothing is simple."
Hearing a queer woman revel in her attraction to men was confusing to some of Letissier's fans. "I think people sometimes are, not disappointed, but slightly surprised," she says. "It makes me think of that record by Serge Gainsbourg, Love on the Beat. It's a record that complicates the narrative of Serge Gainsbourg, because it's really queer. It's about back rooms and sex with men, and French people don't listen to that record. Serge Gainsbourg remains the dude who had s***loads of girlfriends, and you're like," she begins to whisper, "'Did you listen to that record?' Sometimes it feels like people don't really want to listen to your intricacy."
In the case of Chris, "it feels like the same s***. People are like, 'Hmmmm'. Because it's a bit disruptive. Because it's not what they expected you to be. I took the risk of pulling people a bit closer and talking about things I wanted to talk about, and some people were mad at me for that."
More upsetting was the way certain journalists sneered at her new persona. "Sometimes when people interview me, there is a slight smile of like, 'Oh so now you want to be called Chris?' And I'm like, 'How can you make me feel sorry about that? It's all about reinvention and freedom. Come on, man. It's playful, man. How come it's violent enough for you to try to defuse it with mockery?' It's also fun. It's also entertainment. Sometimes I read things and I'm like, 'Sh*t, I'm not that solemn.'"
Of course, there are plenty of solemn moments on the album. "I am deep," she says, that punctuated laugh erupting again, "but not all the time! Sometimes I just want short hair, man. It felt like people were having a conversation about me, and I could just remove me from the table and it wouldn't change a thing.
"I'm like, 'I'm leaving you discussing this sh*t, I'm just going to make some music. I'll be right back.'"
Christine and the Queens are touring the UK this month
Join our new commenting forum
Join thought-provoking conversations, follow other Independent readers and see their replies