Conchita Wurst interview: Last year's Eurovision winner on dealing with insecurities, elephantine visions and marmalade
Wurst, aka Tom Neuwirth, will perform at this year's Eurovision on Saturday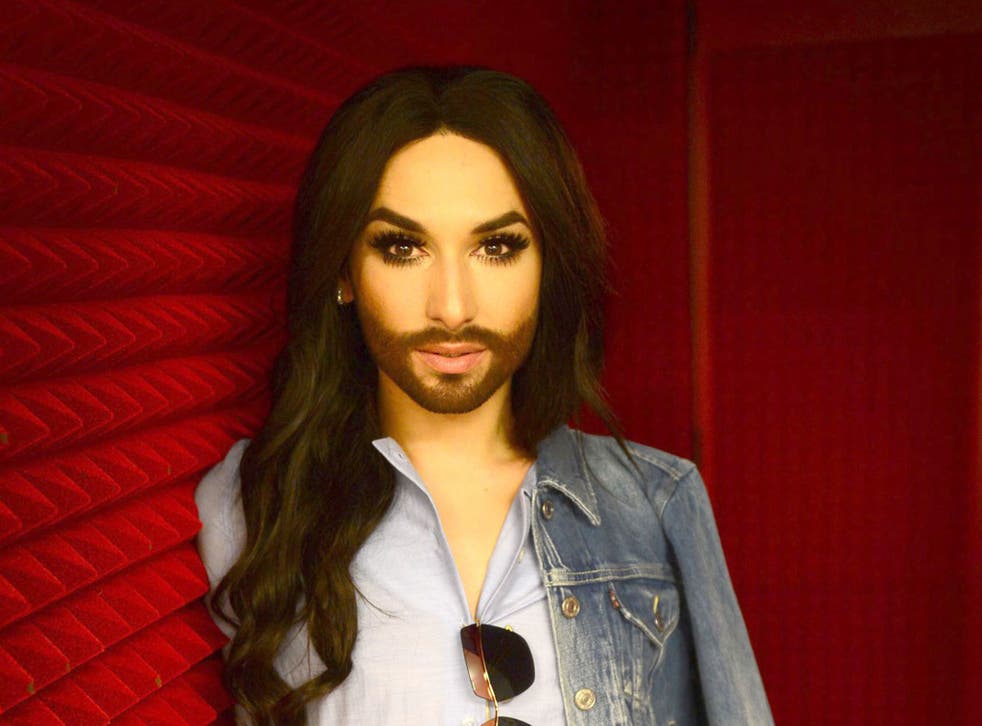 Winning Eurovision last year changed everything To have creative visions and ideas which do not to have to remain in your head, but can be heard, feels unbelievable: these days, if I want to have an elephant in a music video, it is something I can really think about. I have a beautiful feeling of freedom, that I can do almost anything.
I always knew I was different My teenage years were hard, society telling me that something was wrong with me [being gay, and dressing in skirts]. Over the years I've realised that there's nothing wrong with me. But there was a long way for me to go to get back to this loud and outgoing kid, and to get to the point where I could say, "Yeah, I'm gay, so what?"
People see the story of my grandmother buying me a dress in a romantic way It was for my birthday when I was a kid. We were out shopping and I was like, "I need it, I want it and I'm not leaving without it!" She just surrendered.
I didn't invent the bearded lady It's been around for ages, and there are so many bearded drag queens out there – but they're not in the mainstream as I am. So for many people it's shocking and new to see me. For me, it just happened: I saw my face – make-up and beard – and I just thought, wow I like that. And I decided to be a bearded lady.
Not everyone is fine with the anti-gay laws in Eastern Europe Winning Eurovision last year showed that, I think. There is a difference between what the leaders are saying and what the people think. But I wouldn't dare to say I won Eurovision and now everything is fine. We've still got a long way to go: it was just a singing competition.
I love huge dramatic songs with ridiculously big orchestral parts The first song I remember listening to in a language other than German was "Goldfinger", by Shirley Bassey. I was seven years old at the time and I had no idea which language it was or who the lady was singing it, but it touched me and I realised that it was the sort of music I liked.
It takes a while before someone can steal my heart There are many forms of love, such as lust and affection, but in whatever form it takes, I'm quite slow to get into it – which is why I'm not worried about who I meet now that I'm better known, as that won't change.
I hate to wait Especially when it comes to being on TV shows, where you're waiting most of the time: you have rehearsal, then you have to wait till your appearance. I prefer continuous movement, so I have to entertain myself and not get bored.
Tom Neuwirth, my real-life persona, is too fussy When I get home from a trip away [as Conchita], it's Tom who loves to be alone, to think through what happened, to clean up and do the laundry. He's the person who is picky – moving the marmalade jar around so you can see the label on the shelf; Conchita isn't like that at all.
Enjoy unlimited access to 70 million ad-free songs and podcasts with Amazon Music Sign up now for a 30-day free trial
Sign up
Its a privilege to have a chance to talk through my life At first the idea of doing an autobiography wasn't love at first sight: I told the publishers, "I'm only 26!" But telling my story to the ghostwriter showed me things about myself: I always saw myself as shy, but I realised I was born self-confident, and I became insecure only as a teen – and I'll have to work to get rid of those insecurities for the rest of my life.
Tom Neuwirth, aka Conchita Wurst, is an Austrian pop singer and drag queen. Her autobiography, 'Being Conchita: We Are Unstoppable', is out now (£9.99, John Blake). Wurst will perform at this year's Eurovision, which will be broadcast on BBC1 on Saturday
Join our new commenting forum
Join thought-provoking conversations, follow other Independent readers and see their replies