Courtney Barnett: 'Australia's answer to Bob Dylan' on being a voice for the millenial generation
Barnett's self-deprecating songs resonate far and wide - as she heads to Glastonbury, she talks to Gillian Orr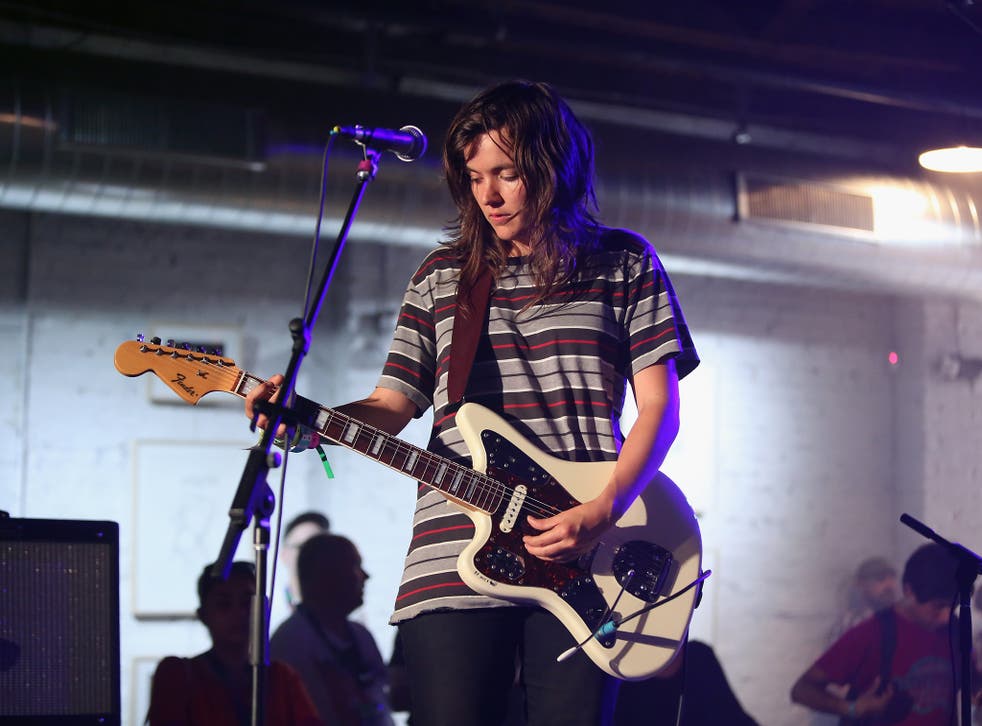 It might seem an unusual decision for a musician to release a song that wonders aloud why anyone cares that they are releasing songs. All the more so as the spotlight hits them. And then go one step further and tell their listeners not to bother with them. But "Pedestrian at Best", the first single taken from Courtney Barnett's debut album, Sometimes I Sit and Think, and Sometimes I Just Sit, which was released here in March, highlights just how bemused she is with her career in music.
Lines such as, "I've got no idea how I even got here", and, "Put me on a pedestal and I'll only disappoint you", are delivered in a thick Aussie accent over blistering power chords. But the Melbourne singer-songwriter couldn't be more wrong. Having grabbed the attention of the music press with the release of her first two combined EPs, A Sea of Split Peas, in 2013, Sometimes... was met with rapturous praise. Some called her the voice of a generation; others described her as Australia's answer to Bob Dylan. Her ability to relay the hopes and concerns of disillusioned millennials, often amusingly, has won her many fans.
Back in March she was the standout act at South-by-Southwest, in Austin, Texas, and now she enters the festival season as one of the most in-demand acts on bills all over the globe. She's touring the US, UK and Europe between now and December.
Glastonbury line-up 2015

Show all 26
The self-deprecation that runs through "Pedestrian at Best" is quintessential Barnett. It's very much part of her brand – not that you'd accuse her of faking anything. The 27-year-old I meet in an east London restaurant is as genuine as they come. But words have already begun to stick to Barnett when talking or writing about her: slacker, unambitious, low-key.
"I try not to play up to it," says Barnett, dressed in plaid shirt and unbrushed hair. "It doesn't make me angry or anything. People always want to put a label on people so that they can understand them better. There's definitely a part of me that's like that, but I think the ambition overrides the slackness these days."
The laid-back reputation might not rile Barnett but it does do her a disservice. A hugely talented storyteller, Barnett's writing is succinct, wry and humorous. Take the laconic "Depreston", a track that serves up quotidian details about the lacklustre Melbourne suburb Preston, all the while managing to reveal a story that touches on gentrification, settling down and existentialism. It's less than 20 lines long and quite possibly one of the most moving songs you'll hear all year.
Barnett, born in the suburbs of Sydney, first picked up a guitar when she was 10 because her brother played and "it seemed cool". Her mother liked classical and her father was fond of jazz, but she recalls telling them both to turn it down.
Instead she played guitar in high-school bands that specialised in Red Hot Chili Peppers covers, even though she had quietly begun writing her own material. It was only when she left school and moved to Hobart to study drawing and photography that she started singing her tunes at open-mic nights. Art is her other big love; she designs all her own merchandise. "A lot of my songs come from my drawings, or from the idea of a drawing," she says. "I love merch. I'm not even a musician, I'm a merch enthusiast who happens to play guitar."
She dropped out of art school and moved to Melbourne where she started her own record label, Milk! She quit her job at the Northcote Social Club last year to focus on music full-time. "I just went for it. I wanted to make a career so I could keep making music and living off it, which is why I started the label. It's a platform for art. And I could do whatever I wanted without worrying or needing other people to do things for me."
Enjoy unlimited access to 70 million ad-free songs and podcasts with Amazon Music Sign up now for a 30-day free trial
Sign up
Indeed, her deadpan insights includes references to Vegemite crumbs, Swanston commuters and the Great Barrier Reef; did she ever wonder if her Aussie subject matter would translate for a global audience? "I've spent my whole life in Australia so it's what I know the most about," she shrugs. "The majority of it is always going be based around home because that's where my life is. But there are definitely songs on this album that incorporate parts of the rest of the world because it's the first time I've seen it. And I tend to write about what I see and where I go."
Another subject that crops up again and again is her relationship with her girlfriend, the musician Jen Cloher. Sometimes it's fairly innocuous; in the new politically charged single "Dead Fox", Cloher is there insisting the pair start buying organic vegetables ("I was sceptical at first, a little pesticide can't hurt"). Other times, it's eminently more personal. "Boxing Day Blues" is about the aftermath of the death of Cloher's mother on Christmas Day. She tried to call Barnett but she was "off getting drunk somewhere," as she tells me. I wonder how her partner feels about such cameo appearances?
"It just seems like the natural thing to write about; we spend our whole lives together, you know? She's a songwriter too so she's written plenty of songs about me. They're not nasty, they're honest. There's no line in that situation. Or if there is we're yet to cross it," she laughs.
Probably the most striking thing about spending time with Barnett is how different she is to her records. Whereas in song she is brash and hilarious, in person she is shy and softly spoken. The disparity can be somewhat confusing. How would her friends describe her, I wonder?
"I'm normally pretty quiet around them. They don't laugh at my jokes. I think my friends probably think I'm a idiot."
There she goes again; self-deprecating to the end. And I don't believe it for a minute.
Courtney Barnett's single "Dead Fox" is out today. She plays the Pyramid stage at Glastonbury on Saturday and tours the UK from 25 November
Join our new commenting forum
Join thought-provoking conversations, follow other Independent readers and see their replies