Courtney Barnett interview: The Melbourne singer-songwriter is the voice-of-a-generation
Twentysomethings don't like the look of the future, and no one articulates their feelings more eloquently than the Melbourne singer-songwriter Courtney Barnett. Oscar Quine met her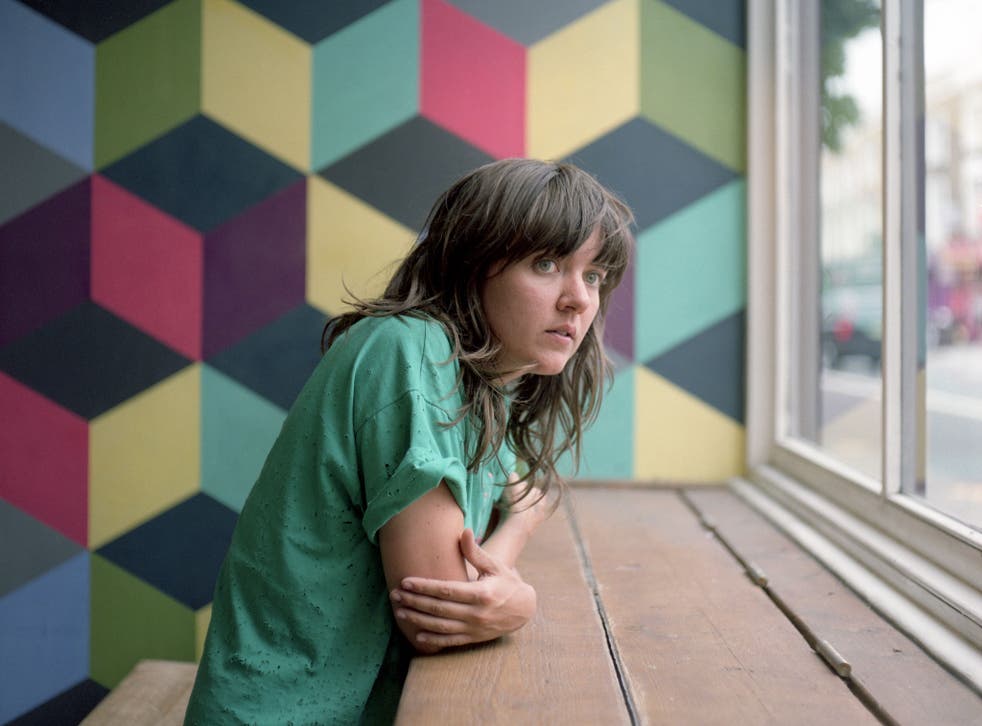 The day before I interview Courtney Barnett, she and her band perform a "guerrilla gig" outside Camden Town Tube station in north London. Under a slate-grey August sky, they run through her latest single six, seven, eight times while it is filmed for a promotional video. Barnett, a 27-year-old Australian, lip-syncs the first few renditions, giving the performance a strange, muted quality, but she remains animated and unperturbed in spite of the rather peculiar demands of the occasion. Her eyes twinkle, and, peering out from beneath her unbrushed hair, she has a cherubic smile.
Barnett writes songs that are rooted in the everyday. Life's minutiae are what interest her, and from tiny details she manages to create something profound. It's an observational approach that has chimed with an age in which many of us of Barnett's generation have good reason to feel disillusioned about the big issues of the day and are turning our gaze to smaller ones. And here on the pavement in Camden, Barnett is clearly connecting with her fans, the enthusiastic gathering, prompted to be here as a result of a last-minute Facebook announcement, seemingly quite happy to hear the same song over and over again. In case anyone's missed it, a large billboard behind Barnett displays the title: "NOBODY REALLY CARES IF YOU GO TO THE PARTY".
Barnett is based in Melbourne, and first came to people's attention outside the confines of the city's music scene in 2013, with the release of two EPs: History Eraser, and How To Carve a Carrot Into a Rose. Both were released on Milk!, the record label she owns with her partner Jen Cloher. One of these two EPs included the single "Avant Gardner". Telling the story of how Barnett did some gardening and ended up having an asthma attack, it contains defining Barnett features: a facility with words, a quotidian anecdote that has hidden depths, dark humour, and a sense of futility. "Should've stayed in bed today," is the laconically-sung moral at the end of the story.
"I think the bigger picture is in the smaller details sometimes," Barnett tells me over coffee in a noisy cafe in King's Cross. "Only briefly but something like "Avant Gardner" touches on bigger issues but in a very detailed way so you don't even notice what's being said."
Arts + Ents News in Pictures

Show all 50
In March this year, Barnett released her debut album, Sometimes I Sit and Think, and Sometimes I Just Sit. It received rave reviews, with emphasis placed on Barnett's talent as a lyricist. "A young songwriter who is smart but not intellectual," said influential music review site Pitchfork. "One of the sharpest, most original songwriters around — at any level, in any genre," said Rolling Stone magazine. "Intriguing, compelling and down-to-earth, yet surreal and morbidly funny," said another critic. For my part, Barnett came to me on the highest recommendations of the BBC 6Music presenter Cerys Matthews, who doesn't get much wrong.
It's not overstating things to say that in her lyrics, Barnett captures the hopes and fears – but mainly fears – of vast swathes of young people. One only needs to listen to "Depreston", a song about booming house prices, to see that Barnett's subject matter is unflinchingly "now". On "Nobody Really Cares If You Go To The Party", the line, "I wanna go out but I wanna stay home" crystallises the central paradox of a generation paralysed by FOMO – fear of missing out. To employ a little hyperbole: Barnett could well be the Millennials' chronicler, recording the texture of life and psychological topography of a generation defined by its anxieties and sceptical of grand theories, preferring to believe their own experiences over what they are told.
Except, of course, Barnett's averse to such a grand theory. "I dunno really," she says over the whoosh of steam from the coffee machine. "I guess what I'm writing is just quite matter-of-fact and present-day kind of stuff. I guess it's kind of relatable in that way. And, uh, yeah."
We're sitting in a small nook at the back of the cafe. Barnett sits on the bench with her back to the window. She rocks back and forth on her hands, her knees up around her chest. But the just-rolled-out-of-bed look and the stoner drawl is only half the story. She deploys much of the charm that was in evidence at the previous day's gig but in small doses, as if to avoid depleting her reserves.
She moved to Melbourne when she was 20, having grown up in suburban Sydney and then Hobart. She told me the Tasmanian City was liberal – "It's known for Bob Brown, the guy who started the Green Party in Australia" – but sleepy. "It wasn't like totally rural. Just lots of trees." Melbourne, by contrast, is home to more live music venues per capita than Austin, Texas – thought of as a global hub of indie music – and has fostered some of Australia's biggest musical talent: Nick Cave, Crowded House and Kylie Minogue among them. When, I ask Barnett, did she know music was for her?
Enjoy unlimited access to 70 million ad-free songs and podcasts with Amazon Music Sign up now for a 30-day free trial
Sign up
"It's just the thing I like and it makes me happy. I worked in so many sh*t jobs that I hated and they were just a way to make money. It was just about, how can I make money out of what I enjoy doing and not have to do some shit thing that I hate that doesn't mean anything."
Barnett has been tagged as part of Australia's "Dolewave" scene – a derisory reference to the unemployment benefit that supposedly supports artists' creative lifestyles and is focused mainly on Melbourne – and naturally Barnett distances herself from it. "I don't really understand that stuff," she says. "You just find yourself hanging around with the same people and you start making the same music by proxy. Like pet-owners look like their pets."
In any case Barnett has to a great extent escaped the scene, travelling all over the world, working with the same band for the past couple of years. For the most part, they play distortion-heavy garage rock, in the vein of the music Barnett grew up listening to: Nirvana, Presidents of the United States of America, and PJ Harvey. But to classify Barnett's album simply as grunge is to do it a disservice. Four tracks in and "Small Poppies" brings the tempo right down to a woozy blues swagger.
But it's Barnett's lyrics, many of which are lifted verbatim from notebooks she has filled up over the years, that have caught people's attention. She possesses a preternatural ability to mix the banal with the profound. On "An Illustration of Loneliness (Sleepless in New York)", we join Barnett lying on her back looking at the cracks on the wall. She's reminded of a book of palmistry she once flicked through in a doctor's surgery. All rather humdrum, and then: "I lose a breath... my love-line seems intertwined with death / I'm thinking of you too." The sudden move from external observation to internal monologue works wonders. The listener realises that she is trying to distract herself from someone, and from that most searing of pains: love that, for whatever reason, cannot be.
Then there is the politics. "Dead Fox" begins, "Jen insists that we buy organic vegetables" before moving on to an exposition of roadkill, car deaths and big business. On "Kim's Caravan", Barnett is sitting on a beach observing a dead seal. "I would wanna die too / With people putting oil into my air / But to be fair, I've done my share." And here, now in a political context, is that same conflicted, defeatist sense of futility.
It might sound like a rehash of the same drop-out speak of the 1960s, but herein lies the Millennials' crux: Generation Y lives in a compromised and compromising world. Lifestyle requires you to renege on principles. Reduce your carbon footprint but then get on one long-haul flight and undo all the good work. We settle for democracy and capitalism for want of a better option. Here in the UK, the backlash against Jeremy Corbyn shows the vehemence that awaits should you dare to challenge the free-market neoliberal consensus of the West. All of this against the backdrop of a stagnant, at best, world economy. In short: there is no hope.
This is the first point on which Barnett seems to wholeheartedly agree with me. "It's just that feeling of not being able to do anything even though you know that there's so much wrong," she says, a little more animated. "So we tend to take that defensive kind of attitude: 'The world's fucked so we might as well just go out and have fun'. People get funny hearing that kind of stuff. Even though everyone knows what's wrong with the world, nobody wants to think about it. Know what I mean? If you talk about it, people get so defensive. And I see myself doing it. It doesn't really make sense but that's what it is: you know the world is fucked but you can't do anything on a big scale. I don't know the answer for it yet."
But there is an optimism to Barnett, betrayed in that "yet". Patently, her pessimistic worldview has not held her back. I repeat: she has three critically acclaimed releases, she's toured the world, she has a record label and a stable four-year relationship. And 30 is still a while off. Did she have some kind of an epiphanic moment, I ask, when she realised that none of this was beyond her? "I think that confidence kind of builds as you go and you figure things out," she says again pricking my grandiose bubble. "I didn't know what I was doing a lot of the time."
Our time is almost up. I make one last attempt to place upon her head the crown I have made for her as a leader of a lost generation. The weekend previous, I tell her, my flatmate and I debated whether to go to a party. We decided it against it, opting instead for Netflix and a bottle of wine. It was a good party, I heard afterwards, and I've since fretted about not going. The morning after, my flatmate and I went out to get coffee. Walking across the park, another of the promotional billboards that provided the backdrop for the video shoot blares at us from the street: "NOBODY REALLY CARES IF YOU GO TO THE PARTY."
"And my flatmate said to me," I say, "that was us last night." I wait for a response. Barnett's lip curls. She nods her head, her shoulders bob up and down, and she breaks into a snigger. I can't quite tell if it's at me or with me. "That's rad," she says. "I never thought, like, how relatable that is."
'Nobody Really Cares If You Don't Go To The Party' is out on 11 September on House Anxiety / Marathon Artists. Courtney Barnett tours the UK in November
Join our new commenting forum
Join thought-provoking conversations, follow other Independent readers and see their replies