The Feeling: the soft machine returns
The Feeling were masters of melodic rock till the hits dried up. Now they're going it alone, they tell Elisa Bray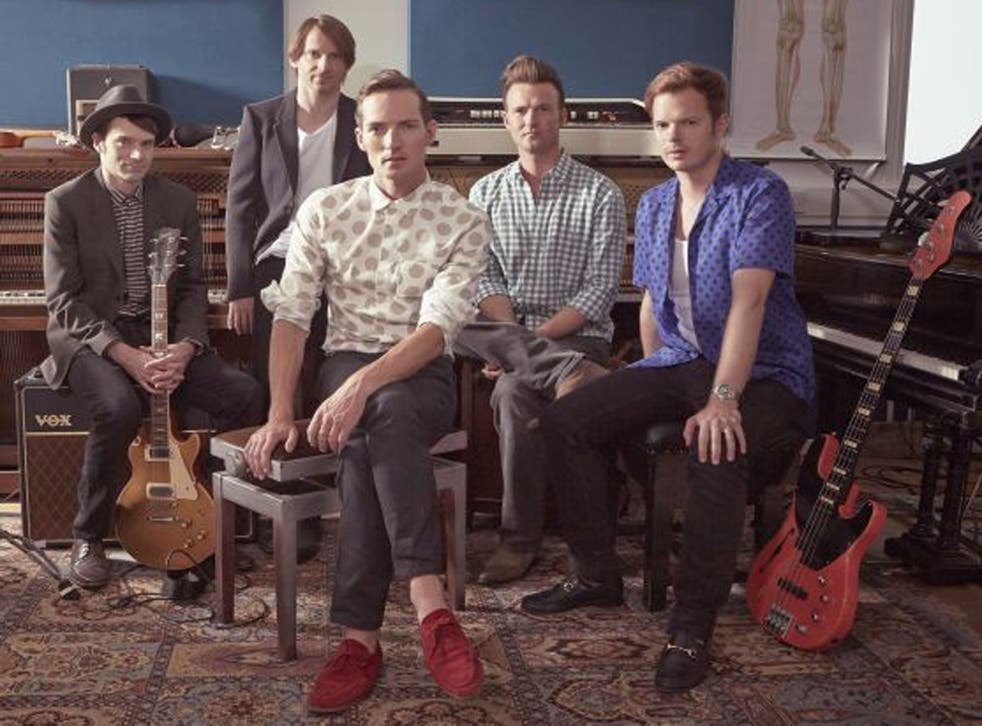 Back in 2006, The Feeling were the most played band on radio. At the forefront of a post-Britpop melodic soft-rock scene alongside The Kooks, their debut album was a No 2 hit, trumped by its chart-topping follow-up in 2008, Join With Us. Desperate to maintain the band's commercial success, their panicked record label sent chief songwriter and frontman Dan Gillespie Sells off to LA to work with top songwriters, and had the band churn out song after song, in constant pursuit of the next hit. Except the songs weren't very good as a result, and The Feeling came crashing down with a third album that saw them not even touch the Top 20 – and were soon dropped by Universal.
"When we made our third album, it creatively almost killed us as a band", says bassist Richard Jones, looking like he is in need of the coffee he is devouring, as one who juggles the band alongside family (he has three young sons with his wife Sophie Ellis-Bextor). "We do our best work when we instinctively follow our noses. When we got into the process of being sent to work with big writers and producers, we started to lose sight of our identity. Talking to other bands who were big at the same time as us, The Kooks and The Magic Numbers, it's the same for all of us – [the labels] trying to chase that trend and whatever is fashionable which, when we were big, was the indie Britpop sound. It never works."
Not only was their third album a commercial flop, but it suffered some scathing reviews, too. "There were some pretty harsh reviews, but I absolutely understand why," admits Sells. "There are songs that we're really proud of, but they're mixed with a bunch of really try-hard pop songs that were essentially forced upon us. They put out songs that we didn't want to put out… I can write a poppy hook like that" – he snaps his fingers – "because I'm really good at it. But there's more to writing a good song than just having hooks. I don't want to make that kind of music anymore."
The split with their record label was reflected in Sells' personal life, coinciding with the end of his relationship with his boyfriend of five years. Finding himself alone at home in east London after Christmas, the first song he wrote after the break-up was "You'll See", which sparked the beginning of the album.
"I remember coming back from being away on New Year's Eve with Sophie," recalls Jones. "Dan said, 'I've written this new song, it's way too depressing, I don't think we can use it', and he played it to me. I said, 'no, it's just real, this is your heart and what's happening with you which is the thing that makes it worth doing'." He says it was the same feeling he had when he heard his friend play "Sewn", all those years back, which prompted them to form the band.
Meeting Sells and Jones today, it's apparent that the split with their record label was the best thing that could have happened to them. Without a record label steering them in the sole direction of creating commercial hits, the band returned to the DIY method of their debut album, just the five members at home together, honing the songs. And the result, Boy Cried Wolf is a return to what they do best: enjoyable guitar pop, brimming with hooks and melodies.
"As soon as we left and we got into the studio, the writing suddenly flowed and the recording became fun again. It was just us and this place in east London," says Sells. "We discovered ourselves as a band – and as friends, almost", Jones adds. "We're a lot happier now than we were in the last two or three years."
It helped that three years ago, Sells bought and moved into a converted pub in east London and created a music studio for the band members to fill with all the equipment they had collected over recent years, saving them the necessity of finding a recording space and the funds to record the album.
The band go back many years, since Jones and Sells met as 16-year-olds at the Brit School in Croydon, and the other three, brothers Kevin and Ciaran Jeremiah, and Paul Stewart, met at school in West Sussex. Before they were signed, they grafted at session work and a residency at a ski resort in the Alps performing covers. Now 34, they've known each other for half their lives. "We passed the halfway point last year. We realised it at the time and were like 'how did that happen?' We communicate with an eyebrow half of the time," laughs Jones. The striking photograph on the cover of their new album was taken at Elstree Aerodrome, where Jones practises his other love, flying. His wife bought him flying lessons for his birthday and he flew the band from their London base to their mixing sessions in Suffolk in the aeroplane he shares with Pink Floyd's Nick Mason. Sells is now learning, too.
Enjoy unlimited access to 70 million ad-free songs and podcasts with Amazon Music Sign up now for a 30-day free trial
Sign up
There was a time when The Feeling played Wembley Stadium, and sold out nights at Hammersmith Apollo, and while their current touring haunts are more humble these days, they were still invited to play at Buckingham Palace in July, while Jones played at the 2012 Olympics. "Everyone knows this business is about riding waves," says Sells. "When things weren't going that way anymore, the thing that kept up going is [the thought that] it's not as bad as when we were all sleeping in one room in the Alps doing 10 shows a week."
What they are most proud of is that this album is entirely their creation – the only label involvement is BMG releasing the finished product.
"The point is", says Jones "it's not us with a massive major label team, a quarter-of-a-million-pound record budget. It was recorded in Dan's house. Every note on it is. So whatever you think of it, we did it."
"It's frustrating if someone says you're not for real" says Sells. "That hurts. Because we could all be doing lots of other things for a living, you know, we're clever boys."
Like flying.
'Boy Cried Wolf' is out now. The Feeling tour from 21 October
Join our new commenting forum
Join thought-provoking conversations, follow other Independent readers and see their replies