Ghostpoet interview: 'I'd do music for a cheese and onion sandwich'
The rapper talks about his struggle for success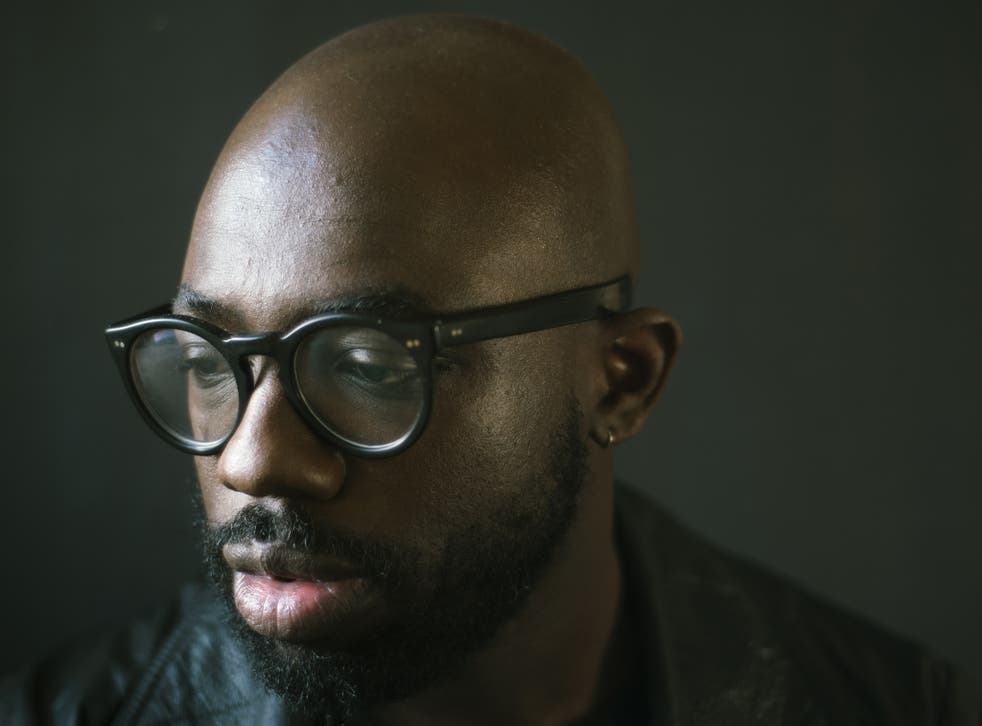 I was drifting, drinking too much red wine and eating really unhealthy food," says Obaro Ejimiwe, aka south London rapper Ghostpoet, of his twenties.
In 2004, he graduated in media production from Coventry University, stayed in the area, moved in with his girlfriend and got a mortgage. For the next six years, he found himself doing a nine-to-five in a Coventry call centre, then bussing out to Warwick University to work security for the student union, where he'd oversee freshers flinging themselves about, watching the clock before he could go home and press on with creating the words and beats that would eventually make up his Mercury-nominated debut album Peanut Butter Blues & Melancholy Jam.
Rock and pop highlights of 2015

Show all 5
Ejimiwe is reminiscing about this dispiriting period in a bar in London's King's Cross. He's due to fly off to Milan for a gig the next evening, and with his thick-rimmed glasses and designer stubble, he looks every inch a star, even if this self-deprecating soul would hate to admit it. "It's difficult to believe I've got a third album coming out. I never thought I'd make it this far," he says.
How far he has come is evident from said LP Shedding Skin, the most forceful expression yet of his alternative strain of hip-hop, with its slurred vocals, soupy ambience and loose cross-pollination of influences, from electronica to folk and from Aphex Twin to Badly Drawn Boy.
Recorded with a full backing band for the first time, the result is a more spacious record, with his throaty, gruff vocals lifted by guitar, horn and strings. It also marries personal observations about love and life with a new-found political edge, as on lead-off single "Off Peak Dreams", which contemplates the trials of the low-paid wage slave or "Better not Butter", where he addresses the scourge of consumerism.
"I'm not a political person, but it's something you can't avoid," he says. "We're living in a time of high unemployment. People are coming out of degrees and can't get good jobs. They're in debt, they can't pay their bills and live, and they're stuck in a continuous cycle," he says.
Ejimiwe's own route out of the cycle started in June 2010, with his first EP The Sound of Strangers, which won him fans in high places, including Mike Skinner and the veteran DJ Gilles Peterson, who licensed the initially self-released record to his Brownswood label. By February 2011, Obaro found himself co-producing Peanut Butter Blues & Melancholy Jam with Mica Levi, the much-celebrated 28-year-old creator of Micachu and the Shapes.
Finally, he was seeing results from nearly a decade of steady toil, beginning with a stint in a grime collective while at uni. "I had a drive in me that meant I never gave it up, even when I was working all hours. Some people I knew let it fall by the wayside for whatever reason. I got close to that, but I'm lucky I'm so stubborn, [or] I might still be in that call centre."
Ejimiwe credits that drive to his parents, as he does his appreciation of diverse musical heritages Although Ejimiwe was born in Ghana, his father hails from Nigeria and his mother from Dominica, the tiny Caribbean island south of Guadeloupe. Together they ran an independent estate agency in Tooting, and before that a minicab business, and Ejimiwe was always expected to pitch in. "So, I was coming home from school and either showing people round flats, or booking up minicab drivers on the radio," he says. His family loved music, but it was never considered an achievable career. Ejimiwe's father died before he launched himself as Ghostpoet; his mother has been a "bit overwhelmed" by his success, he says.
Enjoy unlimited access to 70 million ad-free songs and podcasts with Amazon Music Sign up now for a 30-day free trial
Sign up
Nevertheless, if his debut album brought him instant critical recognition, it hardly made his life plain sailing. Having moved back to south London in 2010, near to where he grew up in Tooting Bec, his relationship faltered, then fell apart. He picked up another customer service job at University College London and, even as he was doing the press rounds, continued the minimum-wage lifestyle. "I was filing papers and stuff for nine months after the album came out. I didn't want to not work," he says.
One more obstacle to overcome was his nervousness of live performance; before 2010, he had never done a solo gig, in fact. "I lacked a lot of confidence in my own ability," he says. "I was suddenly aware that people were focusing on me. I over-thought it, and found it very stressful. I was getting massive highs, then getting the bus home to an empty flat and going through massive lows."
That mind-set was evident on his second album, 2013's darker, more complex Some Say I So I Say Light, which didn't have the same impact as his debut album. "I felt I was in a storm, and I had to decide whether to wait to let it pass, or use it to make music. As much as I needed to get it out, it was a depressing record." By this stage, living alone in Hackney, he was a full-time musician with a Mercury nomination under his belt. But he felt a lot of pressure, and uncertainty.
Ejimiwe is now back in south London, in a settled relationship and with a cockapoo called Oscar – aka Ghostdog – to keep him occupied. And while Shedding Skin is filled with angst – as in "That Ring Down the Drain Kind of Feeling", a song about happening upon an ex-partner and realising you're still in love, or "Yes, I Helped You Pack", about untangling your lives at the end of a relationship – there's light at the end of each story. "On the first record, I was able to say that life is shit, but there's always hope," he says. "I lost that, but I think I've got it back again."
He's also started, for the first time, to feel confident in his musical abilities, and find the roar of a crowd when the lights go down inspiring rather than intimidating. "I'm not trying to be rich. I don't need as much as a pop star," he says. "As long as I can pay my bills and feed my dog and look after my missus, then I'm all right, man. Music is a strange beast. It makes you do strange things. I'd do music for a Double Decker, a cheese and onion sandwich. All you got to do is stay happy – that's how you get by."
'Shedding Skin' is released on 2 March
Join our new commenting forum
Join thought-provoking conversations, follow other Independent readers and see their replies