Glastonbury 2014: Worthy Farm says goodbye to the stinky portable loo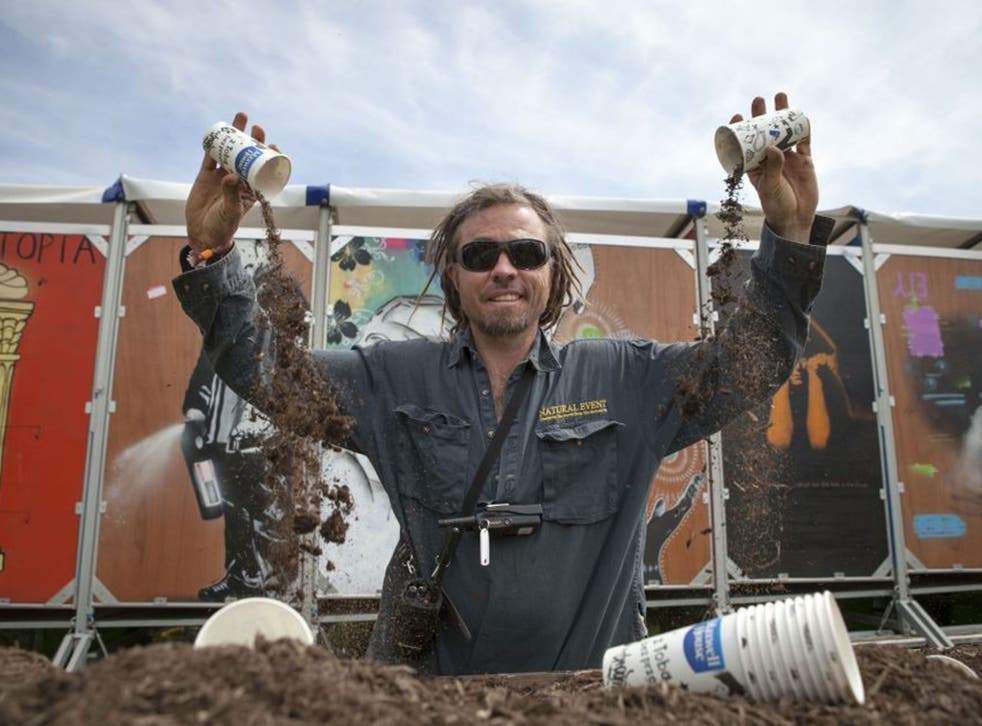 It's a much a part of the Glastonbury experience as secret gigs, cider buses, mud baths and magical sunsets at the Stone Circle, but this year the horrible stench of portable plastic loos has been banished from Worthy Farm.
They may have been too busy basking in the sunshine, then putting on their wellies as the rain arrived on Thursday afternoon, but the thousands of festival-goers who have been arriving at the Somerset site since Wednesday will have struggled to spot a bright blue portable toilet anywhere on the 12,000 acre site.
Instead a new combination of eco-friendly "long-drop" toilets and composting loos means that only 150 of the 5,000 lavatory seats at Glastonbury Festival sit above a chemical stink.
"We've used portable plastic toilets for more than 20 years, but frankly they are not up to the job," said Jane Healy, the festival's sanitation manager. "They don't work in our particular high-intensity environment, partly because the experience is so unpleasant that many people don't want to touch the plastic, so they don't flush."
According to Ms Healy, this "flush reluctance" often resulted in the build-up of so-called "poo pyramids" inside portable loos to rival the festival's Pyramid Stage.
This year though festival organisers have invested in 312 large toilet blocks, with thousands of new toilets. These new lavatories, called "long-drops", store waste from the festival's 200,000 ticket holders and staff in underground tanks before it is turned into manure and spread on the fields of Worthy Farm and the surrounding area.
The real battle against "festival faecal phobia" at Glastonbury is being waged by Hamish Skermer, though. He's an Australian environmental scientist, who is firmly at the top of the eco-toilet heap at the festival. And this year his firm Natural Events has installed more than 1,000 water- and chemical-free composting toilets at 90 locations, each decorated with vivid artworks.
"I don't say I'm in the shit business, but rather I say I'm the curator of a travelling art gallery," he told The Independent as he put the finishing touches to a toilet block near the main stage on Thursday. "People think misery on the shitter is part of the festival experience, but we don't have to accept that. Composting loos give back the respect and dignity of using the toilet and banish the foul smell, as well as saving vast amount of water and cutting out the use of chemicals."
His compost toilet design uses a "solid-liquid separation system" which uses a wheelie bin as a receptacle, a pump to take away urine (and the smell) and plenty or sawdust to break down waste matter. It doesn't end there either as the waste is then composted and eventually spread on Glastonbury's fields. "The world should grow more food from our shit," he added, as dozens of festival goers grab scoops of dark-coloured sawdust to carry out their business.
Enjoy unlimited access to 70 million ad-free songs and podcasts with Amazon Music Sign up now for a 30-day free trial
Sign up
"They are brilliant," said Sue Jewsbury, a long-time Glastonbury-goer from Southampton. "The portable plastic loos were hideous and stinking. These are clean, odourless and even have a hook on the back of the door for your kit – which is vital when the floor gets, shall say we say, messy."
To Mr Skermer, the loos are about more than an easy life at music festival: "This is the perfect scenario to prove composting toilets can work on a huge scale – in fact this is a world record for the most composting toilets in one place in all the history of shitting. Glastonbury is a hedonistic tent city, but most people don't live in tent cities by choice, they are refugees or displaced people. There is massive potential there."
The festival is pleased to be setting an example, adds Ms Healy. "The smelly loo of Glastonbury is gone, never to return. And if I were I were a portable toilet company I'd be getting worried."
Join our new commenting forum
Join thought-provoking conversations, follow other Independent readers and see their replies