The Grammys: stage of cool
From the (remaining) Beatles to Beyoncé, via Madonna and 33 marriages, this year's Grammys were a spectacle – and an almighty organisational job, as Gillian Orr discovers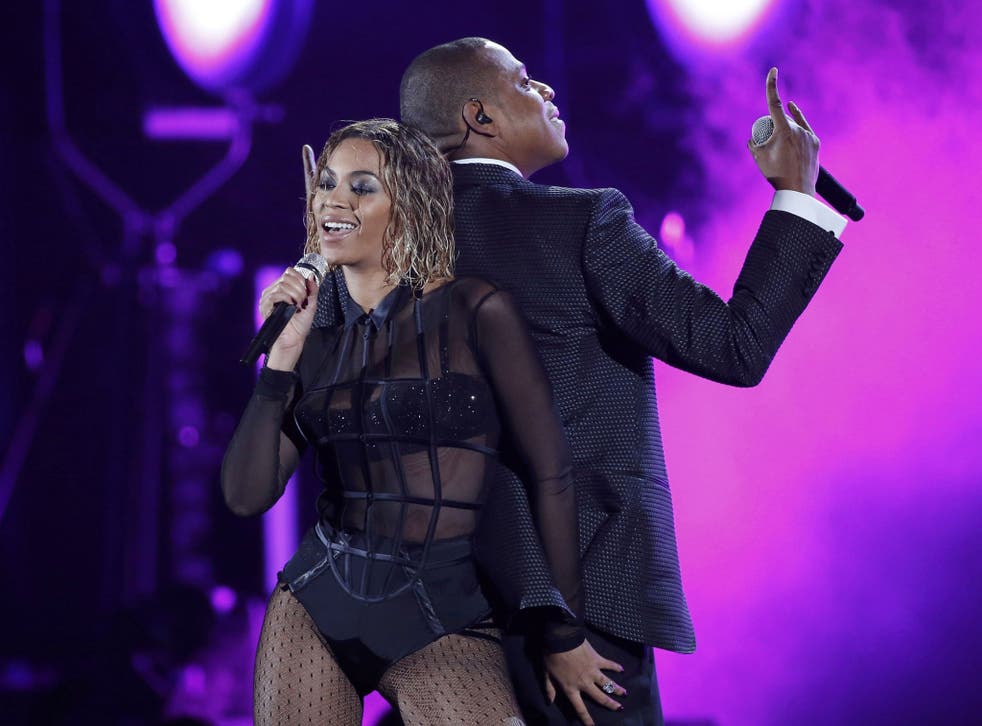 It was pretty spectacular, even for "music's biggest night". Beyoncé and Jay-Z opened the 56th Annual Grammy Awards with a performance (as well as a PDA, left). The two remaining Beatles played together once again (top). Stevie Wonder joined Daft Punk and Pharrell Williams (above) on stage for "Get Lucky". And 33 straight and gay couples were married by Queen Latifah while Macklemore & Ryan Lewis played their new single, "Same Love".
That's the thing about the Grammys – they can get pretty weird. Like Madonna rocking up sporting gold grills across her teeth; or Led Zeppelin winning Best Rock Album for a live album recorded seven years ago. You just have to go with the madness. But this is organised chaos and the Grammys take meticulous planning. The man in the driving seat is executive producer Ken Ehrlich, who has been involved with the awards for the past 34 years. This year, the event took place more than two weeks earlier than it did in 2013, thanks to the Winter Olympics and the Super Bowl.
Usually Ehrlich and his team won't secure performers before nominations are announced (this time, that was on 5 December). But with the new time constraints Ehrlich who doesn't get to vote or have advanced information about nominees, had to approach things a bit differently. "Normally, I don't book anybody until the nominations come out; it's something of an unwritten rule," Ehrlich told Billboard. "But I made it very clear to the Academy this year: I have to talk to people we are reasonably sure will be nominated, early. Whether I trigger a request or not is another story. It's kind of unprecedented. I've had to couch requests with: 'Look, guys, we're talking now – but you'll get a call on 7 December to say if it's a go.'"
That everyone goes on Christmas break soon after doesn't help matters. "From the ninth to the 16th, I have to get everything rolling." The figures involved with putting on the show are staggering: 40 performers, 19 performances, thousands of lighting cues, dozens of video graphics, endless pre-recorded audio tracks. The show's director, Louis J Horvitz, leads a team of eight people in the video control room, manning the movements of 18 cameras. Twenty-two stage managers run amok over two stages and 40 lighting technicians are on hand to light the room and performances correctly. (It's a similarly huge undertaking at our own BRIT awards, where 1,000 people work on it on the night).
Ehrlich also prides himself on putting unusual collaborators together and it's what the Grammys have become known for.
"You see artists do things that they don't do anywhere else," Ehrlich told The Hollywood Reporter. "It may have started, years and years ago, with us approaching artists such as Prince and Beyoncé, or Eminem and Elton to suggest these collaborations. The fact is, the artists now come to us with these ideas, and look on it as a road map to the Grammys. You take Imagine Dragons and Kendrick Lamar, put them together and say, 'Make something out of this…'"
It's a route the BRIT awards have followed. In recent years we've seen collaborations from Rihanna and Klaxons, and Justin Timberlake and Kylie Minogue. Labrinth joined big winner Emeli Sandé in 2013. "Artists are very particular who they collaborate with," says Maggie Crowe, director of events at BPI, which puts on the BRITs. For this year's ceremony, organisers have hinted that dance duo Disclosure will team up with "Royals" singer, Lorde, after they tweeted an image of the Kiwi covered in Disclosure's signature sketch face. Katy Perry, Arctic Monkeys and Bruno Mars are also set to perform. But we'll have to wait until 19 February to see if anyone has planned anything as out-there as a mass wedding on stage.
Grammy Awards 2014: Best pictures

Show all 14
---
Join our new commenting forum
Join thought-provoking conversations, follow other Independent readers and see their replies