Grief is the thing with guitars: How indie music is tackling death in the age of Covid
After the death of his father, Ed Power finds artists such as The Anchoress, For Those I Love and others have been confronting grief in all its disorienting, gut-punching power, creating albums that speak to our time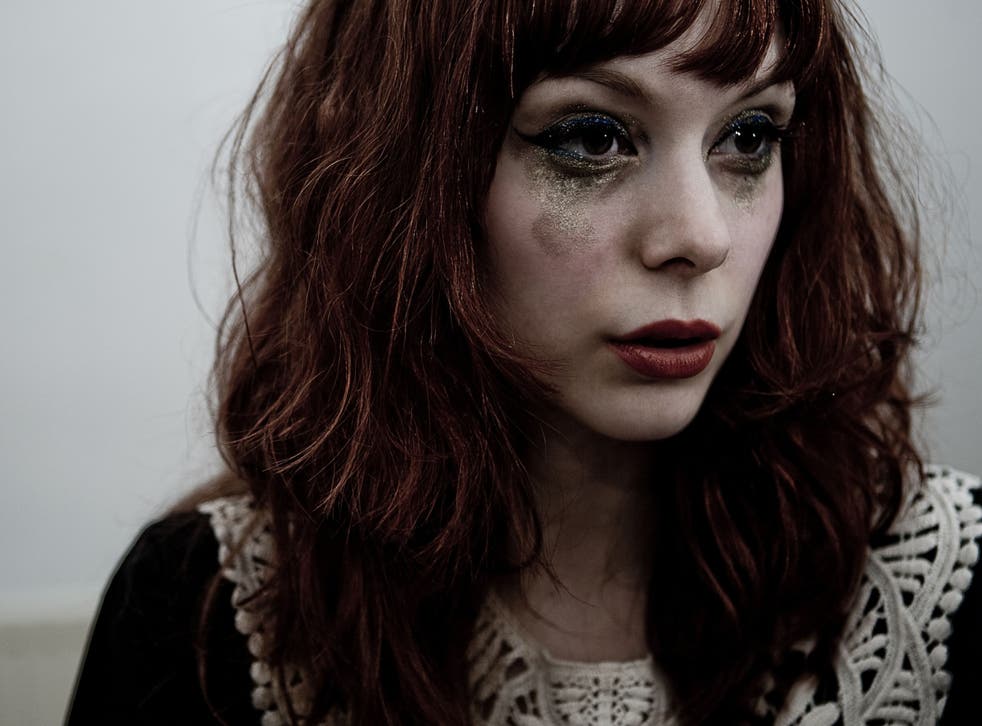 T
here is a guitar part on the new album by Catherine Anne Davies, aka Welsh-born multi-instrumentalist The Anchoress, that was recorded at the precise instant of her father's death.
"Literally at the moment he would have died, I was doing the guitar for the track," says Davies over Zoom. "I know because my mum called me in the studio. She was in a state of shock over what had happened. I stopped there and left the track. There is something on the album that captures the moment he died. It's strange. I couldn't listen to it for a long time."
Musicians have always been in dialogue with death. Neil Young's Tonight's the Night from 1975 was his response to the fatal drug overdoses of Crazy Horse guitarist Danny Whitten and roadie Bruce Berry. Joni Mitchell mourned jazz icon Charles Mingus on 1979's Mingus (it featured collaborations with Mingus in his final months).
The examples keep coming. On Arcade Fire's Funeral (2004), Win Butler paid wobbly lipped tribute to his late grandfather, jazz steel guitar pioneer Alvino Rey. Sufjan Steven's Carrie & Lowell (2015) is in part a meditation on the passing of his mother, from whom he was semi-estranged for years. For rock'n'roll, the great beyond is a recurring source of dread and fascination, inspiration and creeping terror.
But The Anchoress's second LP, The Art of Losing, released on March 12, stands apart from that black parade. Rather than reckoning with death in philosophical terms, it captures at a granular level the disorienting effect of grief. It hits you in the gut. And it chronicles, in real time, the mourning process for Davies, who, in the months following her father's passing, and while still recording The Art of Losing, went on to have three miscarriages and to be diagnosed with cervical cancer (days before Christmas).
Davies is one of a new generation of artists who approach death not as a grisly mystery but as a reality with which we must all reckon sooner or later. This club also includes Nick Cave who, on 2019's Ghosteen confronts, at an almost physiological level, the loss in 2015 of his 15-year-old son Arthur.
There is also, of course, David Bowie's final album, Blackstar, released days before his passing in 2016 at age 69 and which can posthumously be read as Bowie's engagement with his imminent demise. We can also mention, briefly, Soccer Mommy's Sophie Allison; her 2020 LP Color Theory reflected on mortality and what comes afterwards as her mother (who is still alive) battled cancer across the span of a decade.
Death is never not topical. It's part of life, the shadow creeping after the sunshine. But for obvious reasons we are all thinking about it now more than ever. Across the past 12 months, the nightly news has included a running total of those who have died from Covid. A thousand deaths one evening, 800 the next – and so on and so on. As the days slipped by, it was hard not to become numb to, and even stony-hearted towards, the grim toll.
That is why records such as The Art of Losing and For Those I Love are so essential right now. They remind us each blip on the TV tracker represents a life prematurely ended, a family unmoored.
Davies nods her agreement. The guitar part she recorded as her father passed away from a fast-acting brain tumour at age 59 is from the song "My Confessor". The track is, ironically, about a break-up rather than grief ("You climbed under my bed/ And into my heart/ Now I'm out of my head").
But elsewhere she loses herself in the psychological hall of mirrors that is grief. "So what did you learn when life was unkind," she booms on the Depeche Mode-like title track, "Was there some purpose to losing my mind?" Even more explicit is the ballad "Let It Hurt", where Davies sings to herself, "This is going to take some time/ Stop arguing with yourself and let it hurt some, let it hurt some."
"The record was supposed to come out last March and at the time I was really frustrated when it was put on hold," says Davies. "But in a way, I feel maybe it was supposed to happen like this. As a culture, it feels everyone is far more ripe now for opening and thinking about death and grief. Even look at the popularity of [Russell T Davies's Aids-era weepy] It's a Sin."
Davies has been told throughout her career that her music is "dark" and not "necessarily for a mass audience". She feels that the audience may at last be ready for what she has to say. "Whether it's something to do with the pandemic or whatever, cultural conventions have shifted. People are much more open to having those difficult conversations now."
One of those having that conversation is the Dublin producer David Balfe, who reflects wrenchingly on his best friend's suicide on his upcoming For Those I Love project. The album is, among other things, a hugely moving tribute to the February 2018 death of bandmate Paul Curran (they formed the hardcore group Burnt Out together). "It has helped in a lot of ways," he says." [But] it has brought with it a lot of additional questions. Maybe some additional weight to that grief."
He painstakingly put together For Those I Love in a shed at the bottom of his garden in the Dublin suburb of Coolock. The music is extraordinary – Balfe's stream of consciousness delivery pushing against an avalanche of piano loops and emotive grooves. It's as if the soul of James Joyce's "The Dead" has been transposed inside a foundation-quaking Jamie xx epic.
"Your body laying in its glow/ Surrounded by those you know/ Crying for you words, and your soul," Balfe intones on single "I Have a Love". He delivers the lines with the ferocity of a terrance chant (he and Paul were devoted Shelbourne FC supporters – the club held a minute's silence after Curran's death). I cried listening to it, though that may have something to do with the fact my father passed away in September.
Music has become bound up in my memories of my father's final months. On the morning of his death, as I prepared to drive to the hospital, in a daze I rifled through the stacks of old CDs I keep in the boot and put on the debut album by late Nineties softcore band the Kingsbury Max. It felt like such a random choice. Why had I alighted upon this dreamy yet hardly indispensable mash-up of Simon and Garfunkel and Mazzy Star? Perhaps it was the soporific quality, the hazy alt.pop amplifying the numbness that was my way of coping.
In the final weeks of my father's life one of my ways of processing the dread and denial had been Kelly Lee Owens's 2020 LP Inner Song, a tumult of contemplative techno that drew on the grief she felt over her grandmother's passing. It catalysed my sadness – but ever since September, I haven't been able to go back to the record. Inner Song sits on my shelf and I feel uneasy whenever my gaze fixes on it. Perhaps I'll be able to listen to it again in the future. Maybe I don't want to be ever able to listen to it again. I don't know.
In the case of Balfe, For Those I Love – also the alias he has adopted for the project – has not brought closure. "I'm not sure grief is a linear thing," he says. "I'm not sure that clarity ever moves forward towards a final resolution."
The weeks he spent making the LP in 2018 are a blur. He wasn't ready to confront his feelings and so put them into the music instead. "I was so cold I didn't allow myself the space to grieve," he says.
"I didn't allow myself the space to think about my feelings or even sit with them. Going to the shed and locking myself away was probably the first bit of space I allowed myself to breathe and accept to a degree what happened. It certainly feels a lot more real when you hear yourself say aloud what happened. When you see yourself write down and read back what happened."
Six months after finishing the record, though, something inside him changed. "I couldn't put the album on," he says. "I'm not sure it brings me a whole lot of safety any more. I've had to listen to it when signing off on the vinyl test pressing. Outside of that, when I listen to it, it doesn't bring me the respite and reprieve it did after I made it."
For Those I Love was released independently in Ireland in the summer of 2019. Now it is to be put out in the wider world and Balfe is wary of how the project may be received. He doesn't wish to glamorise a tragedy.
"The academics, the people in the know, they talk about how 'martyrdom' is a negative in these situations," he says. "A lot of people have stopped doing memorial cups for people who have died by suicide. There is an understanding that it can suggest to people that if they see that they will be 'more loved' after they pass on this might be a negative. It weighs on me and makes me feel an element of guilt."
For Davies, grief is something that is experienced as much at a physical level as emotionally or psychologically. "Your senses are assaulted by the overwhelming nature of it," she says. "I thought, 'how do I evoke that sound?'"
Her solution was a device called a Leslie cabinet – a combination of amplifier and loudspeaker that takes in the signal of an electric instrument and then "modifies" the sound and throws it back drenched in distortion. Just like grief, it warps reality.
"That for me was the closest I came to the physical sensation – the way grief throws you around, the disorientation. It is really surreal, especially when it's your parents," she says.
"Your parents are your anchor to the world. They're the people who teach you the colours, the names of things. When my dad died, it was so sudden – from diagnosis to death, about 14 weeks. And suddenly, it's as if someone has said to you, 'The colour blue doesn't exist any more.' That's impossible to comprehend. That absence: how do you put it into music?"
Death and how artists write about it is clearly a complex subject. Never more so than this moment in history. Not even as great a chronicler of the human condition as Nick Cave can fully come to terms with it. It's just too huge for him to put his arms around.
"There is a vastness to grief that overwhelms our minuscule selves," he wrote on his blog in October 2018, a year before the release of Ghosteen. "We are tiny, trembling clusters of atoms subsumed within grief's awesome presence. It occupies the core of our being and extends through our fingers to the limits of the universe."
It was in an attempt to untangle their feelings about death that English folk band Tunng devoted an entire record to the subject. Tunng Presents… Dead Club, released in November, grew out of singer Sam Genders's fascination with author Max Porter's wry and haunting 2015 rumination on bereavement, Grief Is the Thing with Feathers.
He went on to interview Porter and others with a philosophical take on death and dying (including public intellectuals AC Grayling and Alain de Botton). Their thoughts are sampled on the record, and delved into further in an accompanying eight-part podcast which Genders hosted.
One point De Botton makes in his conversation with Genders is that for many of us death can be pushed beyond the realm of lived experience for most of our adult lives. We may be in our sixties before a parent passes. Until then, you can sort of get away without thinking about it too much. Of course, the pandemic forces us to reconsider whether that is still the case.
"Reading Grief Is the Thing with Feathers, I was struck at how multifaceted grief is," says Genders. "It encompasses every human emotion. And that's perhaps at odds with the cliché of grief as having a sort of noble sadness about it. No doubt for many people that is part of the process. I think people have rage and fear and confusion and numbness as well. And humour."
That sweep of emotion is captured on songs such as "Death Is the New Sex". Here, a wistful folk melody is juxtaposed with lyrics such as "Death is the new Sex/ Everybody's talking about it/ Death is the new Sex/ Coming soon to f*** us all." You'll smile. And feel the tiniest chill.
There's obviously a prescience, too, to lines such as "death… coming soon", given that the LP was written before the pandemic. "We did think, is it insensitive to put it out at a time like this?" says Genders, who, in a slightly disconcerting twist, has just crashed his car the first time I call to chat (he's fine).
"We talked among ourselves and among the people involved and thought, well, if this discussion is worth having then perhaps it is relevant to have it now. We didn't have a great deal of confidence we were doing the right thing. However, we decided to go ahead. And we've received some touching messages. It has helped people process information or to have conversations with loved ones."
Balfe is likewise glad he persevered and put his album out in 2019. Since then many strangers have reached out on social media to say that his words and music have led them to reconsider their own destructive impulses. He'd rather have his friend back and not be doing any of this. But it comforts Balfe to know the LP has had a positive impact. That a record about death has inspired people to re-engage with life.
"If there is any potential good outcome from this then it is someone saying that, 'this has allowed me re-process a traumatic past and has made me rethink some of the self-destructive actions I have been taking.'" It has given them the space to save themselves. I don't know if anything could be greater than that."
The Art of Losing by The Anchoress is released on 12 March; For Those I Love by For Those I Love is released on 26 March
Join our new commenting forum
Join thought-provoking conversations, follow other Independent readers and see their replies