A Hard Day's Night: How The Beatles had Cliff Richard on the run
Fifty years ago, the Beatles' anarchic debut film, A Hard Day's Night, wiped away the stuffy conventions of British teen cinema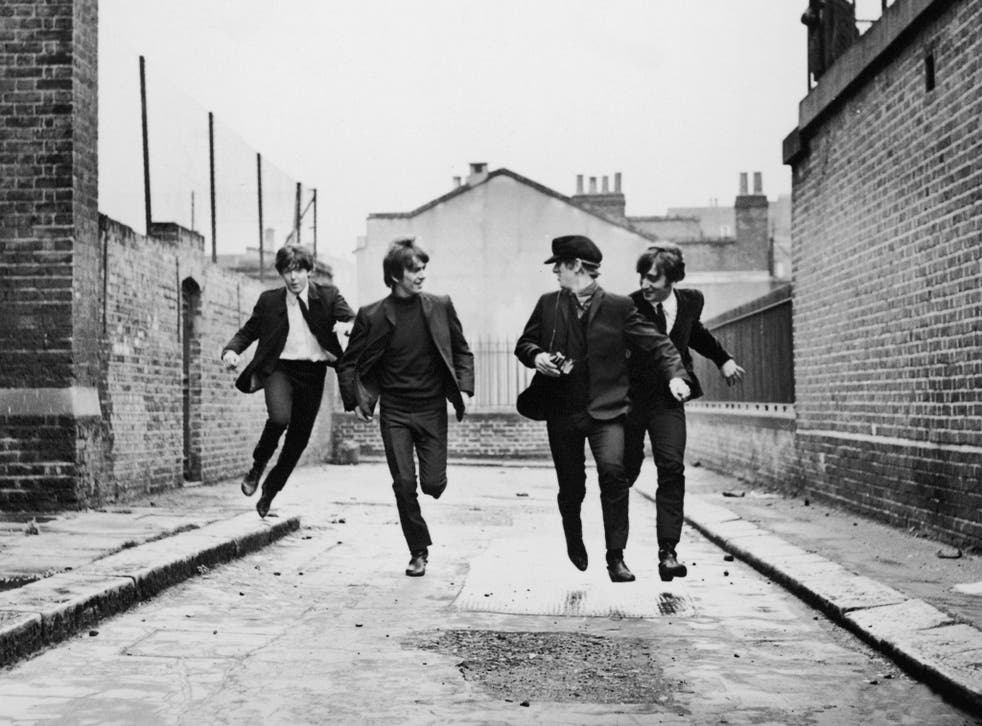 In January 1963, British cinemagoers were enticed by posters claiming that, "It's what happens when FOUR BOYS in a borrowed bus... (with built-in bunks and bath)... meet FOUR GIRLS with a single mission...MEN!!". For a mere 1/9d, the audience could see Summer Holiday – and vicariously experience the pleasures of sun and sea, while watching Cliff Richard sporting polyester shirts in many and various hues. The film became the second most popular film at the British box office of 1963; yet a mere 18 months later, the Beatles' A Hard Day's Night almost instantly relegated Cliff and co to the ranks of the middle-aged.
Back in 1957, Nat Cohen and Stuart Levy of Anglo-Amalgamated, a company that specialised in low-budget films, produced The Tommy Steele Story, Britain's first teenage rock'n'roll musical. Just weeks after its release in June 1957, it had recouped its £15,000 production costs, going on to make a total profit of £100,000. The result was a spate of black-and-white rock'n'roll musicals, with 28-year-old "teenage" extras swaying amongst the potted plants to the happening sounds of Terry Dene.
By the early 1960s, such low-budget gems as the Billy Fury film Play It Cool were still the norm, although the genuinely ambitious The Young Ones was an alternative. That the latter was intended as much as a major British musical as it was a vehicle for Cliff Richard is made clear from the outset: Douglas Slocombe's Eastmancolor cinematography and Sidney J Furie's ambitious use of crane shots raise the film well above the typical pop narrative of its day.
Cliff's next film, Summer Holiday, followed a gang of London Transport mechanics who had decided to turn a bus into a caravan and drive it across Europe, a narrative that offered frequent opportunities for song and dance. These included the truly bizarre moment, set in the former Yugoslavia, when a "peasant girl" is reduced to hysterics by four polyester-shirted youths singing "Dancing Shoes" while performing what may well be the world's worst twist routine for no apparent reason.
Naturally, as with all fine British pop films of this era, The Young Ones and Summer Holiday have middle-aged authority figures to increase the appeal to a family audience, although this is not always a disadvantage: two of the only times that Sid James was seen to dance on screen were in 1959's Tommy the Toreador and the 1965 Joe Brown vehicle Three Hats for Lisa.
But the harbinger of the end of this strange realm – one where Heinz Burt is visibly struggling to cope with his meagre dialogue in Live it Up and where Marty Wilde and cronies sing about how Commonwealth immigrants have taken over the local Labour Exchange (What a Crazy World is a truly odd picture) – was a 1962 B-film shot on a budget of £50,000 and directed by a young American named Richard Lester. In Its Trad, Dad!, velvet-voiced authority is mocked and derided – from Deryck Guyler's deadpan narrator to Pete Murray, Alan Freeman and David Jacobs gamely playing themselves as vain middle-aged DJs.
Three years later, Lester was chosen by Walter Shenson of United Artists to direct the Beatles' cinematic debut, A Hard Day's Night. Shenson did not want to follow the then standard formula and make "a Hollywood-style pop musical about four unknown boys from Liverpool who smuggle homemade tapes of their own compositions into a disc jockey's studio" – and instead the film focused on a comic version of the group's own fame: being trapped in limousines and hotel rooms by their fans and subjected to vacuous questions by jaded show business journalists.
The critical and commercial impact of A Hard Day's Night did not immediately cause the demise of the traditional British pop film. Dateline Diamonds (1965), for example, combines the standard B-movie chases in black police Wolseleys with guest appearances from Kenny Everett and music from The Small Faces and Kiki Dee. The Cuckoo Patrol (1967) featured the terrifying tag line, "Based on a story outline by Freddie and the Dreamers", while Frank Ifield starred in Up Jumped a Swagman (1965). More surreal sights were provided by Billy Fury in I've Gotta Horse (1966), in which the rock'n'roller serenaded various cuddly animals – and the expression on Spencer Davis's face throughout the entire running time of The Ghost Goes Gear (1966) is truly memorable. Forget L'Année dernière à Marienbad – any film featuring Nicholas Parsons, Stevie Winwood and a bequiffed folk-singing ghost is truly challenging the boundaries of cinema.
But when the Beatles' first film was released on 10th July 1964, it truly marked a seminal moment in the depiction of popular music on screen. Many details of A Hard Day's Night display an England that now looks impossibly quaint – the milk vending machines on railway platforms, the steam engines, the wonderfully grim pub in which Ringo seeks refuge – but the rapid pace of the editing, the hand-held cameras, and Alun Owen's script still create a mood that is fresh and optimistic.
Enjoy unlimited access to 70 million ad-free songs and podcasts with Amazon Music Sign up now for a 30-day free trial
Sign up
And if you want a further measure of its impact, just compare it to the other major British pop film that had been released a week before. Lester shot the Beatles' vehicle in black and white over a matter of weeks, while Wonderful Life teams Cliff & the Shadows with Canary Island locations, Techniscope colour and elaborate Hollywood-style choreography. But for all of the latter's enhanced budget – and the genuinely swinging scene of our hero singing "On the Beach" to Susan Hampshire – the reliance on a narrative designed to appeal to a "family audience" and the ultimate deference of the young protagonists to middle-aged authority made the film look about as fashionable as an Austin A60 Cambridge.
The Beatles' appearance on the 1963 Royal Variety Show was the nearest they would ever come to this conservative show business world – and A Hard Day's Night was a 90-minute demonstration that the group had no need of "paternal guidance".
Join our new commenting forum
Join thought-provoking conversations, follow other Independent readers and see their replies