How 'Weird Al' Yankovic landed the first number one US comedy album in 50 years
Alice Jones on why the comedy album is enjoying a renaissance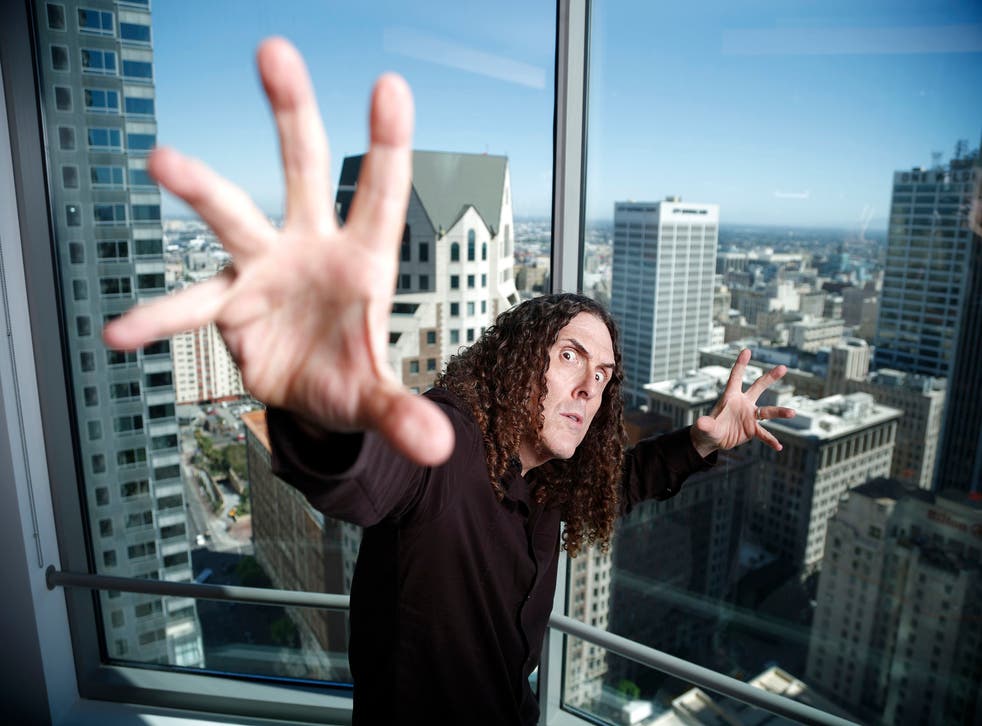 These are high times for daft ditties. Yesterday, after almost four decades of releasing pop parodies, "Weird Al" Yankovic scored his first No 1 album, beating globally recognised music acts like Jason Mraz and Ed Sheeran.
Mandatory Fun rocketed to the top of the American charts thanks to a week of viral silliness, in which the comedian posted eight new songs online in eight days, then sat back and watched as the shares for "Word Crimes" - Robin Thicke's "Blurred Lines" retooled as an attack on poor grammar - and "Tacky" - a daft cover of Pharrell's "Happy" which makes fun of Crocs and Instagram among other naff modern evils – rolled in.
Yankovic, 54, is no stranger to mainstream success. His mumbly Nirvana spoof, "Smells like Nirvana" was nominated for an MTV Award in 1992 alongside the original, while his take on hip-hop anthem "Ridin'", "White and Nerdy", went platinum.
He has 3.3million followers on Twitter. A No 1 album, though, is a step-up. That Weird Al has managed to get the better of the multimillion music industry, while poking fun at all that it produces, and with only some witty lyrics and a few quite simple videos, will surely give label moguls pause for thought.
Mandatory Fun is the first comedy album to top the American chart in more than half a century. The last was Allan Sherman's "My Son, the Nut" which held the top spot for two months in 1963 thanks to hits such as "Eight Foot Two, Solid Blue" (a take on "Five Foot Two, Eyes of Blue", obviously) and "Hail to Thee, Fat Person" delivered to the tune of "America the Beautiful." The whole LP can be found on YouTube and is worth a listen, if only as evidence that musical parodies never get old.
That's what Monty Python are banking on, at least. Two weeks ago, the ageing comedians, keen to squeeze every last drop of nostalgia out of their reunion, reissued their 1989 album Monty Python Sings – featuring classics like the "Spam Song" and the "Lumberjack Song" and the never-heard "Lousy Song." It entered the charts at No 35 - not bad for a reissue by a bunch of septuagenarians.
Sarah Silverman is the latest to cash in with a record. This week she announced, via a trailer shot on her iPhone, that she will release We Are Miracles on Sub Pop in September. Though she sings songs – faux-cutesy ditties to acoustic guitar, with unprintable choruses – this is a recording of her 2013 HBO special and so will be more spoken than sung. A sample, her "Planting the Seeds of Insecurity" routine, is up now on Soundcloud. Sub Pop have previously released brilliant comedy albums by Patton Oswalt and Flight of the Conchords. There's clearly a market there.
Enjoy unlimited access to 70 million ad-free songs and podcasts with Amazon MusicSign up now for a 30-day free trial
Sign up
While the comedy album is nothing new – no wannabe stand-up's iTunes library is complete without Bill Hicks' Relentless or Steve Martin's A Wild and Crazy Guy – it is enjoying a renaissance. The success of Yankovic's social media-friendly pop satire is no surprise in today's culture of rapid response and online sharing. Telegenic parody acts like The Lonely Island and UK newcomers The Midnight Beast now build YouTube followings almost as fervent as those of the boy bands they spoof.
For comedians, a recording is a way of immortalising at least some of the mercurial brilliance of a live set. I've never quite seen the appeal of live stand-up DVDs. With some notable exceptions, they rarely capture the crackle and buzz of a night in a comedy club and instead force you to watch what you missed out on. An audio recording is more personal somehow. And as a means getting into the work of overseas talents who rarely perform in the UK, they can be invaluable. Should Weird Al start to pall, Demetri Martin's "These Are Jokes", anything by Mike Birbiglia, Bo Burnham's "What?" and Louis CK's "Hilarious" are crammed with hits.
Join our new commenting forum
Join thought-provoking conversations, follow other Independent readers and see their replies