I got satisfaction rocking with Mick and Keith
Singing with the Rolling Stones was unforgettable, says Jane Macarthur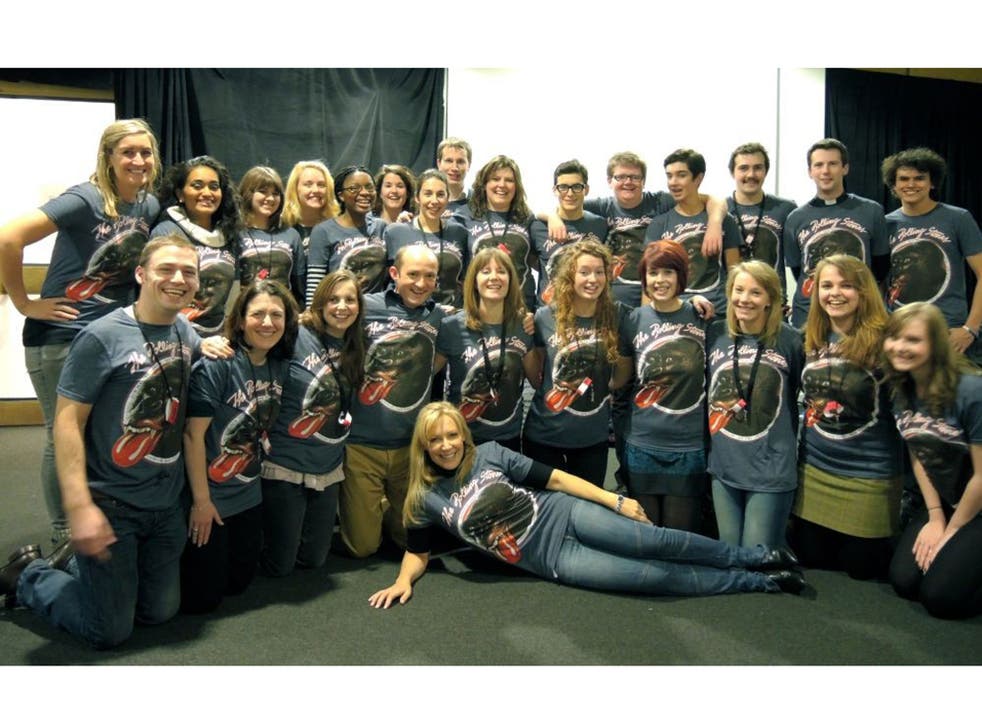 I'm shaking and sweating as I descend the stairs into backstage blackness. Somewhere a few metres behind me, Mick Jagger shouts, "Thanks to Voce Chamber Choir and the London Youth Choir!" and a few metres beyond that, some people yell their approval. Twenty thousand people. In 50 years, the Rolling Stones have never performed "You Can't Always Get What You Want" with a live choir: we've just made rock 'n' roll history.
By we, I mean Voce, a London chamber choir with around 25 members that was founded by Suzi Digby OBE in 2003. Our last concert was at St Peter's Eaton Square, to an audience of a few hundred classical-music lovers who clapped politely when we finished Duruflé's Requiem. Gareth Malone, presenter of The Choir, carolled with us not long ago, and we've sung for Rod Stewart and Russian royalty. But the Rolling Stones? This is new.
At the start of November, we performed for Matt Clifford, the Stones' musical director. We had to prove we were good enough for the job, that our consonants were crisp and that our sopranos could manage to hold five bars of top C . "It's going to be loud," he told us repeatedly. "You're used to the acoustics of a nice church. When the O2 is full of screaming people, and Charlie's on his drums, and you've got the keyboards, and the backing vocalists, and Keith, Ronnie and Mick all blasting out… There ain't no acoustics. You'll have your headset and it'll help but really, nothing can prepare you. Nothing."
Our next rehearsal was at Wembley. In the semi-darkness, the band ambled on stage. Cool as you like, in tracksuit bottoms and a collared shirt, Mick took control. Keith, Charlie and Ronnie chatted quietly, fags dangling from their lips. We began our unaccompanied intro: "I saw her today at the reception…" A minute later, the band kicked in and my tears welled up. Even in rehearsal, Mick gave everything to his performance, mirroring the suggestions of the choreographer who stood in the pit in front. Towards the back of the stage he had two items on a metal stand: a bottle of hand sanitiser and a box of tissues, covered with images of provocatively dressed women. Was the box decorated by a dedicated intern or does Kleenex make a saucy tissue holder just for Sir Mick? I wasn't close enough to tell. It was later that afternoon we were told the Stones had never performed the song with a live choir before. Keith's verdict? "Damn cool."
I feel far from cool as I arrive at The O2 a week later and discover that Mick has sent us all T-shirts – tour logo on the front and a unique message on the back: "You can't always get to sing with The Stones – but I did." We get into our black evening wear and wait to be called.
The band finish their main set on schedule and, after a few minutes huddling in the wings, we ascend the stairs and take our places for the encore. In the pit beneath us I see a few of the Stones' children, smiling and waiting expectantly. The stage lights go up, and then it comes, the roar, as the fans instantly recognise the famous melody. We're probably meant to be looking demure and choral but when Ronnie blows me a kiss, I enthusiastically return it.
Meanwhile, Mick handles the crowd with practised energy, looking wonderfully nonplussed when a black bra lands at his feet. And then we're singing again, joining with the band for the song's glorious, climbing finale. In total, we're onstage for around six minutes. It seems like six seconds, and I imagine I'll be talking about it for the next six decades.
Voce's 'Carols by Candlelight' is on 16 December (vocechamberchoir.org.uk)
Join our new commenting forum
Join thought-provoking conversations, follow other Independent readers and see their replies