Jake Bugg: 'Perhaps I'm not a nice person, but no one's perfect'
Musician admits he is still bugged by the baggage of celebrity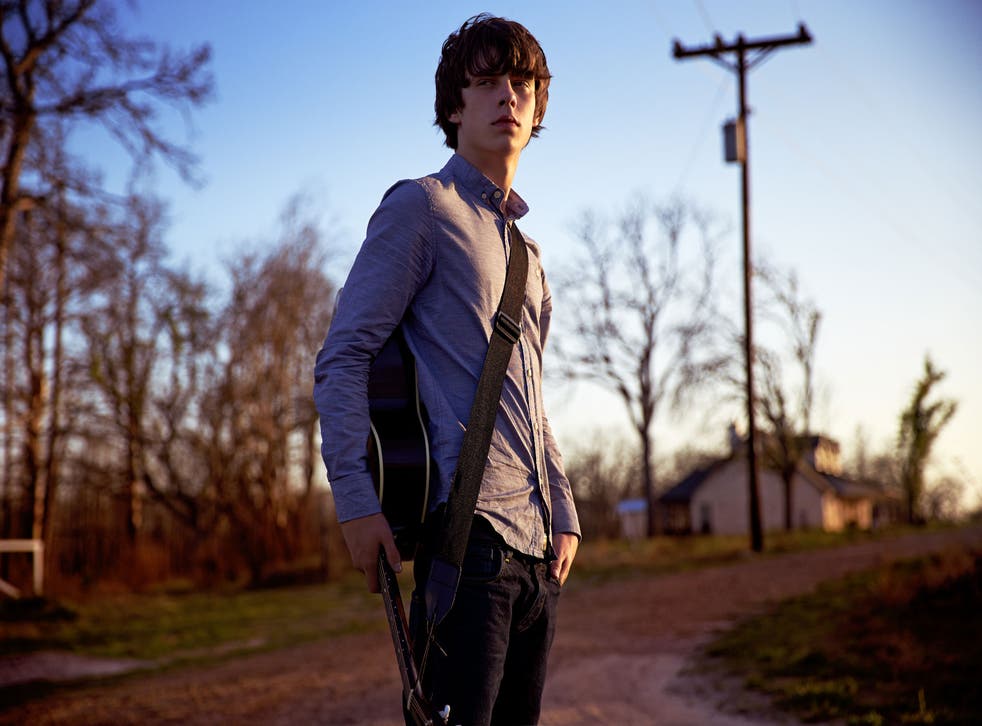 In the flesh, Jake Bugg looks impossibly young and rather angelic, the disdainful scowl he has perfected for television and photo shoots here melting into something far more vulnerable. "I'm shy," he says. "I don't think people get that."
He says he always wanted to sing, always craved an audience, but never considered the accompanying baggage with which he is having so much difficulty. "Somebody asked me if I was the voice of a generation recently," he says, incredulous. "I was just, like… what? Me? Why?"
It's Sunday lunchtime at Soho's Groucho Club, and Jake Bugg, 19, is fresh from a performance on The Andrew Marr Show, where he sang his current single, " Me and You" to guests including Eric Pickles.
This week he was nominated for Best Male Solo Artist at the Brit Awards but lost out to David Bowie, no less. He is clearly relieved to be here now, in his private members' club, where he has ordered a cappuccino and a cucumber-fragranced mineral water, and asked the waiter to turn the TV on to Sky Sports.
"I like this place," he says, reclining. "What happens here, stays here, you know?"
Privacy is a recurring theme in Bugg'u s conversation. Since becoming almost overnight famous two years ago, he has had claim to precious little of it. He's an intriguing anomaly in the 21st century, boasting a singing style more Lonnie Donegan than Harry Styles, and is intensely mistrustful of anyone who craves celebrity. He tells me he'd rather not have a smartphone at all, much less feel duty bound to tweet semi-regularly to his 360,000 followers. "Yeah, okay, not having my phone anymore would be like losing an arm," he shrugs, "but people who lose an arm get used to it, don't they?"
His sole concession to the rules of pop stardom lies exclusively in his outfit, which today, like most days, is positively Roy Orbison: black jacket, black jumper, black jeans, black socks, black trainers. The trainers, Nikes, are new, and he admits he feels awkward wearing them back home where friends he went to school with likely haven't been quite as successful as he, and so consequently can't afford flash footwear. "I don't want them to think I'm showing off, or anything," he worries.
Bugg seemed to emerge fully formed in the summer of 2012, his arresting debut single "Lightning Bolt" sounding like a just-unearthed classic from 1962. He was younger than X Factor hopefuls, but an old soul already. There were comparisons to Buddy Holly, to Bob Dylan, so comically throwback was he, but his eponymous debut album revealed that the single wasn't a one-off. Everything on it was lovingly retro, and mature beyond his years. It sold a million copies around the world, which so overjoyed his record label that they put him in the studio with the US producer Rick Rubin to record its follow-up, Shangri La, which came out late last year.
Shangri La is terrific, at once a relic of the past in terms of its sonic simplicity and, in 2014 terms, utterly unique for a pop record, but its subsequent success – 200,000 sales, and counting – has done little to ameliorate his general discomfort. One Direction, I say to him, seem perpetually happy with their lot, so why isn't he with his?
Enjoy unlimited access to 70 million ad-free songs and podcasts with Amazon Music Sign up now for a 30-day free trial
Sign up
"Yeah, but those pop stars, that's their job, isn't it? To smile. They go into a studio, they get given a song to sing, they sing it. And so everything's great, everything's fine, all the time. Real life's not like that, is it?" Which means, then, that Bugg is more representative of real life? He smiles, unexpectedly. " Maybe. Look, I won't lie to you, I do have a moan sometimes just for the sake of it, but that's human nature, isn't it?"
A consequence of his moaning, he admits, is that many people seem under the impression he's not a particularly nice person. He looks uncomfortable now. "Perhaps I'm not, but no one's perfect, are they?"
Last year, he started dating emergent supermodel Cara Delevingne. They were well-suited, both looking as fresh out of the cot as the other, but Heat magazine started to take an interest, and the tabloids, too, and Bugg retreated. Their relationship was short-lived. Is he seeing anybody now? "I'm not, no. It would be nice to have a girlfriend, but I don't think it would be fair on her right now. I'm never in one place, am I?"
Even returning home, to Nottingham, has been problematical. While his parents, who split up shortly after his birth, remain supportive and, according to him, "unsurprised" at his success ("my mum says she always knew I'd make it"), other family members have found his fame discombobulating.
"One of them, I don't want to name names, he kept referring to me as Jake Bugg. Not Jake; Jake Bugg. And he's family. He wanted a photograph with me. I was like, Why the f**k did you not want a photograph with me two years ago? Can't you just relax?"
He's lost contact with many people these past couple of years, and no longer frequents once-local Nottingham haunts. "Nah. I just go round a mate's house, and we drink there. You know, keep it civilised." And while he went home for Christmas, visiting friends and family, he found it hard, and elected to spend Christmas night in a nearby hotel, alone.
"It's funny," he says, pulling a Malboro from his pocket, and beckoning me up to the roof garden where he can smoke it. " You grow up, you have all these life-changing experiences, then you go back to your room, and, like, nothing has changed. It's just the same as it always was. I like that, in a way. It's nice. But then, you know, my bed never was very comfortable…"
Music is full of misfits, of course, and Bugg seems slowly to be accepting he is one. It is this that will fuel his songwriting, and keep his songs interesting. No wonder he refers to them as therapy. "People think I'm quite dead behind the eyes, and cold, but the only reason I started writing songs in the first place is because I couldn't talk about my feelings in any other way."
As he finishes his cigarette, and the rain begins gently to fall, he tells me he's been having back problems of late. He sought out a masseur while on tour, who took one look at him and said that he should not have a back like that at his age.
Bugg shrugs, his eyes not dead but all too palpably alive with suppressed emotion.
"Too much tension," he says. "Stress."
'Shangri La' is out now. Jake Bugg tours the UK this month
Join our new commenting forum
Join thought-provoking conversations, follow other Independent readers and see their replies