July Talk's video for 'Picturing Love' confronts the effects of mainstream porn on sex and relationships
Exclusive premiere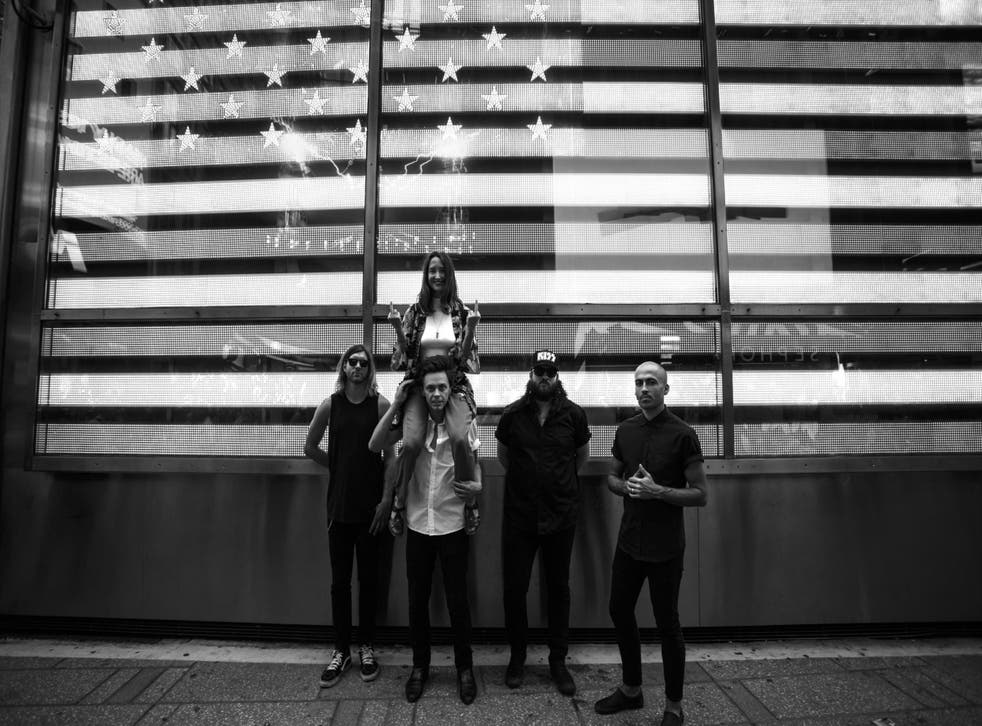 July Talk have put together a glorious video to accompany their song 'Picturing Love', which questions how online porn affects modern relationships and society's attitude towards sex - you can watch the premiere today on The Independent.
The Canadian band are still relatively unknown in the UK but things are looking good for next year with plenty of live gigs to keep them busy - including a support slot for Catfish and the Bottlemen at Wembley Arena this month.
Check out the video below and read our Q&A with the band:
Q&A with July Talk
What are you listening to at the moment?
Leah: At this very moment we're listening to the Tragically Hip as we drive to Ottawa from Montreal. They're quintessential Canadian listening fronted by one of the world's best performers (Gordon Downie) and they go particularly well with turning leaves and highways bordered by forests. Other than that we've been listening to the latest releases from Nick Cave, Nice As Fuck, Solange, Leonard Cohen, Angel Olsen and A Tribe Called Red.
Where did the idea for the Picturing Love song/video come from?
Leah: Musically, the idea for Picturing Love came about when we were eating goulash in Budapest and "I Can't Dance" by Genesis came on. Peter said "Guys, we could kill a tune like this." and that day he started tinkering with keys line on his phone in Garageband. We've talked a lot about the mainstream media's depiction of love, romance and sex over the years.
Particularly about how hetero-Hollywood porn affects the way young people discover sex and the unrealistic and male-pleasure-centric ideas it forms and perpetuates. The more that people buy into the examples of sex/romance they see, and the less they tune into the actual wants and needs of their bodies/hearts, the more fucked up sexual relationships can become. So lyrically it's exploring that.
We're not trying to say "mainstream porn is bad - don't watch it" but more "if you're going to rely on any outside sources to learn what your body likes - it might be a good idea to listen to your own personal fantasies as well" because those are just as fun. Sexuality is complicated and curious and so much more than what mainstream media feeds us and suggests it is.
What are your plans for 2017?
Peter: Everything seems to be growing and changing so much with July Talk right now, so I don't pretend to know what to expect. Things seem to be constantly shifting, so it's best to find peace within the chaos rather than try to predict and prepare for what's going to happen. That said, I can guarantee that we will play more shows in 2017 than any year before.
It's impossible to avoid over-thinking a sophomore record, but now that Touch is out there, I think the floodgates have opened and we're writing at a pace that we've never reached before. It's been a liberating creative time, so I'm hoping we can get into the studio to demo out a bunch of the new ideas between tours in 2017.
What was the first gig you ever played and what's been the best so far?
Peter: The first July Talk show was at Casa Del Popolo in Montreal. We played a few songs that we still play today; Paper Girl, The Garden, I've Rationed Well was a sort of building trance arrangement! I remember someone in the crown fainted, so it can't have been boring.
Enjoy unlimited access to 70 million ad-free songs and podcasts with Amazon Music Sign up now for a 30-day free trial
Sign up
At that point we were partying so hard, that it was more about stirring up as much chaos and energy as we could. We initially bonded on bands like The Stooges, Crazy Horse and Velvet Underground, all of whom we still love today, but because of the elements of them that we were drawing on at the time, those initial shows were just pure adrenaline and booze.
I think my favourite July Talk shows vary greatly from each other. This last summer we opened for Red Hot Chili Peppers in front of about 80,000 people. I have never felt energy like that. It felt like the audience had the power to toss my body into the air with their energy. I could literally feel them pulse with the beat and their screams were ringing through my ears for weeks. I live for that kind of energy.
That said, I will never forget a show at a small festival called The Bloor & Ossington Folk Festival in Toronto early on. Picture a blazing basement full of punks, music nerds, hippies, metalheads, college kids, every kind of person you can imagine! We blast into our set, a fight starts immediately, booze and sweat are sloshing around the stage, the crowd is screaming louder than the amps (which were totally maxed out); it was complete chaos.
The kind of night where the audience's bodies move as one, thrashing from side to side in a sort of a ritualistic sway. I live for that sh*t too.
July Talk are supporting Catfish and the Bottlemen at Wembley Arena on 15 November - tickets here
Join our new commenting forum
Join thought-provoking conversations, follow other Independent readers and see their replies