Kristeen Young reveals video for 'NICE' ahead of London residency at The Islington - premiere
'I see how often the famous person's image is not at all who they really are or how they treat people around them. I see how the audience sees the same thing most likely and doesn't care'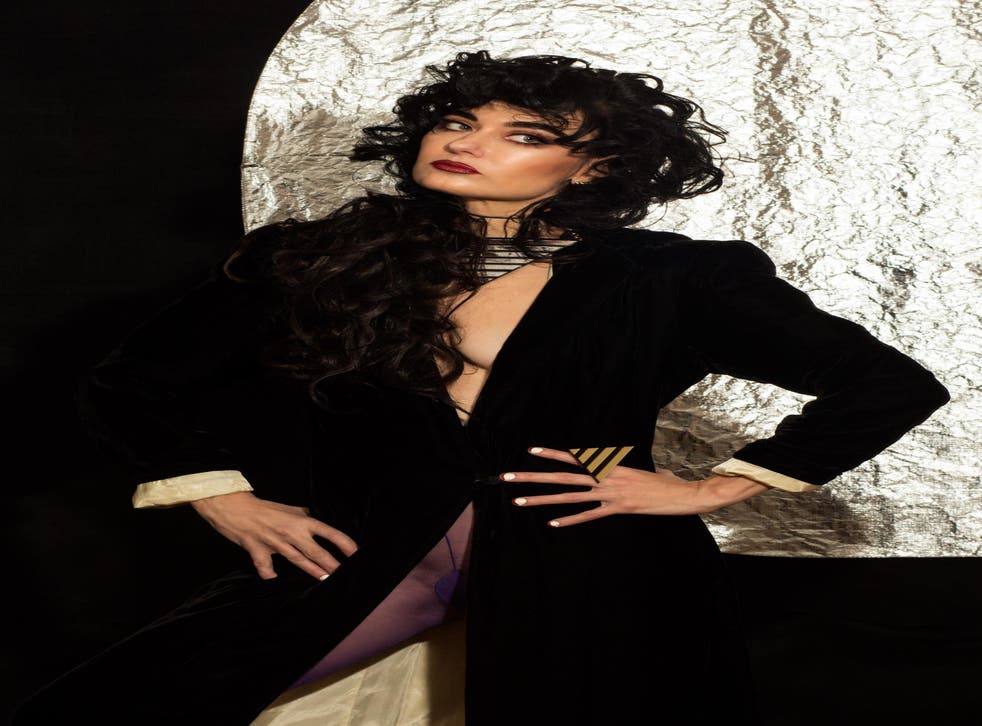 New York-based artist Kristeen Young arrives in London in February, where she'll be performing each Tuesday night at The Islington (tickets here).
Described by one (favourable) critic as 'Kate Bush on crack' - this marks her first headline tour in the UK and should get fans excited for Tony Visconti co-produced record Live At The Witch's Tit, set for release later in 2017.
We're premiering the video for her new track 'NICE' - check it out:
Q&A with Kristeen Young
What have you been listening to recently?
We have been touring the US West Coast this month so the band and I have been listening, mostly, to albums and mix tapes the other bands (on the bills) have been giving us. That, and the fairly quick unravelling of the US political system.
You and Tony Visconti seem to have a great working relationship - what's it been like collaborating on your new album?
Tony wasn't around that much for this album as he was working on other projects and touring with a band he's playing in. So, Erin Tonkon, his engineer, and I did a lot of work together. Tony would pop in here and there and help us accomplish whatever we couldn't quite (technically) figure out on our own. At this point, though, I could probably produce myself absolutely solo.
But I do almost everything else (writing, arranging, planning, designing, etc.) by myself, so I really enjoy other people's presence and opinions during recording and mixing. Particularly Tony who is a genius, of course, at recording and mixing. I've learned a lot from him. I'm lucky he's still so interested in my music.
What inspired you to write 'NICE'? It seems to tackle issues that have been around for a while but are particularly prevalent right now.
I've known some famous people. I have some friends who have worked with famous people. I watch the culture from afar and am in the culture. I see how often the famous person's image is not at all who they really are or how they treat people around them. I see how the audience sees the same thing most likely and doesn't care.
They still celebrate the famous person and even fight for them. It's most often a very loved famous man. A very loved famous man is almost completely impervious to any kind of take down. The audience needs the illusion too much. They want to believe in the uber-human, someone who is beyond the every day. I would have thought we would be beyond this kind of thinking by now, and this need for the hero, the saviour.
Enjoy unlimited access to 70 million ad-free songs and podcasts with Amazon Music Sign up now for a 30-day free trial
Sign up
The "great idea" is the real saviour and we are all capable of great ideas. I would have thought, by now, we'd be voting for just that: Excellent ideas, agendas, and not people and personality.
What should fans expect from your tour?
An emotional spectacle. Wailing, caterwauling, the bashing of piano keys and the gnashing of teeth. The every Tuesday residency at The Islington throughout the month of February is part of a series of show residencies I'm doing in various cities. (The band and I played in Los Angeles at the Hi Hat throughout the month of January.)
The residencies are pre-album release shows leading up to the new album (Live At The Witch's Tit) release. It's so people can really get a feel for some of the new material. We haven't toured very extensively since 2014, so I thought it might be a good idea to have a catch-up with people. So much has happened. We need a re-introduction to each other.
What was the first gig you ever played and what's been the best so far?
The first BAND gig I ever played was in a legendary Midwest, almost mythological, basement club in St. Louis, Missouri called Cicero's. It's no longer with us. As far as "the best", I'm not sure what you mean.
The best experience? I've been fortunate to play, as a support band, some very glamorous large venues, and also headline some very exciting small clubs to wonderful, exuberant audiences.
No matter which scenario it is, I almost always feel I could have done better. It's difficult to take things in and really feel the moment. I can't feel anything except it could be better. And of course it can.
Join our new commenting forum
Join thought-provoking conversations, follow other Independent readers and see their replies