Odesza: How the Seattle dance-duo have gone from bedroom producers to festival highlights
From the home of grunge to UK dance floors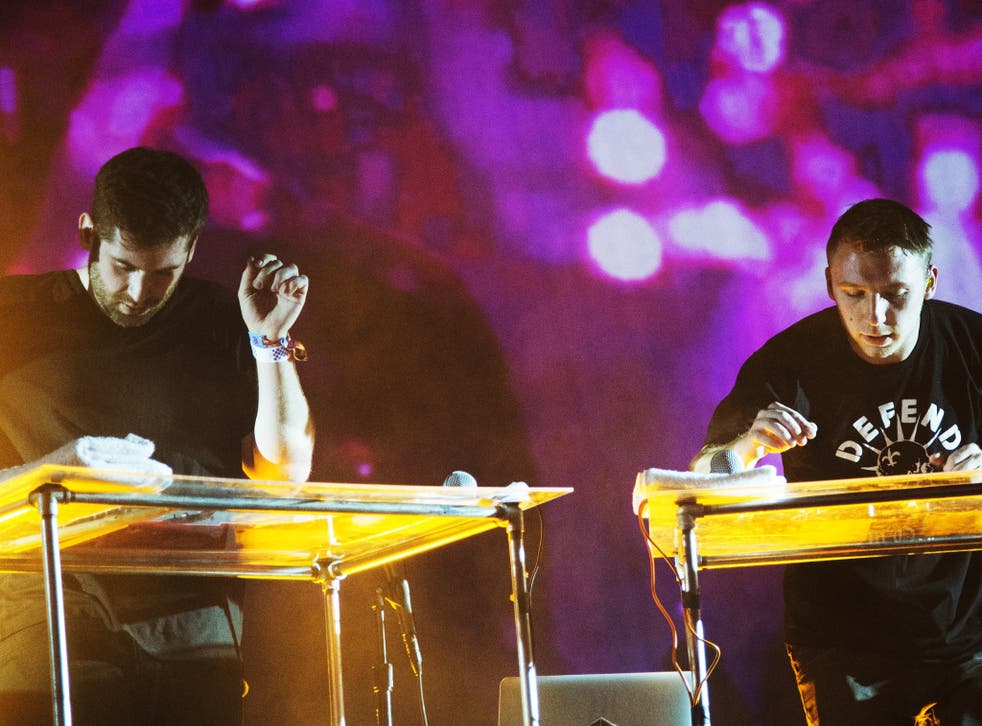 Seattle is perhaps not the most obvious place for a band like Odesza to form, but being the only two fans of electronic music at a small liberal-arts university in a city forever associated with rock and grunge meant that Harrison Mills and Clayton Knight bonded over beats per minute and loops while everyone else around was interested in guitars.
Having formed in 2012, just three years later Odesza find themselves one of the most hyped EDM acts on the planet. While the US has fallen hard already, the UK will soon follow suit as they bring their dreamy soundscapes to our shores.
It's fair to say they are slightly bemused by all the attention. At Outside Lands festival in San Francisco's sprawling Golden Gate Park, where the line-up includes Mumford and Sons, The Black Keys, Hot Chip, Sam Smith and even Elton John, the band's management tell me that Odesza are the third-most-anticipated act at the event – according to an app that allows people to manage their schedule. And it would seem that the app doesn't lie.
Such is their current popularity that throughout festival season in the States they have been bumped up onto bigger stages when organisers feared their set-up would not be able to handle their fanbase. Their stage has not changed today, so just getting near the front is an arduous task that involves patience and plenty of elbowing.
When Mills and Knight come out, 40,000 people collectively lose it. By the end of the set, which sees the two men jumping around, beating drums, and a live horn section that appears for various tracks, half the women present appear to be on someone's shoulders.
I ask Knight later if they get flashed much. "It's been known to happen," he admits, shyly.
So how did two polite, unassuming guys get here? Before becoming festival favourites, the duo flourished online. They started by uploading their music to Soundcloud and are not shy about giving their music away for free. They now boast 24 No 1s on website Hype Machine (their track "Light" featuring Little Dragon was the latest to make the top spot when it was released last month) and they have racked up close to 100 million YouTube views.
When I ask why they think electronic music is so in vogue, Mills suggests the explosion of festivals all over the world has helped propel the genre forward. "Rock music has taken a beating. The energy of some of the electronic shows at festivals is so intense," agrees Knight.
"It's become more melodic as opposed to what it was. It used to be more production-based and all about manipulating sounds. Now it's crossed into the singer-songwriter world. People are getting creative."
It's safe to say that electronic superstardom was never the plan for the two mid-twenties graduates. Mills was set to work at a graphic-design firm while Knight was supposed to head to grad school with a view to studying either biophysics or computational finance, then move into the corporate world. For both of them music was a hobby that snowballed.
Enjoy unlimited access to 70 million ad-free songs and podcasts with Amazon Music Sign up now for a 30-day free trial
Sign up
Their upbringings didn't exactly pave the way for them to be EDM heroes. Mills's parents, a financial planner and an interior designer, were into soul, funk, disco and rock but he resisted the lure of music until much later. "I wasn't very into music until after high school surprisingly," he laughs. "The first festival I went to was the first one we played." At university he got into hip-hop and started to explore production. The abstract hip-hop label Anticon made him see that "there wasn't any one way to do something."
Knight meanwhile was musical from a young age. His computer-programmer father was classically trained and he was taught piano early on. He started playing jazz at school but then wanted to learn guitar "because all the cool kids were doing it and they were getting laid". A brief classic-rock period followed before he got into electronic music and house. This curious mix of influences can be heard all over their records, 2012's Summer's Gone and 2014's In Return.
The duo started working together at the suggestion of some mutual friends and within four hours of jamming they already had some songs. Mills calls it an "instant chemistry." They honed their sound for the next few months before finally accepting the offer of a live show. But working out how to take things from their bedrooms to an audience was a challenge
"It was weird because the music we made was very downtempo," says Knight. "Then you throw it in a live setting and everything kind of changes because you don't want to put people to sleep so we learned very fast about keeping the energy up and the flow is extremely important. We had a lot of trial and error."
"Some of those first shows were so weird," chimes in Mills. "We would play to 10 people in a hotel lobby and you could hear people texting."
Taking live inspiration from artists such as Woodkid, they hope to one day have a full orchestra on stage. "We love the show element because we go through so many styles of music that we try to incorporate into our set," says Knight. "We do it in sections; a hip-hop section, a dance section, a trippier section. We love the vibey moments and the atmospheric moments and then the heavy-hitting moments. If we can do all those in a concert then we've been successful. You've got to have that contrast."
Later, as they build some of their biggest hits such as "Say My Name" and "All We Need" to a tantalising crescendo, you realise it's an act they have indeed perfected.
"We never intended for it to be a big thing," says Mills, laughing. "The type of music we made was really headphone music and so to get to this level at festivals doesn't really make sense. It's definitely been a journey."
When they come off stage later, sweaty and jubilant, they have the look of two people who can't quite believe that this is actually their job.
As the amped-up crowd slowly disperses, backstage Mills is typically humble.
"That was pretty cool," he smiles. 40,000 people would agree.
'In Return (Deluxe)' is out on 18 September; Odesza play London's Koko on 14 October
Join our new commenting forum
Join thought-provoking conversations, follow other Independent readers and see their replies