Radiohead's 'sixth member' Stanley Donwood on how flame-throwing brought them together
The artist responsible for the band's album covers, tells Matilda Battersby how swallowing fire brought them together and why he has turned his talent to the works of JG Ballard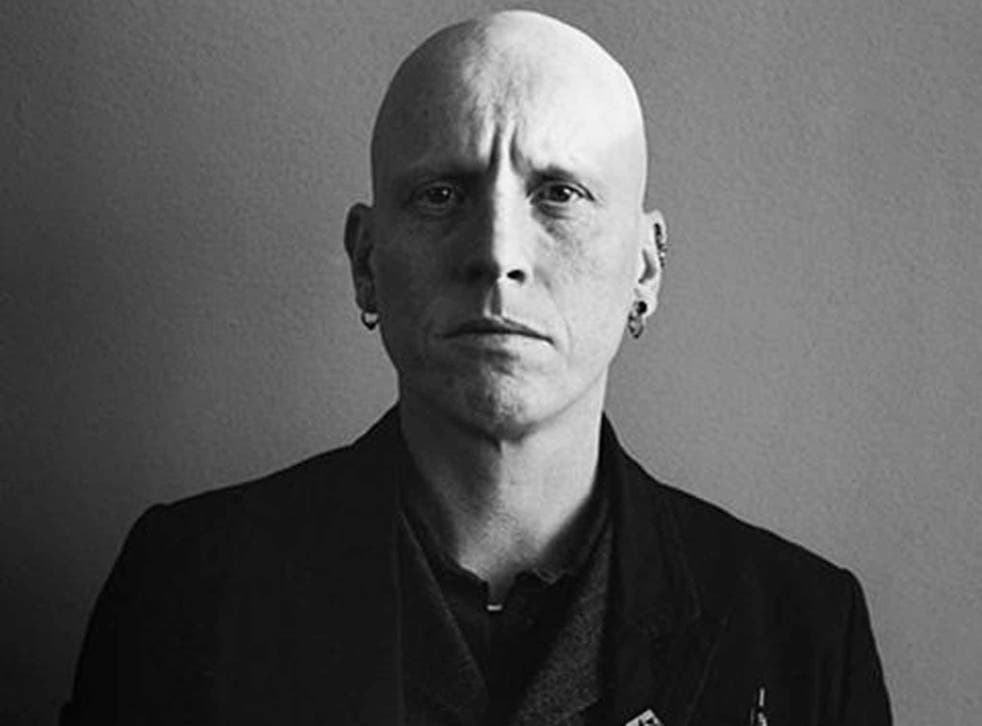 It has been 20 years and seven albums since the man known unofficially as Radiohead's sixth member created the gasping, mannequin-like face that adorned The Bends. Stanley Donwood has since worked closely with the Oxfordshire rock band to create all their album art and posters.
But the artist, who met Thom Yorke when they were students at Exeter University, has only now given "a true account" of his early association with the band, previously called On a Friday.
"How did I get to work with Radiohead? Aha! That's something I've lied about so many times the truth is obscured by a fog of them," Donwood says in an exclusive interview with The Independent. The story that he goes on to tell does sound improbable, but Donwood – who never set out to create album art and seems bewildered by the career he has had – insists he is finally, if funnily, setting the record straight.
During the year after graduating from Exeter, Donwood and a friend set out from the small town in Essex where he's from and hitch-hiked around the country. Penniless, they made their money busking and sleeping on friends' floors. "We were doing fire breathing, busking. A mouthful of paraffin," he reveals. "It's surprisingly easy, although I wouldn't recommend it because the long-term health risks are considerable. But it's a good way of getting a few coins in your hat."
So, Donwood is busking in Oxford when he sees a poster for On a Friday, who are playing at the Jericho Tavern. "I said, 'Look! I know the singer. We should go and see if we can sleep on their floor,'" Donwood says. "So we did – and got roped in as their support act breathing fire.
"We had a good trick, actually, of both blowing a mouthful of paraffin at the same flame to produce, like, a mushroom cloud. It's brilliant."
But the manager of the Jericho Tavern wasn't too keen on the pair of rogue fire breathers a nascent Radiohead had come accompanied by. "The landlord started going on about health and safety. We assured him paraffin had a very low flashpoint and it would be fine, but we weren't allowed to be the support act," he says.
"So that's basically how I met Radiohead. I knew Thom from college, of course. But I met the rest of the band as a wannabe fire-breathing support act. That is true, actually," he laughs.
Donwood and the band parted soon after, the artist continuing to busk and hitch-hike as far as Cornwall, and it wasn't until years later, following the breakout success of "Creep" from Radiohead's debut 1993 album, Pablo Honey, that he heard from Yorke again.
Enjoy unlimited access to 70 million ad-free songs and podcasts with Amazon Music Sign up now for a 30-day free trial
Sign up
"Thom gave me a call on the phone and said, 'Do you want to have a go at doing our record cover?' I was like, 'All right?' I think at the time I was still doing fire breathing, but also other things like painting on walls at night."
Donwood, whose association with Radiohead (whom he was "flailing around with" in Oxford on the day of our interview) has brought him a comfortable living, comes across as entirely without ego and seems not to realise quite how successful he is.
"Getting involved with Radiohead wasn't entirely random as Thom and I were the only painting students to attempt to use primitive Apple Mac computers at art college," he says.
So he would have known your style from that? "Sort of, yes. Although I didn't have a style as such. I didn't know very much and certainly knew nothing about record sleeves."
Before The Bends, Donwood was doing "a little bit of this, a little bit of that" and basically living on the breadline to keep doing his art. "I was on the dole for a while and then they put me on to employment training. Then family credit, I think. I started doing this artwork sort of thing quite early, really," he says.
"The dole is a great incubator of cultural stuff. A lot of great music and art and stuff comes from places there isn't a lot of money."
Donwood, now aged 46 and living in "bucolic Somerset", has several high-profile exhibitions coming up and will produce another work for Glastonbury this year (his pictures have become synonymous with the Somerset festival and last year his painting Nether provided its central image) before jetting off to Sydney to prepare for a huge retrospective of his work.
He has spent much of the past two years creating artwork for all the novels of JG Ballard by staging and photographing chemical reactions and explosions in a laboratory. His cover of Empire of the Sun features the mushroom cloud photo from the bombing of Nagasaki. "Ballard writes about the explosion at the end of his book. When I read them [all his books] again, I realised that this boy, not quite a teenager, has seen the defining image of the 20th century – the use of nuclear weapons on a civilian population."
In September, it was reported that Donwood was working with Radiohead on their ninth studio album – he's keeping firmly schtum about the details – which is, I ask hopefully, what they had been working on the day of our interview.
"I can't tell you what I've been doing [with Radiohead today], to be honest. Nothing productive for me, anyway," he says firmly.
The artist spends a lot of time with Yorke and co when they are working on new material in order to find a suitable aesthetic. "The last thing I did for them was a while ago. I really dislike this bit of time, when I'm not sure what I'm doing. I could go back and do what I did for the last one [2011's The King of Limbs] – that would be easy! But instead I'm going to do something completely different, which is a bit of a challenge."
When asked whether he sees himself as Radiohead's "sixth member", as he is often described, Donwood laughs. "Erm, no. There's the five of them [Yorke, Jonny Greenwood, Philip Selway, Ed O'Brien, Colin Greenwood] and there's Nigel [Godrich], the producer, and then there's me, and I just do drawings. It's a weird shorthand people use – I've seen it applied to both me and Nigel and in my case it's just not true."
But, I urge, they must really rate you for you to have worked together for so long? "Or can't be bothered to find someone else? I don't know."
Dream Cargo, Stanley Donwood's artwork for JG Ballard works, Lawrence Alkin Gallery, London WC2, 27 March to 25 April
Join our new commenting forum
Join thought-provoking conversations, follow other Independent readers and see their replies