Rudimental interview: The drum and bass band talk We the Generation, Bobby Womack and bringing the sound of East London to America
'We're bringing forth our influences and the music we grew up with'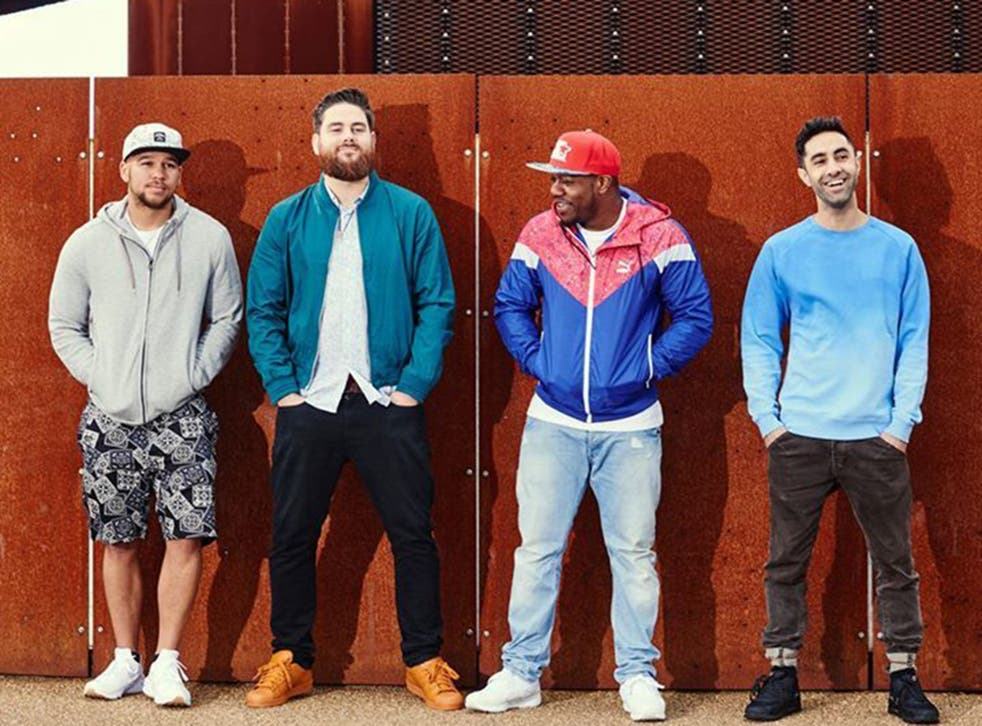 There are perhaps few places where the changing landscape of the music industry is more apparent than at Spotify's UK HQ. The streaming service occupies a prime piece of real estate in central London, right on Oxford Circus. Inside the offices, a graffiti mural tells the story of the business's exponential growth, from 2008 Swedish start-up app to game-changing global business with 75 million users. Myriad media profiles of founder Daniel Ek adorn the walls. The hum of happy industry, and of success, radiates from the ranks of employees. Buckets of sweets, snacks and lagers are there for the taking. I resist the temptation to pinch a Spotify mug.
A party atmosphere pervades the entire floor, which may reflect the fact that it's late Friday afternoon. But one senses that it's nearly always party o'clock at super soaraway Spotify (even if, at time of writing, Ek's name is "Rick-rolled" online to take you to the Wikipedia page for "robber baron" – not everyone likes Spotify's pivotal position in that new music landscape). And it's especially festive when they can call in the good-time services of the UK's hottest acts.
Today Rudimental are in the building. The dance crew from Hackney are here to do a gig for employees and invited guests. They're even going "unplugged" for the occasion. Later, this session will be streamed as a premium product to Spotify users. This will hit millions of targeted consumers around the world in one fell swoop, flagging that Rudimental have a new album, We the Generation, to buy, download or (perhaps more likely) stream. This is how artists promote new albums these days, and it's a far cry from the days of schlepping up and down the country visiting independent local radio stations.
"Mate, we went to Facebook in New York," marvels Amir Amor (born in Tehran in 1985 as Amir Izadkhah) as we find a quiet corner. That is, round a huge boardroom table high above central London. "It was spread over four or five floors, there was a corner-shop inside, and the snack area was amazing – it was a buffet, with chefs making stuff, and all for free."
"Steaks!" exclaims London-born Kesi Dryden, 29. "I think we just missed the days of doing the independent radio tours."
"I'd done tours like that with other bands. But Rudimental did DJ sets to 50, 150 people, small gigs. Then 'Feel the Love' came out and suddenly it was 5,000 people," Amir says of the band's 2012 No 1 smash. "It jumped really quickly."
Propelled by "Feel the Love", and its Brit-winning, chart-topping successor, the equally euphoric "Waiting All Night", Rudimental's debut album, Home, was an international hit. Its success kept the band on tour, on and off, for most of the last three years. But whenever they could they returned to Hackney, to Major Tom's, their recording studio and record label.
Major Tom's, say Dryden and Amir (bandmates Piers Agget and DJ Locksmith are next door doing more future-proof album promotion, this time for PlayStation), is both creative base and centre of gravity.
"It's so important to keep the core of what we do the same," says Amir. "If we forget where we're from, the message of the music would completely change. Major Tom's is near where we all grew up, there's still the same environment, there's no outside influences…"
This seclusion-cum-coherence is especially useful when your second album, in its "deluxe" edition, runs to 18 tracks and features a smorgasbord of vocal collaborators, from the late Bobby Womack to the great George Clinton, from Steely Dan's Donald Fagen to Ella Eyre (one of two artists Rudimental helped launch, the other being John Newman).
They also serve: Lianne La Havas, Ed Sheeran (twice) and a handful of newer names (Will Heard, Anne-Marie) that Rudimental are intent on developing as artists in their own right. It's testament to the foursome's fundamental songwriting abilities that the sprawling album not only hangs together but also boasts floor-fillers and more classically soulful songs aplenty.
The song with Womack was pieced together after the singer died last year, when his wife sent the band an a capella vocal he'd left for them.
Recording with Fagen in New York was another challenge. "It's a surreal experience having him in the studio and telling him, 'ah, Mr Fagen, could you redo that, it's a little bit out of tune…'" recalls Amir. Presumably the Steely Dan star doesn't get out of bed for any old Brit drum'n'bass-meets-soul outfit. But Dryden and Amir say that Fagen recognises Rudimental's efforts to project something with their lyrics.
"We all come from humble beginnings – I was a refugee from Iran. So for us, soulfulness is in the music. Having emotion and meaning in the lyrics is vital, 'cause otherwise [the track is] throw-away."
Hence, they state, the album's title. We the Generation reflects both the members' multicultural backgrounds, and their flying of the flag internationally for British musical culture.
"We're going to America and Australia, and we're playing jungle music that wouldn't otherwise get that much further out of east London," suggests Amir. "We the Generation is bringing forth our generation of influences and the music we grew up with – jungle, grime, hip-hop, soul. And it's bringing a new generation of artists, like Will Heard and Anne-Marie."
Developing, and keeping, those artists is another reason for the label side of Major Tom's.
"To be really honest, one of the reasons we put it together was to [help] our touring," acknowledges Amir of a rambunctious live incarnation of Rudimental that now numbers 11 musicians and singers. "We did those songs with Ella and John, and then they got signed. Their labels were pulling them away from us, saying, 'no, sorry, they can't tour with you'."
"We'd have loved to work with Ella and John more," nods Dryden, "So Major Tom's is also a way of keeping our family close, and it could be something special. We want it be like the UK Motown one day."
As empire-building goes, the entertainingly ambitious We the Generation is a good start.
'We the Generation' is out now
Join our new commenting forum
Join thought-provoking conversations, follow other Independent readers and see their replies