Sandy Denny: The Queen of Fairport
She transformed folk-rock, but met a dismal end. Now, at last, she has the cult status she's due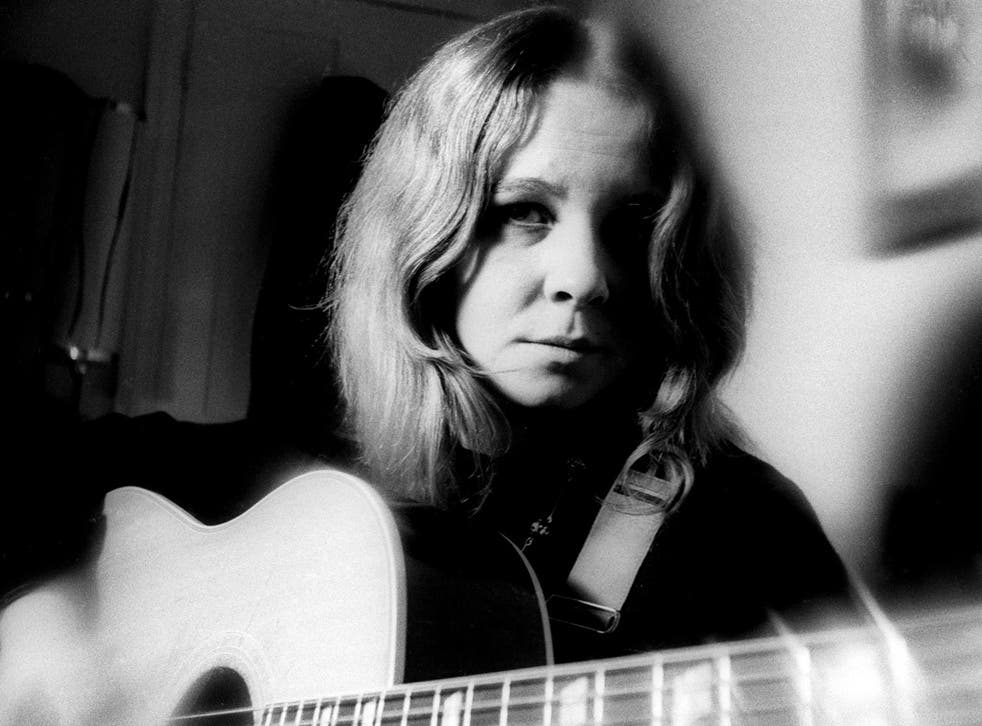 Less than a decade ago a retrospective CD box-set came out. A Boxful of Treasures documented the life and career of the English singer-songwriter Sandy Denny, who died in 1978, at the age of 31, following a brain haemorrhage arising in part from an intoxicated tumble down a flight of stairs. One of several such tumbles. Another English songwriter wrote the introduction to the booklet inside: Denny's friend and greatest collaborator Richard Thompson.
"Where is Sandy's cult?" he lamented. "Where are the graveside vigilants? The colour supplement dissections? The South Bank eulogies...?" He went on to insist that, in talent at least, Denny stood head and shoulders above "her generation of female artists". He suggested that, without her intervention, Richard's group Fairport Convention might well have remained a callow footnote in the history of British rock. "It was like a Mini colliding with a lorry-load of bricks," he wrote of her impact on joining the band in 1968, the inference being that the boys in the band were the bricks. "She taught us to express our musical passions, gave us a real voice at the sharp end of our creativity." She made men out of the bricks.
So where is the Sandy Denny cult?
Not far away, actually, going on tour in the form of a concert "homage", starting in Liverpool on 19 May and drawing to a close in Manchester eight dates later: a caravan of musicians whose careers might not have been quite the same were it not for Denny's music, among them Maddy Prior, PP Arnold, Joan Wasser, Dave Swarbrick, and Thea Gilmore. Only eight years have passed since Thompson's piece, but an awful lot of cult can flourish in that time. Sandy's cult is growing like Japanese bindweed. But why now?
First we ought to establish who Denny was – the person, not the myth. She was the daughter of ultra-straight-laced, middle-class Surrey parents both of whom served during the Second World War. Sandy was raised in a comfortable suburban atmosphere, wanting for little. She had an amiable brother, a large, carefully tended garden – the one spreading itself out so lustrously behind Mum 'n' Dad on the cover of Fairport's Unhalfbricking – and no shortage of parental interest in her future. Her childhood was, on paper at least, a model of bourgeois post-war regeneration.
But Sandy preferred not to play the comfortably-off game. She obliged her mother by training (half-heartedly) to be a nurse, but chose instead to embrace that other mode of post-war regeneration, the life of the art-school troubadour. She admired Anne Briggs, the elusive anti-star of English folk music. She played guitar and piano, she sang, she drank, she cursed, she wrote darkly passionate songs framed in a medieval latticework of symbols and allusions, and she put it about in the company of men her mother would think unsuitable.
Denny seems, almost classically, to have been caught between the Scylla and Charybdis of 1960s individualism: the desire, on the one hand, for constant attention and, on the other, for freedom from scrutiny, contradictory longings for fame and romantic obscurity.
She was certainly not without her anxieties. She could not bear to spend time alone. She suffered, chronically, from low creative confidence. Her moods swung drastically. She also experienced a lot of bad luck. According to Mick Houghton, her latest biographer, the most "commercial" of all her solo records was a victim of the mid-Seventies vinyl shortage and reached the shops only six months after its promotional push expired.
When Denny died in dismal, upsetting circumstances, it seemed likely at least that she'd start selling records by the lorryload. But it didn't happen. Things seemed not to happen for Sandy, however hard she tried.
And that, one suspects, is what gives rise to the sharpest empathy in the hearts of all those musicians who constitute the Latterday Cult of Sandy: there but for the grace of God...
Enjoy unlimited access to 70 million ad-free songs and podcasts with Amazon Music Sign up now for a 30-day free trial
Sign up
She was good, of course. That goes without saying. You don't make sense out of the rabble that was Fairport Convention in 1968 without real creative focus. You don't get to guest on Led Zeppelin records if you don't have a voice like a whipped sheet. You certainly don't write songs like "Who Knows Where the Time Goes?" without a gift for nailing strokes of complex emotion to the wall.
Denny's range was not great, not as a writer. You can confine most of her significant composition to the basket marked "slow, bleak, reflective ballads with lots of water imagery". The good ones are terrific, but there are enough not-so-good ones to suggest she struggled to clamber out of her regular bag. Still, for every duffer there's an "I'm a Dreamer" (from her last album Rendezvous), which transcends its gloopy arrangement by articulating the likely truth behind her self-loathing.
She was paralysed by her own inertia; it filled her with horror. It is hard to avoid the thought that Denny only ever really got moving in her songs, with their leaves and streams and riverine motion.
You can hear that horror in her voice too, which is powerful, accurate and, when it reaches full intensity, really does whip like a wet sheet in the wind. But it's not a welcoming voice and it is seldom intimately involving; nor did Denny's way of singing hook the ear with rhythm. Rhythm, in Denny's voice, is an organising principle and not much more.
"It was a sweet voice," says Maddy Prior, who will be singing "John The Gun", "Fotheringay" (the song which, later, gave rise to the band) and "Solo" on the tribute tour. She is hesitant when pressed and continues, "Sweet but not ... cloying. She was an extremely lyrical singer."
Prior and Denny were friends. The Steeleye Span singer remembers her above all for her spiky sense of humour. The bleak songs of longing and loss? Well, that was the kind of material you were expected to produce if you were a young, romantic, hard-living hippie. She attributes Denny's lack of commercial success less to malign fate than to sheer lack of business acumen. "None of us were interested in that side of things," she says.
But what if we were to try to explain the new cult of Sandy by exploring only the myth? What then? What vapours rise from the ponds and streams of mythic time?
The playwright Jez Butterworth included "Who Knows..." in Jerusalem, his brilliant snatch at the departing soul of lost, pagan, intuitive, rebellious Old England. His Falstaffian outlaw "Rooster" Byron harbours Phaedra, a waif-like minor, in his caravan in the woods, keeping her from the predations of her father, putting her in touch with the spirit of the green and, possibly, taking advantage himself. It is an uneasy spectacle, especially when 21st-century riotousness rubs up against 1960s folk-romanticism of such unequivocal beauty. Why did Butterworth choose Denny's song?
"I didn't choose it. The song chose itself. Or rather, Phaedra chooses it, when she wants to dance with Rooster, to mark the end of her time as May Queen."
And what is its function in the play? "I can't remember if I already knew that in the myth of St George, the dragon and the maiden are parts of the same whole; namely, they represent the qualities of high, angelic purity and the low bestiality which man possesses. The dragon spirals around the maiden, as in a dance. In any event, from what I've read, Sandy Denny had a very Rooster-like/Phaedra-like soul."
Divided and unresting.
Sandy Denny: Three from the heart
Fairport Convention: "Tam Lin". Unadorned electrified English folk. Some say that Fairport's Liege & Lief, on which this appeared, was the best work Denny ever did.
Led Zeppelin: "The Battle of Evermore". Jimmy Page and Robert Plant away from the hard-rock rat-race, with surging mandolins and Denny piping high and long against an epic narration of the conflict at the eve of all things.
Fotheringay: "The Pond and the Stream". Denny's paean to the restless spirit of English folksinger Anne Briggs, set to the ensemble tinkling of the group she formed with Trevor Lucas, after leaving Fairport. Oh, the longing ....
The Lady: A Homage to Sandy Denny, 19-28 May: musicbeyond mainstream.org.uk. 'Sandy', 'Like An Old-Fashioned Waltz' and 'Rendezvous' will be reissued by Universal/Island on 21 May
Join our new commenting forum
Join thought-provoking conversations, follow other Independent readers and see their replies