Smashing Pumpkins' Billy Corgan interview: Hanging on in 'this dirty pop business'
'I had this interview in Paste magazine in 2005, when the journalist said: 'I don't understand what it is about people like you that had your success, and why you keep hanging on,' and I thought, 'Jesus Christ, I'm 37!''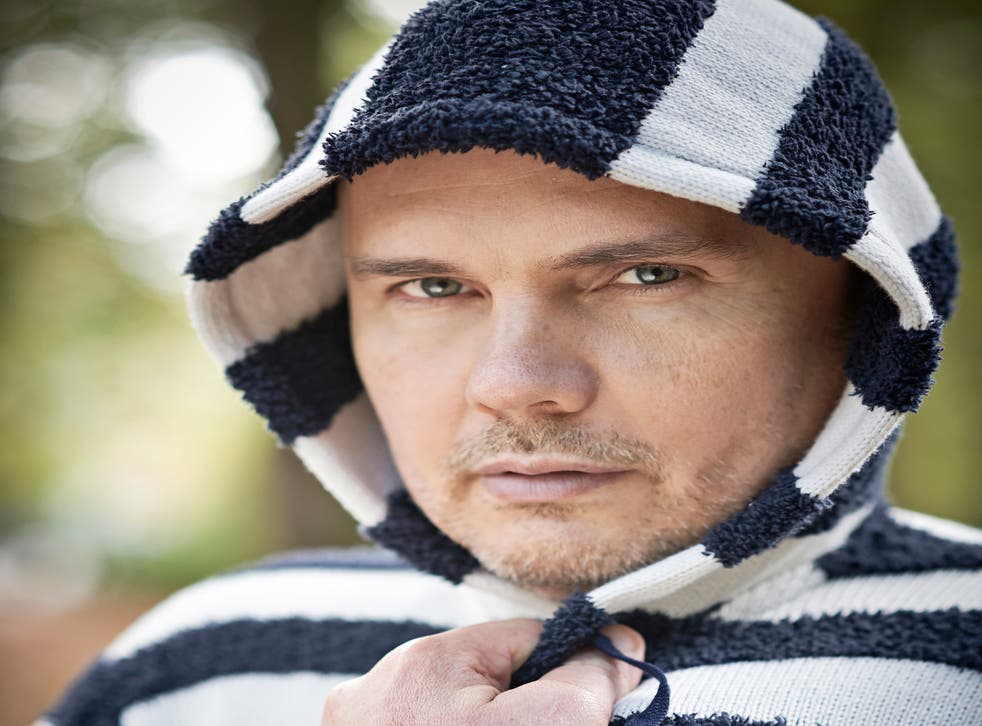 Billy Corgan is still big: all shaven-headed, 6ft 3in of him.
It's rock music, he has decided, which got small, and he had better find a way to fit in. His band Smashing Pumpkins always used to jump the other way, going further, longer, darker. In 1995, their pin-point heaviness and gorgeous adolescent yearning, already a Top 10 concern, topped the US charts with a prog-grunge triple-album, Mellon Collie and the Infinite Sadness. It was a madly heroic rock moment.
To hostile critics, though, Corgan was still a brat whose face didn't fit. Having been grudgingly shunted as a child between parents and step-parents who made him feel he was never good enough, the slight devastated him. He scuppered Smashing Pumpkins in 2000. When he reconvened the band in 2007 (though he was soon the sole original member), he resumed challenging its audience. Headlining that year's Reading on a rain-lashed Sunday, he began an abrasive set with a seven-minute instrumental. I was one of the fans who fled. Faced with contemptuous and apathetic crowds, Corgan has now given up the uneven fight. The result is an excellent new album, Monuments to an Elegy, with at least four clinically constructed anthems, as if to prove he could do it all along.
Explaining his change of tack in a London hotel room, Corgan hunches over, as if hiding his height. He blends insecurity, learned humility and helpless arrogance, typically comparing himself to three all-time greats in a single sentence. "I needed to find my way back to the centre," he says. "And whether it's David Bowie, John Lennon or Bob Dylan, if the public can only deal with certain personalities when they cross the line of pop and artifice, so be it." Unlike the Britpop generation who replaced him here, he at least aspires to this trio's ambition, not just their sound. But the ambitious rock audience which bought Mellon Collie no longer exists.
"We were shocked when we came back at how shallow that culture had become," Corgan shudders. "Even Smashing Pumpkins fans were demanding Top 10 songs. We had always played long, rambling things, jokes and weird pranks. But now you've got to go along to get along. Trying to put across high-minded art concepts to 70,000 kids in a field when it's raining isn't the right space. When the Pumpkins worked at that level in the mid-90s, I was younger, I had my ear to the street, I knew what I was doing. You get a little bit older, you lose that touch. People started to write about me like I was never going to come back. It's like reading your own obituary. Monuments is me taking up the chef's knives again." Has he been chastened by the last few years?
"I don't feel chastened. I feel like I had to give up some form of idealism. But this album doesn't feel compromised. I don't think it has the bitter taste of someone who's finally had to grow up and do his homework. And I'm making a follow-up album that's very different. I may find myself in the same hoosegow real quick!"
Life was very different in the early Nineties, the last gasp to date of American rock as a generationally binding, transformative force. Corgan, whose on-off (now very off) relationship with Courtney Love preceded Kurt Cobain's, was there for all grunge's grubby glory years, which Cobain's 1994 suicide ended. Pearl Jam's Eddie Vedder once told me he felt survivor's guilt afterwards.
"That would be Eddie Vedder," Corgan snorts. "Somehow he makes it about him even when it's about somebody else! I had a much more personal perspective, because I'd been in contact with Courtney through a lot of the setting up of that period, and afterwards. I found it devastating because, whether we wanted to admit it or not, he was quarterback of the football team, leading the aesthetic and integrity charge. He knew how to navigate those things.
"Now, he and I didn't necessarily get along. But I like to sing his praises, because he really was that talented. I like to think the world with him would have been a better place, and I like to think a lot of the crap music that followed wouldn't have existed if he had been around to criticise it. Because he had the moral standing to slay generations with a strike of the pen." Although they didn't get on, did Corgan, then, look up to Cobain?
"No. In the purest sense of the word, we were competitors. He and I were the top two scribes, and everybody else was a distant third." Having such potency again seemed distant when Corgan moved back to Chicago, near the new century's start: "I found this thing happening. An uncle, or somebody on the street, would walk up and [sneer]: 'Welcome back.' Meaning: 'Yeah, you went out to California, now you've come back to dig ditches with us again.' The sucking sound of the working class, to justify that you can't escape it. Like the saying, water finds a level. Even in the Chicago press I was treated like a curiosity, still wandering around like a male version of Miss Havisham. I had this interview in Paste magazine in 2005, when the journalist said: 'I don't understand what it is about people like you that had your success, and why you keep hanging on.' And I thought, 'Jesus Christ, I'm 37!'" Was the brutality of being considered irrelevant good for him?
Enjoy unlimited access to 70 million ad-free songs and podcasts with Amazon Music Sign up now for a 30-day free trial
Sign up
"No. I'm a person who does a lot better with praise. My father thinks that all the bad childhood and the adversity toughened up his Piscean son. He's fantastic now, and that's been great.
"But as I like to tell my daddy, if I'd been loved right, with the gifts that I had, I might have been a classical composer, having a very quiet life and a glass of wine, and not have been in this dirty pop business."
'Monuments to an Elegy' is out on 8 December
Join our new commenting forum
Join thought-provoking conversations, follow other Independent readers and see their replies