SXSW 2015: Why this music festival is still the place to spot the next big thing
Despite corporate sponsorship, SXSW, the festival that began as a showcase for new acts, has managed to preserve its sense of the unexpected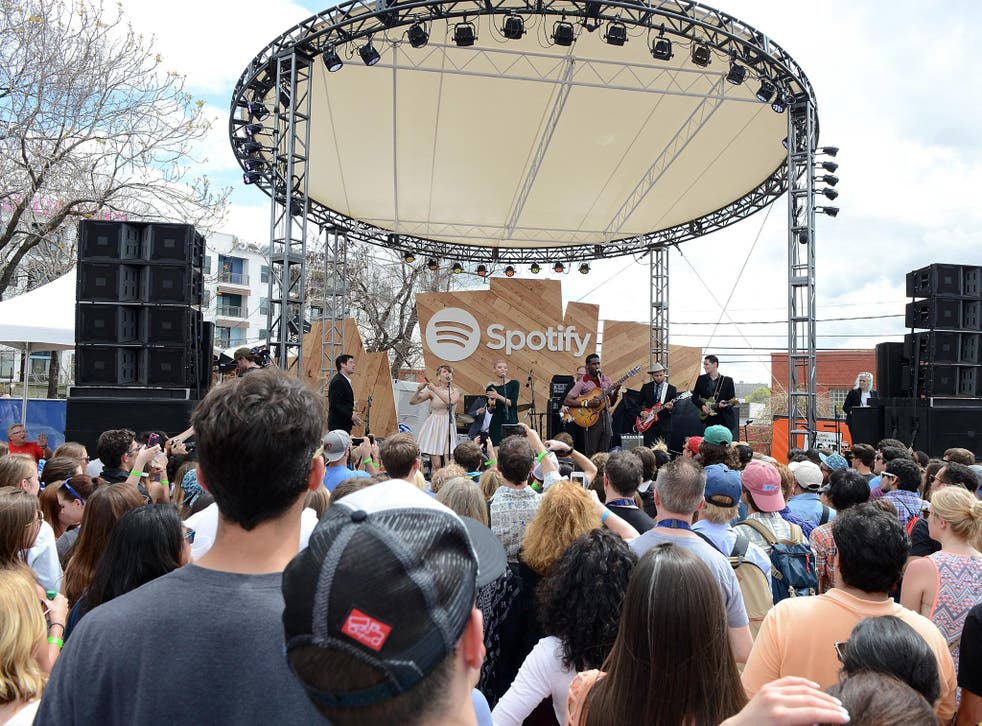 It seemed there were two things on the lips of everybody in attendance at the South by Southwest (SXSW) music festival and conference in Austin last week: that the perennially blue Texan skies had been replaced by a dreary drizzle more associated with Glastonbury, and that Kanye West was rumoured to be closing the five-day event with a secret show on Saturday night.
Although those two topics, of course, couldn't compete with the most uttered phrases of the week: "What's the wi-fi password?" and, "is there somewhere I can charge my phone?". In fact, the ludicrous lengths people would go to get their phone out of the red became quite an amusing spot all over town.
In the end, Kanye was a no-show. But that's not necessarily a bad thing. When the festival started in 1987 it was intended as a showcase for unsigned bands and artists hoping to meet the right sorts of people. Gradually it grew into somewhere for a new act to gain exposure and consolidate their profile. Then the megastars came in and took the whole thing over, ruining it for everyone. Who's gonna want to cover Sunflower Bean when Yeezy's just rocked up to town? (Actually, plenty. Check them out.)
During SXSW, Austin becomes a curious mix of industry professionals racing around to find the next big thing (they are often the busiest-looking folk, and most in need of a plug socket) and the thousands of people who just head there for a good time. What's especially pleasing is the easygoing merging of pop, hip-hop and rock fans. The diverse line-up attracts everyone in equal measure – much more than traditional British festivals which tend to cater for a specific genre – and they all just get along.
Officially, around 72,000 people descend on the city but because so many make the journey just for fun (and freebies) the actual figure is likely much higher. Around 2,300 acts will perform and last year all three conferences (before music, SXSW hosts segments for both film and up-and-coming digital ventures) brought in $315m (£211m) to the city of Austin. Unsurprisingly, local bars report a spike in profits of 45 per cent. Thirsty lot, the music industry. There's a reason why locals nickname SXSW "spring break".
Bands generally play until about 1 or 2am but anyone looking to continue the party after that will need to befriend a local for a house-party. Everything shuts down in Austin after that time. And don't be shy; the Texan hospitality is legendary. I had hosts hugging me when I turned up at their home despite them not knowing me from Adam. Maybe they'd just smoked enough of the weed that permeates the air downtown.
So how best to deal with such an overwhelming event? Silicon Valley guru Tim Ferriss gave a speech at SXSW and included his three rules to approach the festival with: don't dismiss people; don't be a dick; don't rush. He might have been talking at the "interactive" conference at SXSW, but his advice applies just as well to the music proceedings.
Anyhow, this year seemed a decent mix of the new and old (and some really were ancient; the Zombies brought their 50-plus years of experience to play at a car-park barbecue on South Congress). But apart from the numerous street buskers that line the chaotic streets downtown, it's hard to believe that anyone without some sort of representation bothers to turn up anymore.
Most of the label folk are too busy supping jalapeno margaritas to pay attention to artists off the official schedule. Still, if it was big names you were looking for, then there were plenty, albeit refreshingly fewer than previous years. Miley Cyrus appeared for a surprise turn with producer Mike WiLL-Made It (whose real name, Michael Len Williams II, is just marginally less ludicrous) at the Fader Fort which prompted the longest queue I came across, suggesting someone had let the cat out of the bag. And in his packed out keynote speech at the Austin Convention Centre, Snoop Dogg spoke of his upcoming show for HBO, his friendship with Willie Nelson, and his new-found love for painting. Elsewhere, there were appearances by the likes of Timbaland, who and rapper Tink, and, fresh from winning an Oscar, John Legend swung by.
Enjoy unlimited access to 70 million ad-free songs and podcasts with Amazon Music Sign up now for a 30-day free trial
Sign up
An increasing trend appears to be quite established, but by no means huge, artists who don't really need the exposure (and won't benefit from the headlines that a stadium-sized act casually dropping by will) turning up to play some shows anyway. So the likes of Future Islands, The War on Drugs, Laura Marling, TV on the Radio and The Cribs were all there doing their thing. I caught a set by Edward Sharpe and the Magnetic Zeros under the stained glass windows of the Central Presbyterian Church.
But that all seems a bit of a waste when you can catch acts like that at any old festival. Everyone knows SXSW is really all about showcasing new artists. Usually playing at least one show a day, if artists impress enough, they can come away hotter than a Texan chilli sauce.
But what's it like for new acts to perform at when they're competing for attention with so many other artists in just a three-mile radius? Walking on Cars are a five-piece that scored a huge deal with Virgin Records recently and are under pressure to impress at SXSW before they release their debut album later this year. "I knew it was going to be crazy but it's a lot bigger and busier and mental than I ever thought it would be," keyboardist Sorcha Durham tells me. It's hardly surprising considering there are more artists playing this year at SXSW than the population of their entire home town of Dingle, Ireland.
When they played their stirring indie-rock set (that they usually fill stadiums with in Ireland) out of the back of a dive bar called Holy Mountain, they attracted a decent-sized crowd. But with so much on offer it's never a given that you'll even have an audience.
"It's a constant worry that no one will turn up," says singer Patrick Sheehy. "But we've been pretty lucky so far." Sure enough, if you peer inside a few bars while walking around Austin you're bound to be greeted with the heart-breaking sight of a band giving it their all to a crowd of three.
Other new acts that had everyone talking were singer-songwriter and rapper Raury, whose boundless charisma had the whole of the Hype Hotel going wild for the 18-year-old. "You're in for a hell of a show, I promise you," he told the amped crowd. He wasn't wrong.
Leon Bridges, a new soul singer, played an intense eight gigs and came away as one of the buzziest new acts. Philadelphian singer-songwriter Alex G was also packing out his various shows. It might not have been Australian Courtney Barnett's first time at SXSW but she still managed to be one of the most discussed, presumably because of the confidence she has in her new, first official record, Sometimes I Sit and Think, and Sometimes I Just Sit. Dublin rockers Girl Band also made plenty of noise, in every sense. PC Music's bizarre showcase at the Empire ensured the pop and dance label will continue to shock, engage and bemuse in equal measure.
There was the usual annual complaint about the bloated consumerism and sponsorship present, but it felt less intrusive than in previous years (which might have something to do with the absence this year of the 56ft-high pop-up Doritos venue.) Even the festival's new sponsor, McDonald's, wasn't too disrupting, other than offering up a "Wi-Fry" location and a few cups of free coffee around town.
But the presence of fancy "clandestine" outposts of places such as Soho House and Los Angeles's No Name Bar meant there was an increasing vibe of exclusivity cropping up. Fortunately it's subtle enough to not affect the joyful, disorderly spirit of downtown. But perhaps the standout star of the week was Bill Murray, who took in an eclectic mix of acts including Girlpool, Best Coast, Ghostface Killah and BadBadNotGood, creating frenzied excitement wherever he went and battling a blinding number of selfie requests. Who needed Kanye when there was Bill?
Join our new commenting forum
Join thought-provoking conversations, follow other Independent readers and see their replies