The Kraftwerk conference: Why a bunch of academics consider the German electropoppers worthy of their own symposium
During the event at Aston University, it was impossible to guess who was the fan and who the academic
Adam Lusher
Wednesday 21 January 2015 22:24 Comments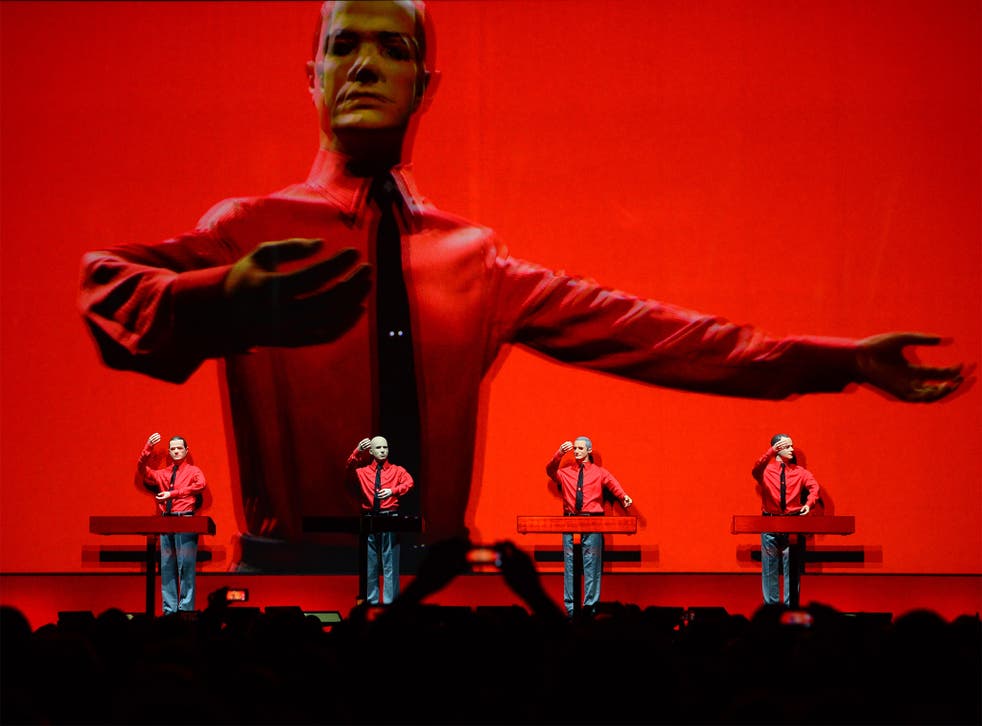 In lecture room G11, an academic conference was being prepared. Coffee was brewed. The overhead projector was made ready. And down in the foyer of Aston University, Birmingham, Dr Nick Stevenson, 52, distinguished reader in cultural sociology at Nottingham University, was busy with his mobile phone photographing a large autobahn sign emblazoned with the words: "Welcome to the Industrielle Volksmusik for the Twenty-First Century (Kraftwerk) conference."
"Sorry," said Dr Stevenson, bearded, sensibly dressed in shirt and tie, and one of the speakers at the conference.
"I'm turning into an excited little kid. I am a fan, from way back. I've been messaging friends on Facebook. Normally, our conferences cover things few others care about."
But then, the world's first academic conference about the pioneering electronic music band Kraftwerk was never going to be entirely normal.
For non-fans, Kraftwerk might be something to do with the early Eighties, synthesisers and "fun, fun, fun on the autobahn" (even though the actual German lyric was "fahren fahren fahren auf der Autobahn"). But for reverential devotees, the German group helped spawn everything from bands like The Human League to musical styles like hip-hop.
They were social commentators, computer revolution visionaries, even predicting 21st-century security services' internet snooping (the German version of their song "Computer World" has the lyric "FBI and CIA, Scotland Yard, they have our data", apparently).
For more than 150 people starting to fill room G11 the question wasn't: "Why was a serious university hosting a conference about a pop group?" It was "Why had it taken so long?"
"The Smiths have already had their own conference," said Dr Uwe Schutte, the man who had the brainwave of holding a Kraftwerk conference. "Even The Fall got an event of their own. But Kraftwerk are more academically interesting."
Dr Schutte, 47, reader in German at Aston, remembers the day in 1974, in the small Bavarian village of Menden, when aged seven he first heard Kraftwerk's Autobahn album. "It was so different from all the rest – although perhaps you should know that all I had heard before was my conservative parents' dreadful boring German folk music."
Enjoy unlimited access to 70 million ad-free songs and podcasts with Amazon Music Sign up now for a 30-day free trial
Sign up
Now, of course, he knows that Autobahn was Art. "As with any great art, it's open to everyone on one level. At the same time, it's timeless, sophisticated, ambivalent. You have the autobahn, symbol of the German economic miracle, leading to a bright technological future. But it is also associated with Germany's dark past, with Hitler, who came up with the idea.
"Just as you can read a Jane Austen novel as simply a love story, so you can just enjoy Kraftwerk only for their music. But what they produced was avant garde, gamechanging... and they are still evolving."
"The Beatles," he says, "influenced Western society more than Kraftwerk. But Kraftwerk certainly influenced the development of popular music more than The Beatles."
Artists such as David Bowie acknowledged their influence. And when their electro beats were fused with the rhythms of the American ghettoes, hip-hop was born. Dr Schutte paused for breath. "I could go on."
But now it was time to begin the long overdue conference on the Gesamtkunstwerk (total work of art) of Kraftwerk.
One of the many bearded lecturer-types stood up – Stephen Mallinder, 60, founder of British electronic music pioneers Cabaret Voltaire, now an academic with a PhD on "the transition of popular culture through the modality of rhythm". Speaking without notes, he "riffed" about Kraftwerk as both Zeitgeist group and "the most nostalgic band in the world... defining the modern through an increasing ache for the past". They hung on his every word and discreetly snapped him on their mobiles.
By now, it was impossible to guess who was the fan and who the academic. The pale man in black turned out to be researcher Dr Alexei Monroe, due to speak today on Kraftwerk's influence in Slovenia. "I'm not an ultra, ultra-hard core fan," he insisted, "I've only got about 20 bootleg LPs."
There was only one disappointment: the non-appearance of former Kraftwerk member Wolfgang Flür. The reasons for his last-minute change of mind were not entirely clear, although a university source did mention a dispute over whether he could sell a CD-rom of his book at the conference or whether this might contravene Aston's rules on in-house commercial activity.
Timeline: Perfecting their kraft
1970 Formed in Düsseldorf by Florian Schneider and Ralf Hütter, after Schneider bought a synthesiser.
1975 Achieved their first international hit with a radio edit of the track "Autobahn".
September 1975 With Karl Bartos and Wolfgang Flür now in the band, Kraftwerk tour Britain for the first time.
February 1982 "The Model" becomes their first UK No 1.
1982 American group Afrika Bambaata and the Soulsonic Force use the melody from Kraftwerk's "Trans Europe Express" and a beat based on "Numbers" to produce "Planet Rock", one of the earliest hip-hop/electro hits.
February 2013 Kraftwerk play sell-out gigs at the Tate Modern, London.
Register for free to continue reading
Registration is a free and easy way to support our truly independent journalism
By registering, you will also enjoy limited access to Premium articles, exclusive newsletters, commenting, and virtual events with our leading journalists
Already have an account? sign in
Join our new commenting forum
Join thought-provoking conversations, follow other Independent readers and see their replies