Tidal, Nietzsche, and Jay-Z: A launch with many awkward moments...
Jay-Z has a vision for a new music app that can take on Spotify and reward artists. But, says Gillian Orr, it's the ostentatious press launch that really made waves for Tidal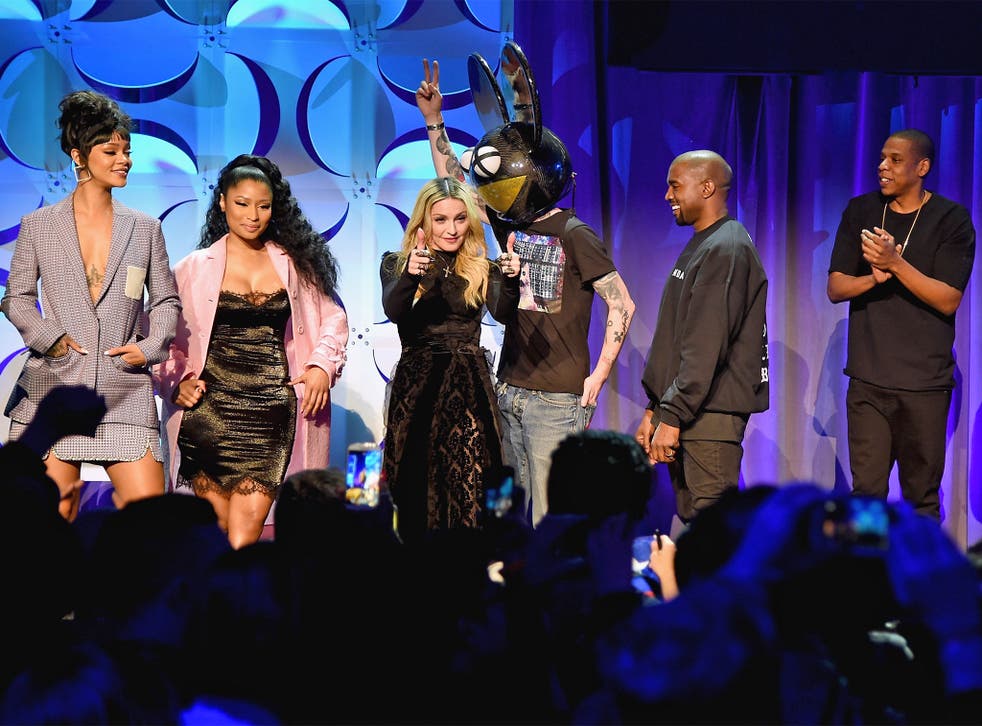 There can't be too many occasions when Friedrich Nietzsche has been quoted at a press conference for a new tech app (not least by a pop star who got his name wrong), but, then, rarely has so much ego and bravado appeared together under one roof before.
At the squirm-inducing launch of Tidal, the new music-streaming service headed up by Jay-Z, on Monday night, some of the biggest artists in the world – including Madonna, Kanye West and Chris Martin – came together to herald the arrival of the very thing that is going to save the music industry: a streaming tool owned by a collection of the world's richest stars, cutting out the middleman and making them even richer.
The service's most obvious competitor is Spotify, yet unlike Spotify Tidal has no free option and its service costs more than the world's leading streaming service's paid-for version. As the respected American music industry analyst and critic Bob Lefsetz has said of the new venture: "First and foremost you've got to pay for Tidal. And therefore it's dead on arrival." Eek.
So what do users actually get for their money? Tidal is bigging up the fact that the music it offers is of CD quality, while Spotify uses compressed MP3s, but the average listener isn't going to be able to tell the difference if they're listening on the bus.
What the artists who have thrown their money behind Tidal are really getting excited about, however, is that the service promises to reward musicians with more money than they currently receive for streaming. Twice the rate that competitors pay, in fact.
In an interview with Billboard, Jay-Z said: "We didn't like the direction music was going and thought maybe we could get in and strike an honest blow. Will artists make more money? Even if it means less profit for our bottom line, absolutely. Less profit for our bottom line, more money for the artist."
But commenters have been quick to point out that Tidal will have to secure an enormous user base in order to be in a position to be able to sustain that model. Streaming services are not money spinners.
Stephen Witt, author of the forthcoming book How Music Got Free, (Bodley Head) believes we will have to wait and see if it will be a success. "This stuff has historically proven very difficult to predict; it's anybody's guess," he says. "But if they're offering exclusive content from Daft Punk or whoever for $20 a month then someone's going to pay for it."
But is it the breakthrough model that Alicia Keys made it out to be in her impassioned speech at the press conference? "Oh no, it's just another streaming service," says Witt. "They haven't introduced anything new."
Enjoy unlimited access to 70 million ad-free songs and podcasts with Amazon Music Sign up now for a 30-day free trial
Sign up
It might well be the case that Tidal is best remembered for its glorious launch, which has so many awkward moments it's hard to choose a favourite.
There was the very uneven cheering for the stars as they walked on stage one by one. It was difficult to tell who exactly was in the audience, but there must be a lot of Jack White fans in the tech industry; he got a bigger reaction than Kanye West. Poor J Cole, meanwhile, barely caused a ripple.
And in one of the most uncomfortable greetings since Ryan Seacrest attempted to high-five a blind contestant on American Idol, Madonna walked on stage and tried to shake the hand of Deadmau5, who, presumably having his vision impaired by his helmet, missed the gesture. Then Beyoncé was dressed ready to go on stage at Madison Square Gardens, while Rihanna looked like an extra from 9 to 5. The list goes on.
But the most important lesson to be taken away from the press conference? That the Illuminati that Jay-Z is so often accused of being involved with could well be real. And they all got together on Monday night.
Join our new commenting forum
Join thought-provoking conversations, follow other Independent readers and see their replies