Tim Burgess - Britpop bad boy's back on a high
Tim Burgess of The Charlatans lived the rock'n'roll lifestyle to the extreme, as he recounts in a new book. But now, he's released a second solo album and is looking forward to performing at Portmeirion's Festival No 6.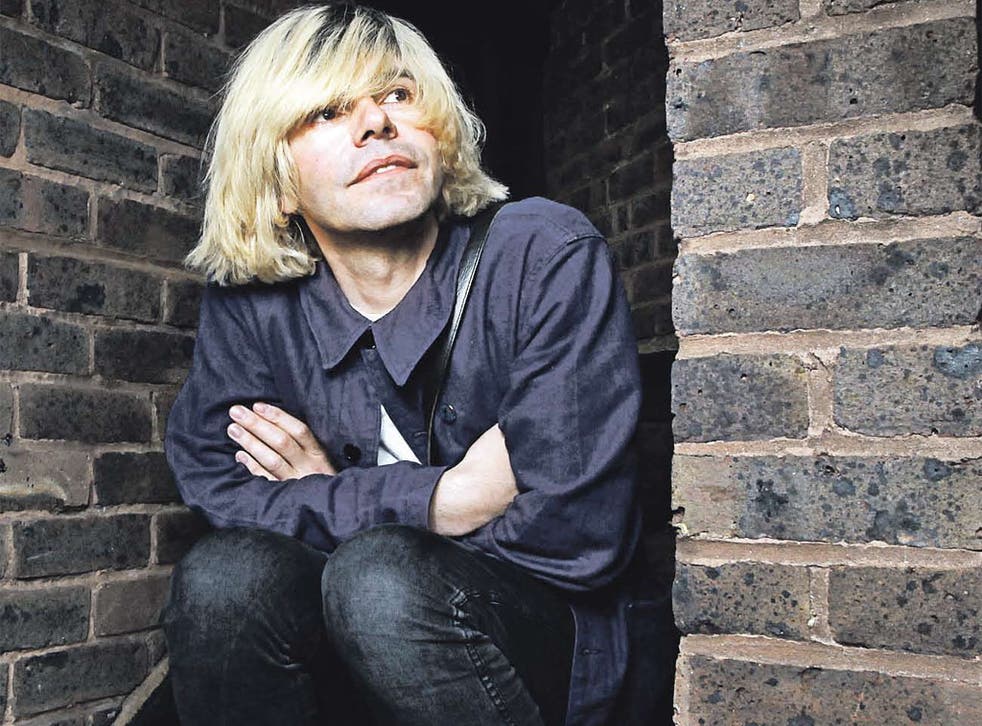 "I've never liked standing around waiting for stuff to happen, I like to do new things," remarks Tim Burgess. He's not wrong. While the careers of many of his Britpop peers appear stuck in neutral, at 45, Burgess's continues to evolve. In the last 18 months he has launched his own record label, O Genesis, published a critically acclaimed memoir, become a sought-after producer (for the likes of Hatcham Social and The Vaccines) and launched his own brand of coffee, Tim Peaks – the profits of which go to the charitable organisation, the David Lynch Foundation.
Now he is on the cusp of releasing his second solo album, Oh No I Love You while, next weekend, he'll be discussing his book and playing songs alongside a string quartet at Portmeirion's Festival No 6. Who would have imagined the poster boy of the Nineties indie scene ageing so gracefully?
Today, Burgess is sitting over a soda water in a Covent Garden pub, his newly bleached hair protruding from under a black beret, and pondering over two-and-a-bit decades of mayhem as frontman of The Charlatans. His survival was by no means a foregone conclusion. The ill-fortune that has beset The Charlatans is the stuff of music legend, taking in illness, nervous breakdowns and, in the case of keyboard Rob Collins, death. Then there was Burgess himself, a baby-faced and relentless energetic singer nearly felled by his addictions.
I last met Burgess 10 years ago backstage at Top of the Pops. He was, to put it bluntly, hammered. Despite exuding a cheery bonhomie, he was largely indecipherable aside from the unexpected revelation that he was partial to the novels of Danielle Steel. At the time he had an American wife, Michelle, and had recently moved to Los Angeles. A decade later he is cleaned up, divorced, in a new relationship and residing in the earthier environs of Tottenham, north London. Most surprising is that he can remember every bit of our last encounter. "Not that strange really," he says, smiling. "I've got a good memory. I must have, I've written a book."
Ah yes, the book. Engagingly frank and enormously entertaining, Telling Stories details Burgess's move from delivery boy at ICI to Charlatans singer, and their journey through baggy, Britpop and beyond. Though the focus is more on the good times than the bad, he writes with startling candour about his drug-taking, from his early experiments with acid and ecstasy to a ferocious cocaine addiction that resulted in him using it "quietly and constantly every day pretty much for 10 years". Among the more eye-watering moments is his description of a method of cocaine ingestion allegedly masterminded by the members of Fleetwood Mac. It requires a straw, a paper cone, a Rizla paper and two willing participants. Suffice to say that the chapter is called Cocainus.
Burgess concedes that he thought hard about committing some of his less savoury escapades to paper. "I could have left that particular bit out, but I wanted to be as honest as possible. Plus, I thought, 'Why should I not put it in when it's so blatantly rock'*'roll?" While such anecdotes make up the book's funnier moments, Burgess notes that levity has arrived only retrospectively. "You can only tell the drug stories when you're not doing them any more, because at the time you're in denial. If you weren't in denial the shame would probably finish you."
On giving up drugs in 2006, Burgess went "full cold turkey. It was difficult but then I went on tour, which kept my mind off it for a bit. The band was still smoking and drinking, and they tried to hide it from me, but I was happy for them to carry on being them, and for me to learn how to be me. Being plastered all the time wasn't the real me." Now transcendental meditation, which he practises twice a day, keeps him on the straight and narrow. That, and old-fashioned hard work.
Among his many projects this year has been his terrific solo album, Oh No I Love You, which he wrote alongside Lambchop's Kurt Wagner. The plan was first hatched 10 years ago when Burgess went to see a Lambchop show in Manchester. After the gig was over, Burgess helped Wagner load his equipment into the van and asked if he would consider working with him.
"He said, 'Sure, I'll write the words and you write the music,'" Burgess recalls. "I was really excited, but then we went our separate ways and it got put on the back-burner." They saw each other on and off over the years, back stage at gigs and festivals, each time reiterating their desire to record together. Finally, late last year, his head ringing with Gram Parsons songs, Burgess pitched up in Nashville, where Wagner lives, and gave him a call.
Enjoy unlimited access to 70 million ad-free songs and podcasts with Amazon Music Sign up now for a 30-day free trial
Sign up
"After all this time, I didn't really know what was going to happen. I knew we were going to meet up but I didn't want to scare him by asking him to commit to anything. But he was open to making some music and taking it a day at a time and after 10 days we had a load of songs." The Salford-born Burgess calls the resulting music "country-and-north-western", alluding to his and Wagner's different backgrounds. In practice, their differing styles meld effortlessly together, yielding a warm and uplifting country-soul sound that does both musicians proud.
What, I wonder, does all this solo activity mean for The Charlatans? "We're doing an album next year, or that's the plan," replies Burgess. "Me and (guitarist) Mark Collins have already got together to write some songs, and I reckon one sounds pretty good. Being part of a band is completely different. It's working with five people and it's not all about me. That's got to be a good thing, right?"
'Oh No I Love You' is out on 1 October on O Genesis. Tim Burgess performs at Festival No 6 on Sunday 16 September and will embark on a UK tour on 17 October. 'Telling Stories' is out now
Join our new commenting forum
Join thought-provoking conversations, follow other Independent readers and see their replies