Travis: The Scottish band's return to the stage, being the 'invisible band' and why they are different to Coldplay
They were never as ambitious as contemporaries Coldplay, but Travis explain why it pays to keep a low profile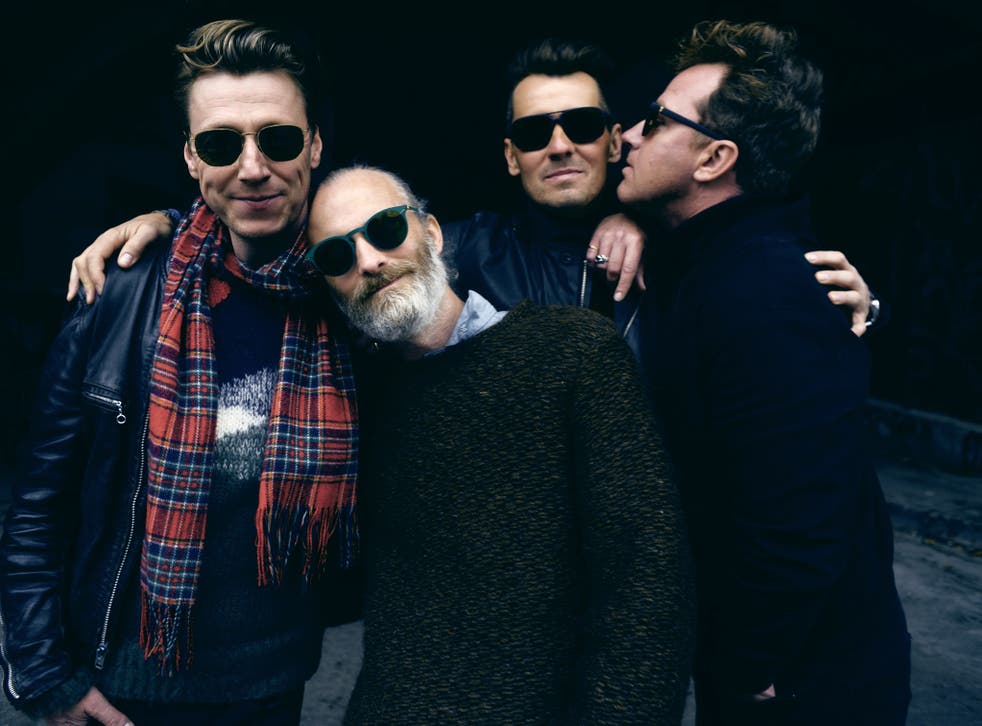 In a packed-to-the-rafters north London venue, Travis are launching their (latest) comeback in an ultra-Travis manner: playing two sold-out shows in one evening in a pub. No stunt-casting venue-hire or fan-teasing viral gimmickry required.
The Glaswegian foursome always were about the songs, pure and simple. This, after all, is the group who titled an album The Invisible Band.
Here at the "matinee" show at the Lexington in Islington, that stance is still paying dividends, 15-odd years after the band's heyday, when their bestselling second album, The Man Who (1999), won two Brits (Best Band, Best Album).
Success didn't let up with the 2001 follow-up The Invisible Band – only Arctic Monkeys' AM has sold more copies on vinyl this century.
Tonight those hits ("Why Does It Always Rain on Me?", "Driftwood", "Writing to Reach You", "Sing") still sound like hits, guileless evocations of the millennial moment when Travis were one of the biggest bands in the country. More heartening, the songs from new album Everything at Once recall those highs.
Meeting singer Fran Healy and bassist Dougie Payne in their PR's North-west London offices five weeks later, the talk quickly turns to the deathless primacy of songs and songwriting.
On the band's eighth album, nothing is overthought nor overdone, and nothing overstays its welcome. Featuring a co-write with Keane's Tim Rice-Oxley and vocal contributions from tenor Alfie Boe and Mancunian singer-songwriter Josephine Oniyama, Everything at Once clocks in at a pacy 33 minutes.
"You don't need any more!" exclaims Healy, 42. "When you're writing songs you're just scrambling along until you find something you've never heard before, just a melody that's maybe 10 or 15 seconds long, or a turn of phrase, a bit of gobbledygook that you love. Then you're like, okay, there's the thing I'm going to concentrate on."
On their last album, 2013's Where You Stand, their first after a five-year lay-off, Travis bent themselves double trying to trim songs into radio-friendly edits. "But even with "Why Does It Always Rain On Me?" they wanted it shorter and shorter," shrugs Payne, 43. This time, Everything at Once only benefits from making things leaner and more focused. Payne's punchy, impactful "Animals" is a case in point.
Enjoy unlimited access to 70 million ad-free songs and podcasts with Amazon Music Sign up now for a 30-day free trial
Sign up
"It's really packed," agrees Healy, before embarking on one of the metaphors he likes to deploy to describe the creative process. "It's like, here's the sock, just fill it with as much as you can…"
Or perhaps it's a tomato sauce, boiled down and intensified?
"I like to think of it as a lobster bisque," counters Payne, "you have to crush the shells, spend all day simmering…"
I say passata, you say lumpy hosiery and/or crustacean soup. Whatever the metaphor, Travis's new album is a joy, the sound of lifelong pals enthusiastically reconvening.
The boundlessly jovial Healy and Payne are old friends from Glasgow School of Art who, along with guitarist Andy Dunlop, 43, and drummer Neil Primrose, 42, have been time-served in Travis for 25 years.
These days their lives are scattered: Healy lives in Berlin with his wife and son; Dunlop in Liverpool with his wife and son; and Primrose in the Lake District with his wife and two children.
Payne is back in Glasgow with his two children and Kelly Macdonald, after five years on and off in New York while his actress wife starred in HBO's Boardwalk Empire.
Travis still have the same management – who later began looking after Arctic Monkeys – but now release their records via their own label. Do they think that, lovely sentiment though it was, the idea of Travis being "the invisible band" was, in retrospect, a block on ongoing success, and a self-fulfilling prophecy?
"Naw," says Healy cheerfully. "I stand by it. When we talked about that there wasn't even social media, so it's even more the case now, all this nonsense shoved in your face. I don't want to see that, I just want to switch on the radio and be invisible – 'cause that's what music is, it's not fucking visible!"
How, then, do music fans have loyalty to something they can't see?
"They don't! And that's fine. Because why should they?" To Healy's mind, a band has to earn loyalty time after time. And it's not just from album to album, it's song to song. He sees this as a diametrically opposite stance to that of Travis's original peers.
"You know how everybody used to go Travis/Coldplay, Travis/Coldplay? You couldn't pick two more different bands. Chris [Martin], melodically, is amazing." He remembers encountering the fellow frontman, an old friend, near Martin's north London home. "I was in my car and, as he does, Chris bounds up like a big puppy in giant white trainers," Healy says with palpable affection. "And he banged on the window and I shat myself! I rolled the window down…"
"…and punched him square in the face?" wonders Payne, with typical Glaswegian humour, to gales of laughter.
Musicians and Actors on Growing Old Disgracefully

Show all 5
"Yeah! And he's like, 'Fran, Fran, we're going to play Glastonbury and we're in the studio and we're trying to make this album for 150,000 people…' And I was thinking, 'wow, he had that in mind.' For that moment he was writing that 'dang dang dang!'" Healy says, blaring out the opening chords for "Politik", the first track on A Rush of Blood to the Head, the album Coldplay released shortly after their career-making 2002 Glastonbury slot.
"That's a completely different thing; I've never done that. I always write a song to someone. None of the things I've ever written are to no one, or to hundreds of people. It's like a letter to someone."
"It's the difference between art school and design school," says Payne, with a sagacious nod.
"Yeah, there was always that distinction at Glasgow School of Art. And our side of things is a little more, I think, interesting. 'Cause there's no equation to it."
The ambitious Coldplay were always ready for their close-up, and worked hard for it. For Travis, the "seismic" success of The Man Who was a band-shaking shock. If anything like that were to happen again to them, would they tour as long and hard as they did 15 years ago?
"Phew…" exhales Healy. "Well, when it all went bananas, you just stuffed your face full of bananas, and you don't know when they're gonna end. You think, 'all this work, let's do everything!' And then you realise you've turned yellow and you look like a Minion. You've just consumed too many bananas, and you're sick.
"I mean, I don't even think about it," he clarifies, "because it was a horrible experience. Just looking at your diary and seeing six months with no days off – none! – and you have to talk every day about yourself. The gigs keep you physically going, but your brain feels totally rinsed. So, no, I never want to do that again."
Helpfully, in bluntly pragmatic terms, they're all solvent – both Healy and Payne own nice apartments in desirable downtown Manhattan – so there's no need to fill arenas again to pay the bills.
"Aye," nods the singer. "But at the same time, there is a funny thing at the back of your head that's going: 'bananas…'" And Healy and Payne burst out laughing all over again.
'Everything at Once' (Red Telephone Box) is released on 29 April. Travis's UK tour starts on 6 May; travisonline.com
Join our new commenting forum
Join thought-provoking conversations, follow other Independent readers and see their replies