We Are Scientists: The right chemistry
We Are Scientists are the kooky post-punk band taking the world by storm. Ben Walsh joins them on tour in Paris
We Are Scientists: The right chemistry

Show all 2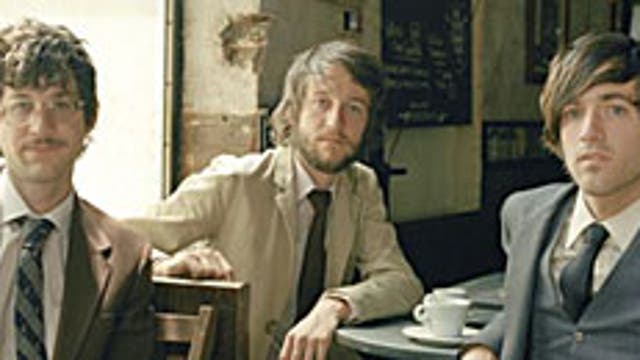 "Sorry if it looks like I'm laughing through each song," giggles Keith Murray, "but you guys are insane."
The gangly Murray has just belted out a blistering rendition of his hyper-catchy three-minute stomp "The Scene is Dead", and he is clearly pleasantly befuddled by his audience. The lead singer is standing, rather unstably, in front of a sea of manic Parisian teenagers who are flinging themselves from the La Maroquinerie stage. Before the gig, Murray was fussing about the foot injury he'd gained after unwisely leaping from Michael Tapper's drum kit at a German gig two days earlier. Nevertheless, here in the French capital, the charismatic singer, who looks like a sleeker version of Louis Theroux, but with floppier hair and without the spectacles, is managing to body swerve his way through the pain and the bodies.
This particularly sweaty gig marks the last leg of We Are Scientists' European tour, and the largely teenage contingent is in uproar. The goofy post-punk pop trio comprises Murray, the bass-player Chris Cain, sporting a moustache and some oversized glasses, and Tapper, who displays a disorderly beard that wouldn't look out of place on a Genesis album sleeve from the mid-Seventies.
Tonight, they look a combination of exhilarated and stupefied, sometimes with as many as five teens on the tiny stage with them. Two girls regularly offend, taking it in turns to kiss Murray on the cheek; the perplexed Tapper intermittently receives their attentions. However, Murray is the main focus and, despite his confounded foot, he remains a bundle of explosive energy throughout.
"This is a show, now take your glasses off," Murray yells at Cain.
"If you want me to stumble around like a blind zombie," Cain retorts.
"Take your glasses off and stumble around," orders Murray.
"I'll stumble, if you take your pants off, my friend," says Cain to crazed cheers.
The American threesome's profile is feverishly rising. Sales for their debut album With Love and Squalor have just gone gold in the UK, they've established themselves as an exuberant and hugely popular live act, they now have an "entourage" and they have a gaggle of groupies to boot.
"Yes, we have groupies," admits Murray pre-concert. "But they just come into our hotel rooms and talk at us. Our groupies have actually taken sex out of the equation. They just talk."
About your songs?
"Hell, no," says Murray. "That's the last thing they talk about."
"It's inane chatter," Tapper murmurs.
Their "inane" groupies aside, We Are Scientists are ebullient at the moment, and, according to the laconic Cain, "the response to us in the UK has been reverential and in Germany they just lost their minds for us. They've flipped their lids."
However, their biggest champion continues to be NME, which has hailed them as "three Pan-Am, discotheque-wrecking nut jobs whose music will simultaneously dislocate your hips and break your heart."
In conversation, Cain and Murray are a double act. They complete each other's sentences. Tapper is more thoughtful, but no less amusing. The three of them met at Pomona University in California and bonded verbally rather than musically.
Enjoy unlimited access to 70 million ad-free songs and podcasts with Amazon Music Sign up now for a 30-day free trial
Sign up
"When we met we had zero interest in each other's musical gifts," says Murray.
"They were absent and are still questionable," adds Cain. "In fact, gifts wouldn't be the word for us."
They appear to have bonded largely over television - Cain and Murray met when the latter came to a showing of Dawson's Creek in Cain's room - and comedy, but seemingly "never over music."
"We both talked as though we were in a sitcom," says Murray.
"We're a travelling sitcom, like the troubadours of old," adds Cain.
They ask their beleaguered record company representative whether they can release a comedy album next. "Can we do that?" they plead. They are incorrigible wags, who are refreshingly willing to riff on any given topic, from the ludicrousness of Ian Brown's dance moves ("he just seems to jog a lot on one spot, what's up with that?") to the merits of Alan Partridge ("knowing me, knowing you, what's up with that?"). Cain confesses, "give us a topic and we could go on for hours." OK, how about torture? How would they feel about their songs being used, like the Barney theme tune allegedly was, by the US military to torture "terror suspects."
"Very pleased. We just want our music to be heard," says Murray.
"Yeah, and any little help we can give for the war effort," adds Cain.
"They'll be humming our songs for the rest of their lives," Murray concludes.
They don't mean it. Their sense of sarcasm is highly evolved. But as chatty as they are it's quite tricky pinning them down on their musical influences. However, they finally crack, admitting a weakness for cheesy Eighties acts.
"I listened to a lot of Eighties soft rocks radio as a kid. A lot of Mr. Mister," Cain jokes.
"My dad had the Mr. Mister cassette and I stole it from him," Murray adds. "'Broken Wings' is highlighted."
Tapper is a little more open about his influences, proclaiming his appreciation for Gang of Four and Wire. He then jokes about wanting to play for The Killers, citing life on the We Are Scientists "sickie pissy" tour bus as a reason.
"The Killers' singer [Brandon Flowers], with his pink leather jacket, has definitely got IT," Cain says dryly. "He's got that ineffable IT."
We Are Scientists' rise hasn't been quite as meteoric as, say, The Killers'. They are all 27 and have been playing together in New York since 2000. Last year, their five-song demo caused a music industry stampede in the States and a triumphant performance at this year's South by Southwest subsequently turned up the "business heat". They signed with Virgin Music, who are enjoying considerable success with The Kooks and Editors, both of which We Are Scientists count as friends. Didn't it rain a lot at this year's South by Southwest?
"Not on us it didn't my friend," claims Cain. "It cleared for us."
Things seem to be generally clearing for them. They are doing much less of what they all describe as "sickie pissy" venues - "Oklahoma Observatory was particularly sickie pissy," claims Tapper. And in the past six months, their fame has risen exponentially in both New York and the UK, alongside the other "hot" New York band with a kooky, highfalutin' name, Clap Your Hands Say Yeah.
We Are Scientists' name "came from the lips of a man at the U-Haul company where we rented a moving truck," explains Cain. "First he asked if we were all brothers because we all look kind of similar. We said no, and then he asked if we were all scientists. We had regretfully to admit that we weren't, but minutes later we realised gold had been struck, titular gold."
In fact, the slightly strung-out Tapper, with his chemistry teacher beard is the only one of the three who could lay any real claim to being a scientist. He studied engineering at university and once built his own dancing robot. "Although, it doesn't so much dance, as rock forward and back," he admits, before shuffling away from the interview to attend to something. Perhaps the trio requires another band member to keep the melancholic Tapper company?
"No way," Cain balks. "We're too greedy."
"Yeah, a third of everything works for us," maintains Murray.
The band have academic leanings, for example Murray studied literature, Cain international relations and they have slightly nerdy preoccupations. Witness Tapper's dancing robot and Cain's obsession with the internet. In the dressing room after the gig the first thing Cain does is check his e-mails and the band's website, www.wearescientists.com, which is admittedly excellent value and includes Cain extolling the capacious merits of a sink basin in the public toilet of the Ekko club in Utrecht, with pictures included.
This would perhaps suggest some sharp, analytical songwriting, but you would be mistaken. We Are Scientists are very much in The Killers and Kaiser Chiefs mould. Murray's lyrics ostensibly focus on two main topics: sex ("I won't tell anybody/ If you want to use my body/ Go for it" on the taut, infectious new single "Nobody Move, Nobody Get Hurt") and booze ("The night is young/ I'm blacking out/ But it's been fun all this"). Not profoundly scientific material, more like hedonistic teenage anthems and weird science. However, it works splendidly, mainly due to some infectious hooks and skewed riffs aimed straight at your Adam's apple and gallons of skittish, raw energy. So, can we expect more of the same on the second album?
"The second album's going to be a big departure," says Murray. "But it's definitely going to be exciting and new."
"You won't even recognise it, my friend," claims Cain. "It's going to be choo-choo-train-related."
Murray admits that he hasn't had much time to write lyrics for the new album and confesses that it can sometimes be a chore. "They're usually written either very late at night or very late in the process," says Murray. "Sometimes when I have to sing them into a recording console in an hour's time."
Does his love of literature help, after all the debut album's title is lifted from a short story, For Esmé, with Love and Squalor, by JD Salinger.
"I don't feel like literature has helped me write these lyrics, I find my lyrics are more like conversation," says Murray. Which they are and at their best, like on "The Scene is Dead", where he coins a delicious turn of phrase, such as "the words that you said are somehow stuck in my mouth." However, like the Kaiser Chiefs, The Killers and The Futureheads it is intriguing to see where they go from here with their second album. For now, they appear to be revelling in the moment and have even done the all-important turn on The Late Show with David Letterman ("it's very cold in those studios"), but what next? Will their egos spiral out of control?
"Crabby. When we're famous, in a word, my friend, we'll be crabby," admits Cain.
'Nobody Move, Nobody Get Hurt' is out on Virgin. We Are Scientists play the Reading/Leeds festival, and tour 20 October to 9 November
Join our new commenting forum
Join thought-provoking conversations, follow other Independent readers and see their replies