Why Slim Harpo remains king bee of the blues
The largely forgotten singer who inspired the Rolling Stones is getting some long-overdue acknowledgement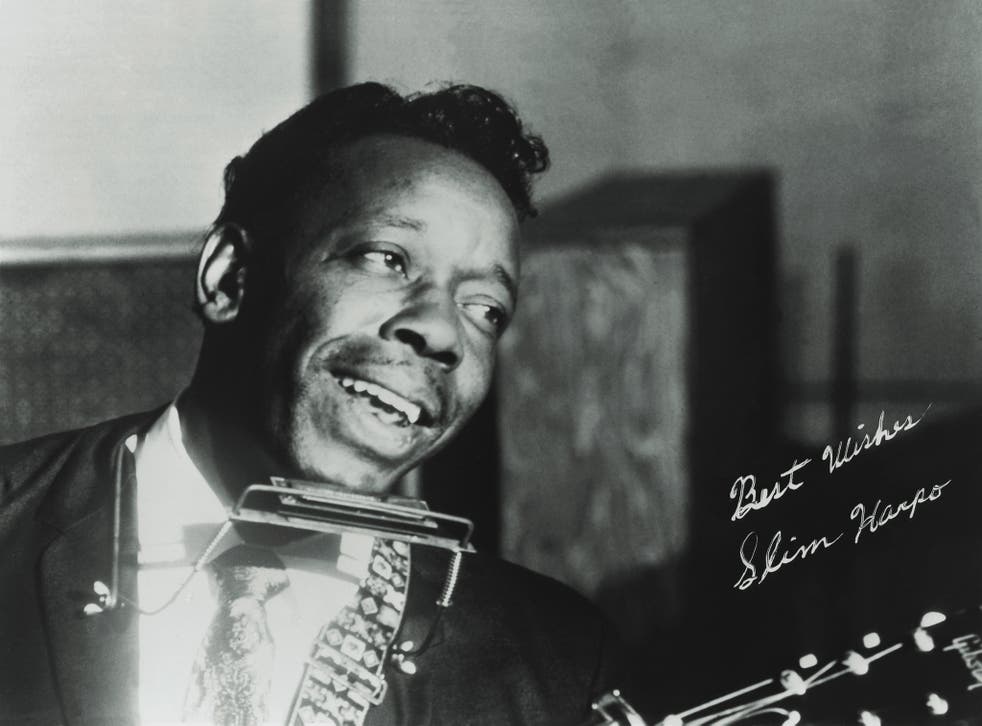 Back when the Rolling Stones were proud to be the voice of revolt and Mick Jagger was as far away from his knighthood as Zayn Malik is from a seat in the House of Lords, they were, very occasionally, modest, not to say humble.
A couple years after cutting their eponymous first album in 1964, chock full of covers of blues and rhythm and blues songs by black artists including a buzz-toned slice of anthropomorphism about our favourite honey-making insect, Jagger told Rolling Stone magazine: "You could say that we did blues to turn people on, but why they would be turned on by us is unbelievably stupid. I mean what's the point in listening to us doing 'I'm a King Bee' when you can hear Slim Harpo do it?"
Which is as truthful a piece of self-deprecation as any since made by Jagger. Since while the Stones version of the song was good in its sincere English-boys-play-the blues style it couldn't hold a scented tea light to the original version of the song cut in 1957 in small studio in deepest Louisiana by a singer, guitarist and harmonica player called James Moore, otherwise known as Slim Harpo.
His version was direct, effective and perhaps slightly menacing with its slightly nasal vocals, echoey production and artless simplicity.
Harpo's name doesn't loom large in the blues hall of fame. Maybe that's because his relatively early death at the age of 46 in 1970 meant that he wasn't able to move from what was already becoming a diminishing black audience for the blues and move into the white market like his near contemporaries, BB King and John Lee Hooker. He did enjoy a couple of pop hits – "Rainin' In My Heart" and "I'm a King Bee" - but there would be no appearances at Monterey or overseas.
Still the influence of this melodic and accessible bluesman started early on, especially in the UK. As we've seen Jagger appropriated "I'm a King Bee" and other Harpo songs were cut by the Kinks, the Yardbirds, the Pretty Things and Them. Another group starting out in the Sixties even took their name from one of his early instrumentals, "Moody Blues".
Since those days his reputation has grown. Born James Moore he was given his recording name by producer JD Miller who seemed to delight in renaming the blues artists he recorded in his small studio in Crowley, Louisiana, with distinctive if not necessarily complementary titles - witness Lazy Lester (Leslie Johnson), Whispering Smith (Moses Smith) and Lonesome Sundown (Cornelius Green).
As critic Peter Guralnick put it, it was "as if a black country and western singer or a white rhythm and blues singer were attempting to impersonate a member of the opposite genre".
Harpo was the most consistently successful of Miller's artists and a new box set of his complete recordings – 142 songs including alternative cuts and live tracks – shows what a consummate bluesman he was. Whether it's the plaintive and echoing loneliness of "Rainin' in My Heart", the juke-joint joy of the all-too short "Bobby Sox Baby", or the magnificent and brooding "Blues Hang-Over" (No 4 in Keith Richards's personal musical top 10, according to 2010 interview), Harpo was able to do it all.
Since Harpo's death, blues may have lost its black audience, which moved on to soul, funk and then hip-hop, but it still retains its power, authority, and in Harpo, an elemental honesty heard in line such as: "You can cry, cry, baby, Cry, cry, all night long, But when you wake up in the morning, You gonna find your good man gone".
Buzzin' The Blues: The Complete Slim Harpo (Bear Family) is out now
Join our new commenting forum
Join thought-provoking conversations, follow other Independent readers and see their replies