Wild Beasts interview: 'We've become the band we objected to being'
The Kendal-born indie quartet are on the cusp of releasing their fifth record, 'Boy King'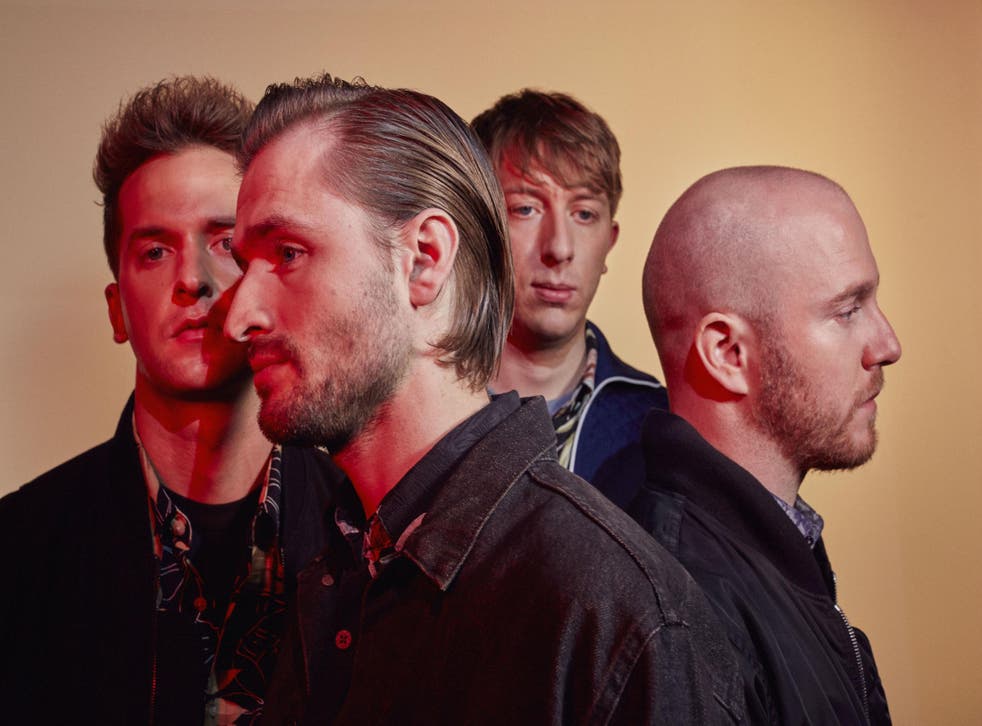 "We've become the band we objected to being," says Wild Beasts singer Hayden Thorpe, nursing a sore head the morning after an album listening party. "We set up the band to be this kind of fey, effeminate art-band that was reacting to hyper-masculine aggressive rock gestures and in a way we've kind of become it."
He is speaking about the group's fifth album: the fantastic, filthy and egocentric swagger of Boy King. It was initially carved out to be a straight-up "white boy soul" record, before a love affair with the industrial throb of Nine Inch Nails and a reconnection to the wild, liberating thrash of the guitar altered those plans. "We began to make music with the freedom and the lightness of teenagers again and the guitar and the distortion pedal once more became this weapon against adulthood." And as Thorpe himself says, "Being in a band is a fuck you to adulthood. It's a real denial of age and responsibility."
Wild Beasts have now spent half of their entire lives together as a band, a unison since their schoolboy chum days in Kendal, Cumbria. Together they've lived through four albums that have traversed some of the most idiosyncratic and quintessentially British music of the last decade, earning them a Mercury Music Prize nomination for 2009's Two Dancers. This, however, is the moment they have been working towards. "I think we've made something that we've been trying to make for 15 years. Those who know me know I don't say these kinds of things often but I do feel, to some extent, it's our masterwork," says Thorpe

Sonically, Boy King reverses the meticulous layered detail found on their previous record Present Tense and allows intuition and angst to lead. Whilst still leaning towards pop, and being smooth, groove-laden and gloriously fluid, it's also a crunchy record with lathers of heavy guitar, pulsing electronics and hissing fury.
Lyrically it captures the crumbling fragility and toxicity of contemporary masculinity from the perspective of a group of people intelligent enough to see this from the outside looking in.
Duality has always been key to Wild Beasts's output and this record captures the dichotomy of sensitivity and bravado, of blind arrogance and vulnerability and the sort of emotional turmoil that the perpetual quest for lustful carnality can lead to. The on-going fascination with the male psyche continues for the band. "The Boy King is so much bigger than us as an alter ego, he's been to the gym, he's had his protein shake," Thorpe says, adding, "That hyper male character is in me, I'm a guy in a band for god's sake. My projection of self, my projection of identity is pretty large. I guess it's dealing with the crux of that because you have to ask, what is that masking? What insecurities and vulnerabilities is that masking?"
As with most of Wild Beasts's work the new album is a saucy affair lyrically (take "Eat Your Heart out Adonis", with its line "I like it messy, don't you make it neat"), although there's a brutality, a forcefulness to this record that the creators know they are playing in dangerous territory. "How fucking dare we have these shredding guitars and huge statements of virility and a predatory nature to attaining sex, you know? There's a sense of threat to the record. It's not pleasant and how dare we do that," Thorpe says. "That's part of the danger, that's how I get off. That's how I get my bang." He laughs, referring to one of the album tracks "Get My Bang" which, as filthy as it sounds, is actually a track about rampant American consumerism, not sex. Although there is plenty of that on the album. "There's a lot of sex on this record, but I guess it's through the prism of self-loathing, a masochistic kind of sex." Adding that "there aren't love songs on this record. It isn't romantic; it's more of a primal, functional need, a requirement rather than a higher-minded kind of love.
Despite initially having some reservations about the very personal nature of this record and what he would end up revealing about himself, Thorpe feels happy playing in unsafe and challenging areas now. "My potential future in-laws will not hear this record and think 'he's a nice boy' but what terrible art would I be making if my grandparents or future in-laws heard a record and thought 'what a lovely man'. Who is pleased by such art?"

"If you need a record with big balls, you go to Texas!" says Thorpe of the band's relocation to Dallas to work with revered producer John Congleton. "He just said 'Come to Texas with an open heart and an open mind' and then the next message from him would be something like, 'This album has to be a motherfucker!' and we were like, yeah! It does, man! His calibre speaks for itself; he keeps a Grammy Award in his toilet. His sonic genius was a given."
Enjoy unlimited access to 70 million ad-free songs and podcasts with Amazon Music Sign up now for a 30-day free trial
Sign up
Congleton's freedom allowed the alter ego of Boy King come to life fully with all his raging libido and chest puffing superciliousness. "One thing John is, he's the serial killer of self doubt. He will beat out of you the overthinking and self-consciousness." This also led to a less-is-more musical approach, too, as Thorpe tells me, "Many times overthinking is the death of a good idea. You realise that there's such a fuck you arrogance with going with the sloppiest take, there's such a power to it."
Getting a song through the screening process is tough enough though and so once an album is finished, Wild Beasts feel like they fear nothing,Thorpe says. "You're bringing songs of emotion and vulnerability into this quite robust and gang-like work atmosphere, it means songs have to be very strong to get through the threshold, they have to get through a firestorm. It's terrifying, it never ceases to be, but I'll tell you what, when it works…my god. One of the things that comes out if it though – when we take this music to the wider world – is that everyone else are just pussycats. I don't give a shit what other people say because I've already had the shit beaten out of me."
As Thorpe's hangover gradually begins to lift, he ends on a reflection, "I'm so proud and delighted with it. I think it's the realisation of freedoms and ideas we've actually spent our entire lives trying to achieve."
Boy King is out 5 Aug on Domino Records
Join our new commenting forum
Join thought-provoking conversations, follow other Independent readers and see their replies