RZA and Mathematics: 'Some people forgot we said Wu-Tang was forever'
Hip-hop legends on their latest projects, their legacy, and what went down with the notorious 'pharma bro' who bought one of the world's most famous albums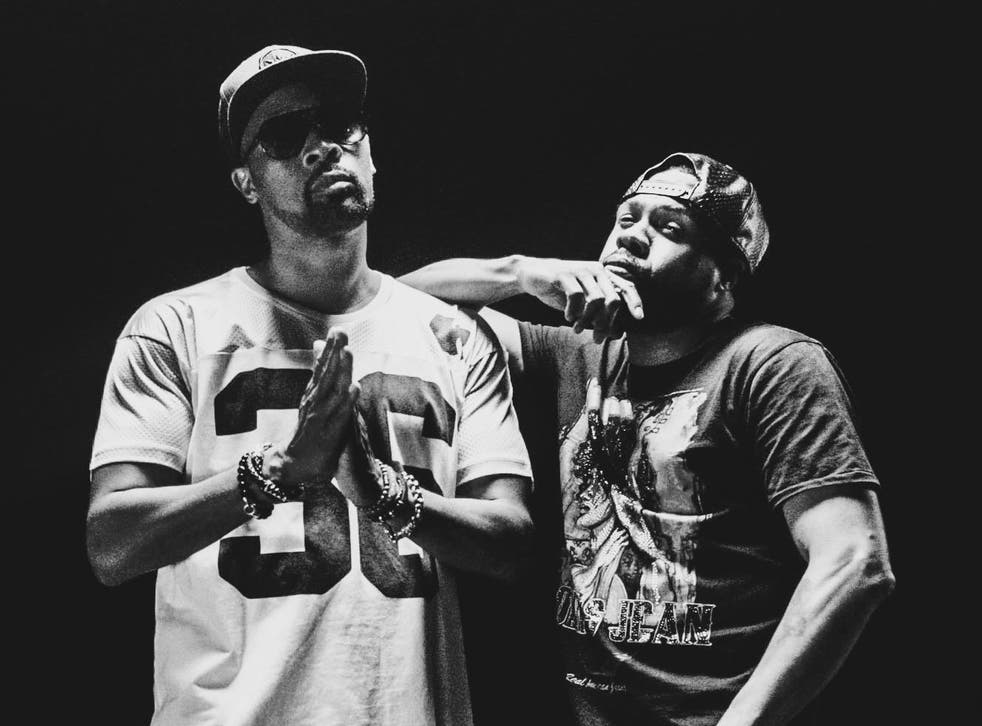 "I've made up my mind. I won't fail."
There's a bold statement on the intro of Wu-Tang: The Saga Continues, which enlists the help of an old kung-fu movie. Positioned with a narrative that loops the listener through action, intermissions, drama and a thoughtful conclusion, it's a production project by Mathematics, Wu's longtime affiliate, who designed their symbol.
Math had wanted to put something together with both modern and historic gear, such as the ASR-10, for years. Going back to the first sample he ever used, he then switched up how it featured in the new music, taking live instruments and different sounds to create the beat before running it through the ASR and back out.
"I think everything album should be complete, where it tells a story almost. You got your intro, your intermissions and breaks, then the outro," he explains. "I don't talk on the album, so it might be certain things I wanna say. It might be something funny, it might be something serious. So the intro was that, and it related to the project as well."
It seems poignant that they released this record near the 25th anniversary of the group's inception. "Protect Ya Neck", the debut single by the nine-member group, stormed into the collective consciousness of the hip-hop community and changed it forever. And even now, speaking to other artists – hip hop, rap, rock, alternative, you name it – Wu-Tang Clan maintain that influence and respect they earned two decades ago. So much that American rock band Portugal. The Man, whose frontman John Gourley grew up listening to Wu from his home in Alaska, virtually pre-empted being influenced by them on "People Say" by recalling Wu's track of the same name (despite the rock band releasing their song eight years earlier).
"We think it's a blessing that we were able to bring our music to the world," RZA, born Robert Diggs, says. "That our music has not only inspired our communities but other communities. That's one of the greatest things an artist in any field could know, that you've touched the mind of another artist. And we've been touched by other artists over the course of our careers, we appreciate the interchanging or exchanging of art from genre to genre, generation to generation."
On that track, which features Redman, Math overlays a gorgeous sample from The Diplomats' "I've Got the Kind of Love" with menacing audio interpolations from another kung-fu movie, The Warriors; in the same way that Wu did on "Tearz", a track off their 1993 debut Enter the Wu-Tang (36 Chambers); the fraught tension and violence in the spoken words contrasting with a soothing female soul chorus.
For "People Say", Math also enlisted the help of Smokey Robinson's bass player rather than using an old sample, an approach also favoured by Kendrick Lamar on To Pimp A Butterfly where he featured the likes of Thundercat and Kamasi Washington.
There's a sense of legacy about this and the reaction, almost a reverence, that fans felt at the prospect of a new Wu record. One review in Pitchfork said, somewhat negatively, that it was almost more about the legacy than the music itself. Math disagrees, and RZA, meanwhile, says he has yet to make a decision.
"I think the title says a lot," the 48-year-old says. "Wu-Tang… The Saga Continues. We told you Wu-Tang was forever, and some people forgot that. It's not some fad. Egotistically, we know our lives meant something and mean something and will mean something, and so the saga continues, here we are, dealing with the world, dealing with our lives, dealing with hip hop. And continuing to put music in the system that people can reflect upon, from the Wu-Tang point of view."
Enjoy unlimited access to 70 million ad-free songs and podcasts with Amazon Music Sign up now for a 30-day free trial
Sign up
It was around this time last year that fellow hip-hop collective A Tribe Called Quest released their sixth and final studio album We Got It From Here... Thank You 4 Your Service. Many critics noted how it seemed like a passing of the torch, from Tribe to future pioneers of hip hop. And while Wu will continue to make music, RZA also hails those pioneers who pick up the mantle from those who came before.
"Kendrick, J Cole, Drake... they're the pioneers. We're fortunate that hip hop has a Kendrick," he says. "Then bubbling underneath that you have Joey Bada$$, A$AP Ferg. The beauty of it is that it continues to replenish itself.
"To think that Future, one of the greatest producers out there right now, sat there with Rico Wade from Dungeon Family, watching what his cousin was doing. He absorbed it and now he brings it to another generation."
And it's the same with The Saga Continues. There is only one co-production on that album, RZA notes, and it's not him: it's Math's 18-year-old son.
Outside of Wu, RZA is developing his reputation as a Renaissance man: executive producing a TV adaption of Black Samurai starring rapper and actor Common. It's far from RZA's first foray into visual arts – as an actor he's appeared in films including American Gangster and Due Date, and worked with filmmaker Jim Jarmusch on the soundtrack for the acclaimed 1999 film Ghost Dog: The Way of the Samurai.
"Black Samurai's on Starz network, they did a great job with Power, which my wife is obsessed with – she wakes me up for it," he says chuckling. "It's a great position for me to be in it. I've got my EP on there, and I'm an executive, baby!"
It would be impossible to speak to them both and not ask about the notorious Martin Shkreli. Controversy and rumours surround the businessman's purchase of Once Upon A Time In Shaolin, the double Wu-Tang album that became the most expensive single album ever sold when Shkreli bought it for $2m in 2016.
A year later, shortly after he listed the record for sale on eBay, a comment by Killa Sin sparked speculation that the record wasn't actually a true Wu-Tang album. Managers for original members U-God and Method Man also wondered how valid it was. But it seemed that the most likely truth was simply that everyone hates Martin Shkreli and no one wants him to own that album.
RZA and Math burst out laughing at the suggestion. "Yeah, that's the general consensus," RZA says, smiling. "I know a lot of people don't like him, so that's his own karma he has to deal with. But as I said recently, how could two journalists, two managers and two students of mine define what a Wu-Tang album is above me? I'm the founder. Of course my brothers have the power of voice, but I'm the abbot.
"It's in the same movie we started Wu-Tang Forever in: Shaolin and Wu Tang. In that film, these men want to enter the temple, and they're very dedicated to it. But you have to get the abbot to agree. There's always a guy saying 'no he can't enter'. It's like, [deep voice]: 'Let the abbot decide.' You can't have somebody from the outside defining something. On the inside, they have to be of a strong ranking. And even then..."
Name-dropping Shkreli on their track "Lesson Learn'd" wasn't a diss either, they say. "If it was a shot at Martin Shkreli, the world would have known it," Math adds.​
"The one thing we can all say… we came with this idea to put value back into music," RZA says. "And Martin Shkreli helps that.
"Even the eBay thing, which I'm pissed off about – I'm not shy to say it. I panicked when he did that, I felt disrespected by it. I said 'why the f*** would he do that?' Then I read his little paragraph and I calmed down. Because even if someone had put down one dollar, it would have proved I was wrong. But it went over a million. At that, I'm satisfied to know that the idea worked."
When they announced their plans for Once Upon A Time In Shaolin, RZA said owning it would be "like somebody having the sceptre of an Egyptian king". And it has taken on a kind of myth among fans who wonder what lies in that mysterious silver box; crafted by an artist used to making works for royal families.
"I think it has a life of its own," RZA nods. "What everyone agreed on was that the album would tour. People could come to museums and hear it. It puts Wu-Tang in a different arena, a different spiritual and musical position, to become one of the first albums to tour without anybody. Just the album itself, people come in, put their headphones on, listen to it then walk away.
"I tried to tell Martin that would be the smartest thing to do with it. I almost didn't wanna sell it, I thought that would be the most beautiful thing that could happen to it. I hope that will still happen."
'Wu-Tang: The Saga Continues' is out now via 36 Chambers ALC/eOne records
Join our new commenting forum
Join thought-provoking conversations, follow other Independent readers and see their replies