X Factor runner-up Rebecca Ferguson on regrets about dating One Direction's Zayn Malik and her new album
As if Rebecca Ferguson's crippling shyness wasn't enough to test her post-X Factor mettle, a glut of hangers-on and bad advice threatened to derail her career before it had begun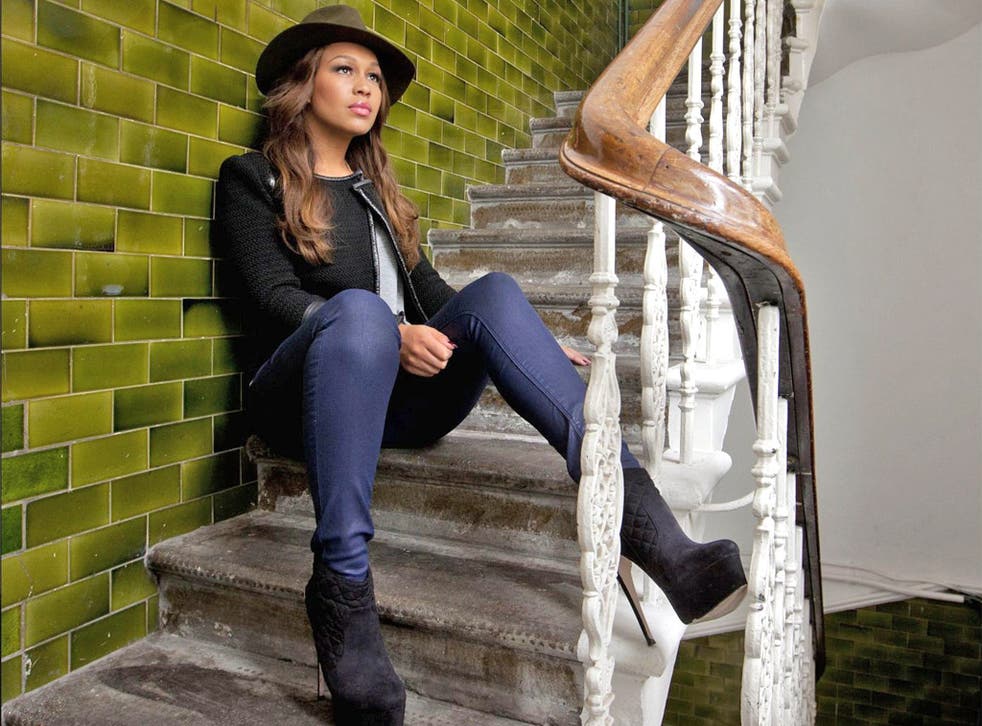 Standing on stage at Under the Bridge, a small west London music venue, Rebecca Ferguson looks at once nervous and in consummate control as she leads an enthusiastic crowd through her hour-long set. The sweet smile she offers up, however, is often at odds with the songs she is singing.
Her new single, "I Hope", for example, begins with the line: "I used to hate you so easily". The smile disappears completely (and necessarily) as she debuts another track from her new album, Freedom, entitled "My Freedom". She looks unambiguously downcast, and with good reason. The song is not a happy one.
"Do whatever you gotta do so you can feel like you're winning on me," she sings. "You won't take the freedom out of my life."
At its conclusion, with applause rushing up to greet her, the smile, beatific now, returns. "Ah, thank yis," she says in her thick Scouse accent. Then, promptly rearranging her face once more, she adds: "This next one's about bullying and oppression…"
It is probably fair to suggest that X Factor finalists rarely sing songs about bullying and oppression. But then Ferguson, it transpires, has much to gripe about.
Four days earlier, we meet in her PR's office. She is tall and elegant, her fake eyelashes lending an unexpected glamour to what is otherwise an ordinary Friday morning. As she sits and gets comfortable, she admits there is much she cannot talk about, however much she'd like to. She can't, for example, discuss her former management company, Modest!, whom she left last year and who are currently suing her for breach of contract. And neither can she discuss, individually, the people who scammed her out of £100,000 over the past two years. Police enquiries are still pending.
"I'm not allowed," the 27-year-old says, hesitantly. "I can't, legally. Let's just say I attracted a lot of… erm, false friends, false accountants, false solicitors. Just false people all round, really."
To suggest that Ferguson has been through the mill since coming second on The X Factor in 2010 (losing out to Matt Cardle) is to understate matters. On the show, she was a cripplingly shy 23-year-old single mother of two and, in her own words, "such a nice person; that's how everyone saw me. I suppose that's how I attracted these people. I was too giving, too trusting."
Review: Rebecca Ferguson's new album Freedom
This is why Freedom is such a stark album. As with much that comes from Simon Cowell's stable, it boasts the rather anonymous high-gloss sheen of any modern soul record, but this doesn't, mercifully, mask her exquisitely husky, old-school vocal, nor the stinging sentiments that soar in songs like "Fake Smile" and "Hanging On". This is, in its own way, a protest record.
Enjoy unlimited access to 70 million ad-free songs and podcasts with Amazon Music Sign up now for a 30-day free trial
Sign up
"It's pretty much about depression and frustration," she says, summoning up a hollow laugh. "You know, this amazing thing happened to me – I actually became a singer – but mostly I was just surrounded by vultures and absolute bastards. And I had to deal with it, or go under."
Born in Liverpool, Ferguson had always wanted to sing. But by 17, she was unexpectedly pregnant. "I don't think sex education went down very well in my school," she giggles. "I was terribly naive." Two years later, she found herself the single mother of two. She continued, off and on, to sing, and knocked lucklessly on the doors of every record company in London. She tried out for The X Factor twice before, and also Britain's Got Talent, but with no luck. On these occasions, however, she refused to ply what is expected of all entrants on TV talent shows: a sob story. On the last occasion, the way she tells it now, the sob story was effectively pried out of her.
"In the interview, they asked me why this was so important to me, but they thought I was just faffing about when I said I love to sing. So they asked me about my kids, and that was it. I broke down in tears." At this point, she relates, the interviewer was jubilant. "He just said, 'Great! We've got it!'"
The rest is so much predictable TV history, Ferguson cast as the broken-down bambi whose overriding wish could only be granted by viewers phoning in and voting for her. Which of course we duly did, in our hundreds and thousands. A year later, her debut album, Heaven, was showered with critical praise, while Matt Cardle's was routinely dismissed.
Heaven went on to sell a million copies. "Amazing," she says now."My dream had come true."
But it rapidly soured. Things started to go wrong, she believes, during the X Factor tour, when she started dating One Direction's Zayn Malik (the group had come third in X Factor 2010).
"That was my first mistake. I was 23, he was 18. Of course, if it was a 23-year-old guy dating an 18-year-old girl, no one would have batted an eyelid, but this way around was a big deal, apparently. I didn't realise that. I was just a hippy, free-loving person, but that's not a good thing to be in this industry. You can't just follow your heart."
They parted shortly afterwards, and Ferguson subsequently amassed all sorts of new friends, each of whom, in some or other capacity, offered to work for her. "I was like this energy source being drained by them," she says. Foolishly, she rarely questioned their motives. If one such "fake accountant" suggested they needed money for something, she simply wrote a cheque. I ask her what she thinks of it all now, and in response, she merely blinks, her eyelashes fluttering like nervous spiders across her face. "Legally, I'm tied up, I'm not allowed to say anything," she says.
She is now managed by Craig Logan, formerly of Bros – who famously had their own financial problems at the height of their success – and life, she says, is better these days. She is happy, at last.
"The whole experience has toughened me up. Singing for me is a blessing, and I'm not about to waste that blessing just because certain people tried to ruin it for me."
She says, with relief, that she is sleeping well at night now. For the longest time, she wasn't. "I still wake up and have a little panic, but I go back to sleep quickly afterwards. That's a good sign, I think."
'Freedom' is released on 2 December by RCA/ Sony Music
Join our new commenting forum
Join thought-provoking conversations, follow other Independent readers and see their replies