Glastonbury 2014: Metallica laughs at criticism by selling t-shirt emblazoned with comments
Jokingly rebrand themselves 'Glastallica' and print cutting remarks on a t-shirt being sold at the festival site for £20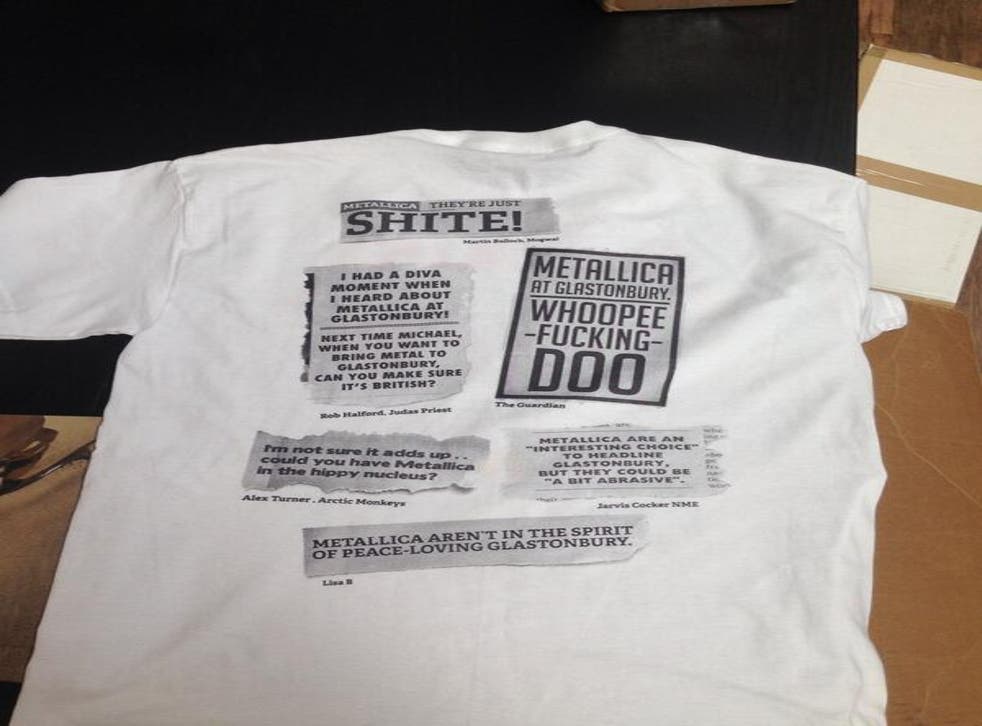 Metallica is sticking two fingers up to its detractors via its merchandise.
Organisers at Glastonbury were widely criticised for including the heavy metal band as festival's headline act.
Arctic Monkeys Frontman Alex Turner questioned whether Metallica should be welcome in the "hippy nucleus" while Mogwai's instrumentalist Barry Burns said the band were "unbelievably bad."
In a witty riposte, Metallica have rebranded themselves 'Glastallica' and are selling t-shirts with some of the acerbic comments made about them in a newspaper cut-out design.
The white top has on the front of it the Metallica skull – this time wearing wellies and a 70s peace-sign necklace – above the words "Peace, Love & Metal."
The back of the t-shirt has some of the remarks said publicly about the band including "Metallica, they're just shite," "Metallica aren't in the spirit of peace-loving Glastonbury" and "Metallica at Glastonbury – Whoopee fucking doo."
The merchandise comes in black and white and will apparently be sold at the festival, as well being available on their online store at £20 each.
The writers of an unauthorised book detailing the Metallica story tweeted: "They did the same thing with the Black Album tour programme too, including lots of less-than-favourable reviews."
Metallica headlines the festival with a performance on the main Pyramid Stage on Saturday night.
Other criticism levelled at the band relate to frontman James Hetfield's support of bear hunting.
In pictures: Glastonbury 2014

Show all 65
Drummer Lars Ulrich told the BBC that the downside to playing an event like Glastonbury is that the musicians must stay sober: "This is going to sound a little weird but the downside about closing these festivals is that you have to remain sober and on your game - and then when you get off stage, basically all the other bands have already left."
Join our new commenting forum
Join thought-provoking conversations, follow other Independent readers and see their replies