I Have A Tribe unveils video for new single 'Buddy Holly'
'I have this notion that sometimes, because humans have been writing songs and melodies for so many hundreds and thousands of years; when a song presents itself to you as an idea to write down -  maybe you're just making your own version of something that was already kind of done'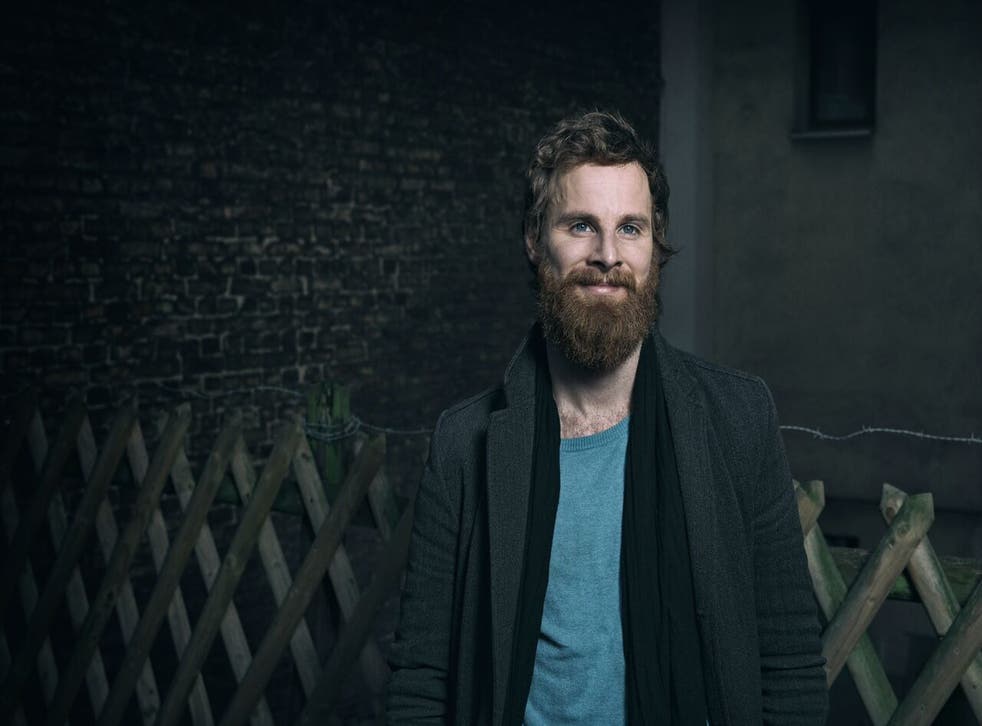 Dublin's Patrick O'Laoghaire, aka I Have A Tribe, has unveiled the video for his new single "Buddy Holly" and we're premiering it here on The Independent.
Attracting early praise for his sparse, beautifully understated music, debut album Beneath A Yellow Moon was produced by Paul Savage [Mogwai, Twilight Sad] and is due out 27 May.
O'Laoghaire says of the song: "I think I wrote most of it in spring in 2008, and finished it then in 2015. I have this notion that sometimes, because humans have been writing songs and melodies for so many hundreds and thousands of years; when a song presents itself to you as an idea to write down - maybe you're just making your own version of something that was already kind of done.
"And I don't see it as a bad thing - more-so I take from this that the same sentiments and emotions have moved humans in the same manner always, and the attempt to write comes from the same source. With songs, then, maybe some musical templates become timeless, because a certain structure of chords or a certain movement of a melody will reveal itself again and again.
"When I played this song for a piano teacher of mine 7 or 8 years ago, I remember she started to sing Buddy Holly, It's Raining In My Heart. So I went and I listened to that song, and it was a nice comfort to hear the same pattern at the start. So that's where the name comes from. I left it alone for a few years then. and dug it back out when I thought I had something more to add to it. Lastly I brought it to my friend Paul, and he added a drumbeat to it that gave the song a sense of humour, and then it was done.
"For the video, I wrote to Myles O'Reilly. We had some tea in his kitchen one afternoon and I played him the song, and he marched around his kitchen shouting ideas at the walls. A few weeks later he brought us to a yoga studio and projected old footage of Dublin on the walls, and dreamed up a wooden box car for me to sit in. It was a joy to work with him, and Donal, Mick, and Steve".

What the video below and let us know what you think:
Q&A with I Have A Tribe
What have you been listening to recently?
Oscar Peterson's "Hymn to Freedom" - Some Sundays my friend and I drive to the mountains outside Dublin and we listen to this on the way and on the way home. It's a nice unfolding sort of melody, good for the beginning and the end of a walk. I heard once that he used to play the same song to his wife every evening before bed. I think it was "Someone to Watch Over Me".
My older brother sent me Courtney Barnett's music...you can count on your older brother to point you in a nice direction. So I'm listening to her lots lately, and Marlon Williams, too.
I've got this habit of finding an artist or a record that moves me, and I'll stay with it for months and years. So other things pass me by entirely...which leaves you in a lovely position of playing catch up on records you know about but don't know. I used to be shy about it .. I remember meeting a friend a few years ago and he said - I can't wait for the next John Grant record. And I said ... yeah, me too .. but I had no idea who John Grant was.
Enjoy unlimited access to 70 million ad-free songs and podcasts with Amazon Music Sign up now for a 30-day free trial
Sign up
So when I went home and listened .. I called him up and said .. Wow! John Grant! Thanks! Same thing recently with records like Nebraska and Blood on the Tracks .. it's nice to come to them only now..anyway I think you find them at the right time.
On the way to the studio recording the album we listened to Tom Waits, Swordfishtrombones; on the way home, Yann Tiersen, and sometimes Mogwai. I've been painting the kitchen lately, and the soundtrack for that has been Big Bill Broonzy, Missisippi John Hurt, the tunes from Oh Brother Where Art Thou, and Arvo Part.
What are your plans for summer 2016?
Lots of singing and playing. Lots of laughing, hopefully. For gigs .. we go to Germany, Switzerland, Belgium, Netherlands. It's cool to get to visit these places .. so it's important to enjoy the adventure I think. The album comes out on May 27.. we planned a gig in Dublin that night but it turns out Bruce Springsteen is in town .. so we play June 3rd in Whelans, Dublin, instead. Fair enough!
What was the first gig you ever played, and what¹s been the best so far?
The first gig was with my brother, when we were still in school. He taught me Otis Redding and Joni Mitchell. Like I said, you can count on the older brother for the good stuff! I remember playing in a pub in Dublin and the barman offered me a beer while I played. Then he brought it over and said - that's 5 euro please mate. I don't think he was into the tunes!
The best so far? I've no idea. Special moments in different gigs, different places. Playing live..what I find important, is the nature of how the songs change. You can prepare and you know your song well before you sing it but the fun is in the abandoning of the thing and realising you can't possibly do the same thing twice.
Previously I sought to record moments, and live takes..because I guess you can record everything if you want to..and if there is a special atmosphere it can be tempting to try to capture it. But then I thought - fuck it, you can't record the feeling of being there, and what the feeling is like in a room, and when I accepted that, it freed me up a little.
I like that idea of the monks who spend their days making beautiful and intricate sculptures and patterns with seashells on a beach, and then at the end of the day they watch the tide come in to wash them away, and they begin again the next morning. I guess I try to do the same when I play a gig - spend the hour trying to make something sweet .. and then move on and let it go.
Beneath A Yellow Moon - the debut album by I Have a Tribe - is out 27 May via Gronland Records. He plays Bush Hall in London on 27 April, and Blacks, London on 23 May
Join our new commenting forum
Join thought-provoking conversations, follow other Independent readers and see their replies