Jeff Lynne's ELO Glastonbury review: Solid rock anthems lacking a charismatic frontman
Lynne fails to measure up to the charisma of previous Legend's slot performers, Lionel Ritchie and Dolly Parton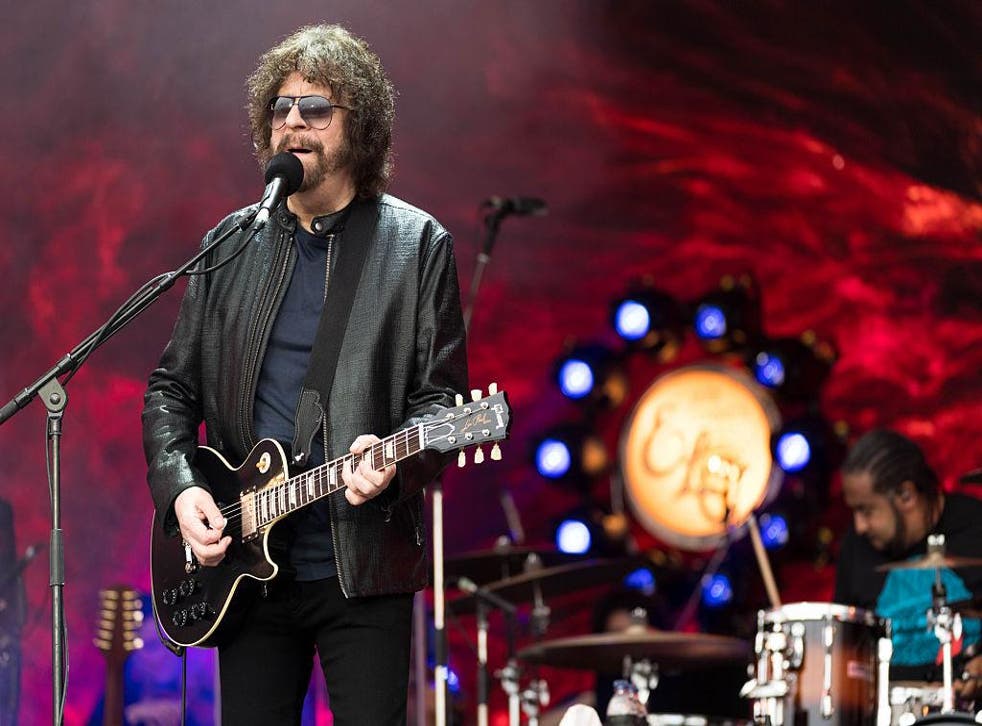 For the last two years, Glastonbury's Sunday afternoon Legend's slot has arguably been filled with the each festival's best performers: Lionel Ritchie and Dolly Parton. For anyone following in their footsteps, it was always going to be a huge challenge measuring up, especially when facing off against the rain and on this post-Brexit weekend.
Stepping up to the challenge is Jeff Lynne's ELO, a relatively recent incarnation of the band, featuring a large orchestral backing and numerous supremely professional musicians.
Kicking things off with a trio of relatively upbeat numbers -"Evil Woman", "Showdown" and "All Over The World" - it quickly became apparent that the rain, which is gradually growing heavier, has dampened some campers' spirits, many scrambling for their anoraks, not quite taken by the relatively mute frontman.
Thankfully, "Livin' Thing" quickly followed by "Rockaria!", offers the first singalongs, engaging more casual fans with their Beatles-esque rock 'n' roll. "Telephone Line" then rolls out more applause, while the upbeat double whammy of "Turn to Stone" and "Don't Bring Me Down" offer up more chances to dance, the second of which elicits the band's biggest clap along.
Noticeably, however, despite the musicianship, Lynne offers very little in terms of admirable frontman, merely thanking the crowd once or twice for being there; no mention of the rain, just a thumbs up on numerous occasions.
Glastonbury Festival kicks off
Perhaps his plan was to let the music do the talking, especially when you consider how authentic his voice sounds on "Sweet Talking Woman", the entire band playing tightly, the backing singers offering up more charisma than Lynne, all smiling at the huge crowd.
By the time "Mr. Blue Sky" finally makes an appearance, the great unwashed seem remarkably happy for the band to just get on and play the hits, ploughing through the song before shooting straight into final track "Rollover Beethoven", a blues jam that continues the former song's positive atmosphere.
Glastonbury 2016 - in pictures

Show all 10

Then, just like that, it's all over. Lynne asks the crowd for a selfie, which they oblige by raising their arms in the air, before walking off with another thank you. In comparison to Ritchie and Parton, it's no real comparison; both were so charming it was difficult not to love - the same applying for last night's headliner Adele.
Instead, we were given some solid, excellently executed rock anthems, lacking a charismatic frontman.
Join our new commenting forum
Join thought-provoking conversations, follow other Independent readers and see their replies