Run the Jewels: Victoria Warehouse, Manchester, gig review: Drenched in dynamism, experimentation and humanity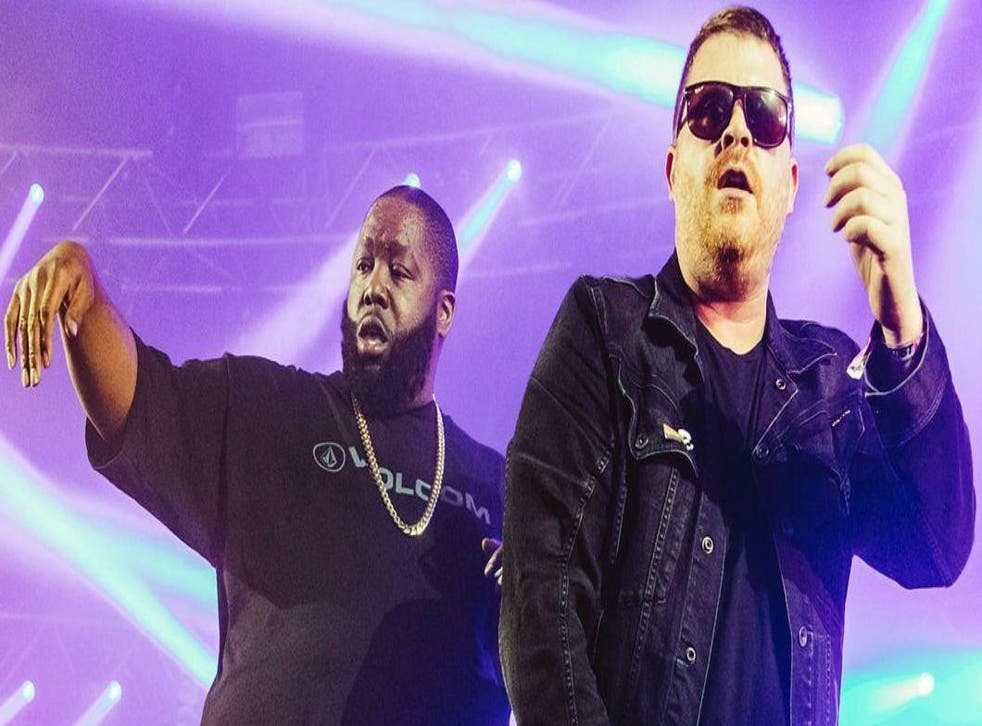 Few artists can balance comedy and politics as well as Killer Mike and EL-P from Run the Jewels. Arriving on stage like two prize fighters to Queen's 'We Are The Champions' last week, the likeable duo humorously mimed the lyrics before declaring they would "f*** this stage the f*** up." As they launched into their dexterous rapping interplay on 'Talk to Me', comedy quickly turned to politics as the two furiously laid into President Trump and racial inequality.
EL-P's description of Run the Jewels' music as "having swagger in the face of f****** doom" summed up the opening perfectly. As the two prowled up and down stage painting a bleak world picture, they ripped through America's political policy with aplomb, holding those to account with breathless fury. "Went to war with the Devil and a Shaytan / He wore a bad toupee and a spray tan," they raged on 'Talk to Me'; "Born black that's dead on arrival / My job is to fight for our survival," Killer Mike angrily spat on 'Legend Has It.'
The duo then took aim at misogyny, threatening to punch patriarchy firmly in the face. "One thing we do not do," Killer Mike shouted, as he detailed the gig's ground rules two songs in, "is to put our f****** hands on women who do not invite us to do so." Met with thunderous "RTJ" chants of support and hands posed in their trademark gun-meets-fist signifier, EL-P met the political with the comic as he thanked Killer Mike "for that refreshing pinch in the ass," qualifying "but that's cool because you gotten permission and we're friends." Not many duos can pull off such a Beastie Boys meets Public Enemy dichotomy, but pull it off they do.
As passionate advocates of Bernie Sanders and Jeremy Corbyn, the latter delivering a rousing speech before their Glastonbury set in June, their powerful socialist message was helped along last night by the experimental sci-fi electronica underpinning much of their latest album, Run the Jewels 3. Even at a time when experimentation within hip hop and grime is so prevalent, it's much more apparent live that Run the Jewels are also much further ahead than many of their counterparts.
Using the rare Yamaha CS-80 – the same synth Vangelis used to create the Blade Runner soundtrack – their fusion of hip-hop and the cosmic created an unsettling, dystopian sound mirroring the social horrors they see. They also delved into hedonistic trip-hop too, offering escapism from the density of politics that so often overwhelms; 'Call Tickerton' is a good example, with its excellent underscore recalling Missy Elliot's 'Lose Control.'
Older 2014 favourites 'Blockbuster Night' and 'Oh My Darling Don't Cry' proved popular inclusions, especially the Public Enemy like call of "f*** the monarchy," which unsurprisingly received a loud cheer in the city than gave us The Queen is Dead. Their excellent collaboration with DJ Shadow, 'Nobody Speak' was one of the standout songs of the evening, combining retro guitars, brass and sci-fi electronica underneath a classic hip hop structure.
Support act Danny Brown was brought to centre stage for an excellent performance of 'Hey Kids (Bumaye)'. 'Close Your Eyes and Count to F***', 'Panther Like a Panther' and 'Stay Gold' roar, with their deafening bass lines shook Manchester's Victoria Warehouse to its core. EL-P's early backpack rap from his Company Flow days seems more apparent an influence live, as does Killer Mike's lean towards his Atlanta-based rap roots.
The comedic and the political were also briefly put to one side for the personal, as both dedicated songs to people they've lost. Losing his mother only a few months ago, Killer Mike dedicates '2100' to her, telling the audience he "finally believes they are always with you." EL-P emotively dedicated a song to "anyone in your life who didn't live long enough," encouraging the crowd to call loved ones after the show. The humanity of Run the Jewels has always been one of their most endearing qualities live; it was no different last night.
'Christmas Miracle' and 'Angel Duster' proved perfect closers to a thunderous set drenched in dynamism, experimentation and humanity. Be it the personal or the political, the comedic or the serious, Run the Jewels offer both relatability and relevance to audiences who crave their timely musical and lyrical messages.
Join our new commenting forum
Join thought-provoking conversations, follow other Independent readers and see their replies