New music to listen to this week: Solomon Grey
Now Hear This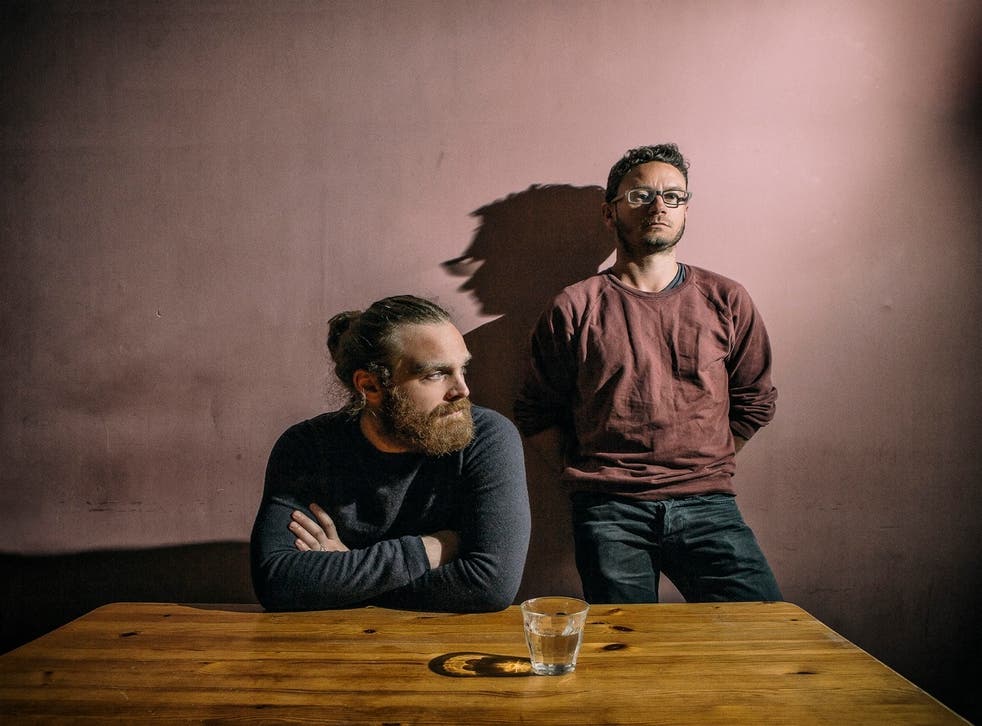 Apparently good things come in twos now.
Solomon Grey are a talented duo who recently garnered praise for their composition for the Dheepan trailer by director Jacques Audiard (Rust & Bone).
Based in London, Joe Wilson and Tom Kingston have just released a live version of their latest single "Broken Light".
Taken from their self-titled debut album, the band shot the live video for 'Broken Light' in a car park in Fitzrovia at their recent album showcase, which we're premiering on The Independent today.
The band say of the track "Broken Light": This is one of our more recent tunes and was written after both of us had just become fathers for the first time.
"I don't think we were aware of it at the time but on reflection it seems to be a real piece of that experience and the whole new aspect of life it offers up. We had also been doing a bit of film scoring by then and it definitely affected the way we wrote - using the synths more as sound design or skeleton fo the track and building a song and arrangement within that."
Check out the video below and let us know what you think.
Q&A with Solomon Grey
What have you been listening to recently?
We've been listening to a pretty eclectic mixture of music... Anna Meredith's new album is great; Kurt Vile has been on constantly and seems to get everyone in a nice mellow mood (we both have kids); and A Winged Victory for the Sullen have become a big part of family life because their latest album seems to send the youngest passengers on a long car journey into a helpful hypnotic trance. We've also been really enjoying listening and getting to grips with a lot of Olafur Arnalds work. On the other end of the spectrum we grew up listening to hip-hop and the new Kendrick Lamar album has been on repeat, and after finding out about the sad passing of Phife Dawg we've been listening to a lot of Tribe. They were such a massive part of our childhoods.
How did the composition for Dheepan come about and how did you approach the complex themes seen in the film?
We feel extremely lucky to have some very supportive music supervisors in the film and TV world. Our music has always had a certain cinematic quality, and since we have started writing for picture as Solomon Grey this has fed back even more into the tracks and records we are making as artists. It feels like a natural progression as we have always written music in a very "visual" way - using films and videos which relate to or inspire the aesthetic.
"Revelations", which was used in the Dheepan trailer, was originally composed for another project, but it has become one of our biggest tracks - it's filmic, emotive and all-encompassing. Classically speaking it is quite simple melodically and harmonically, but the aim of the track was to create and build the emotional power and complexity by using layers of sound, sitting them in a certain space, and manipulating them electronically.
Enjoy unlimited access to 70 million ad-free songs and podcasts with Amazon Music Sign up now for a 30-day free trial
Sign up
We were so happy when they chose to use it for the Dheepan trailer. Jacques Audiard is an incredible film maker and we are huge fans of his work.
What are your plans for summer 2016?
We are off on tour in a few weeks. Britain, Holland, Canada and the States! We can't wait. We are the tour support for a band called Above and Beyond which is an incredible honour for us. We get to play some of the best venues in the world and it is such an amazing opportunity to introduce more people to our music. The tour only lasts four weeks so we don't have to disappear from family life for too long, and we are going to make it count and start writing some new material while we are on the road.
It'll be interesting to be in the States with the election campaign in full swing - to observe it from on the road while visiting all these major cities seems like a good place to get some inspiration. Who knows what we'll end up with, but when we work on soundtracks we normally take some mics and a portable studio, collect sounds, try to get inspired and see what happens.
What was your first gig, and what's been the best so far?
Our first gig together was years and years ago. We used to be in a covers band back in Oxford playing funk and soul: Otis Redding, Al Green, the Commitments, stuff like that. We did it for years before we started to properly write our own music. It was great and actually made us some real cash! We were a ten piece so it was a good gang. We can't even remember the first one but we did some ridiculous gigs.
One which sticks in the mind is when we performed for a cancer charity in an athletics stadium in Oxford. We were told to be prepared for a big crowd and we were all pretty hyped for our first "stadium" show. We arrived and there were about 10 people, and five of them were doing a sponsored run around the track. The sax player's dad had brought binoculars but ended up as pretty much the only audience member about five feet from the front.
At the halfway point we went backstage and tried to keep morale up. Unbeknownst to us, the ten-strong crowd were holding a candlelit vigil in remembrance of all the people across the world who had died from cancer. Anyway, we came back out to play and started with James Brown's "I Feel Good". I don't think any of us felt that good.
Anyway, onwards and upwards: we get to play the Royal Albert Hall and the Hollywood Bowl next month so we'll hold off on the answer to the second part of your question until afterwards, if that's ok. We can't quite believe it – at least this time we know there'll be more than 10 people there.
The "Broken Light" single is released on 3 June 2016 via Decca Records. The band perform at the Royal Albert Hall in support of Above and Beyond on 5 May
Join our new commenting forum
Join thought-provoking conversations, follow other Independent readers and see their replies