Bastille interview: Band talk new album Wild World, being inspired by Kanye West and sneaking into Glastonbury
'I see pop as anything from a rock tune to a hip hop track'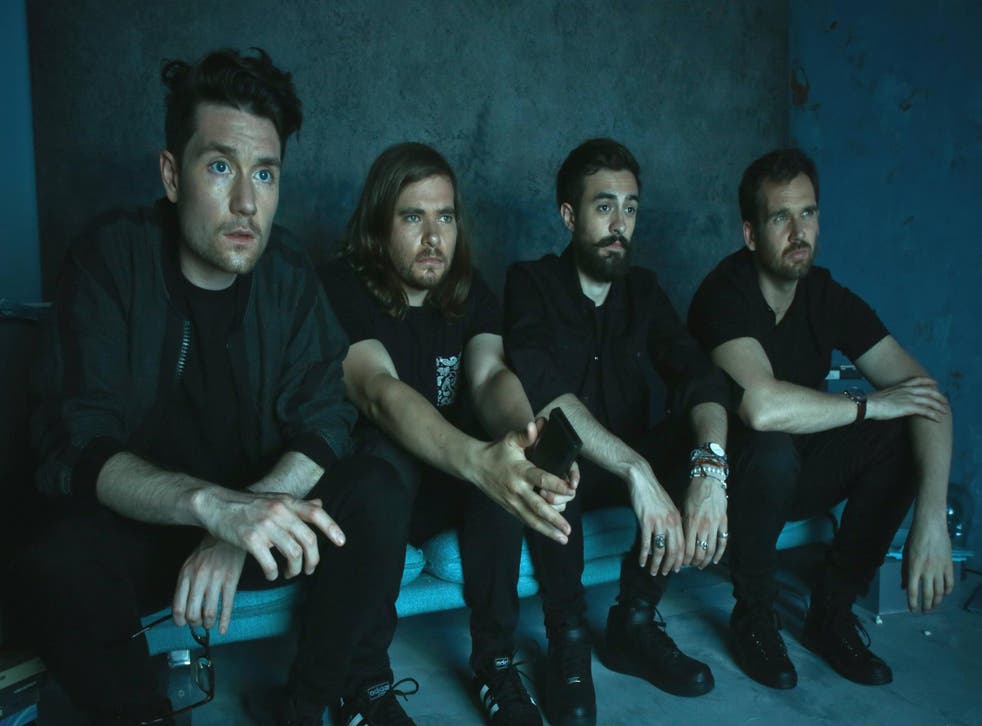 In just six years, Bastille have gone from relatively unknown mixtape makers to the UK's quintessential alternative pop band, quickly rising to the top of the charts with their radio-friendly hits "Pompeii", "Flaws" and "Of the Night".
Following the release of new single "Good Grief", anticipation for their second record, Wild World, is at a new high, fans curiously sifting through the band's social media accounts for any sign of what the new record will sound like.
Sitting down with The Independent just hours before their massive set on The Other Stage at Glastonbury Festival, singer Dan Smith and guitarist Will Farquarson spoke in-depth about the record's hip-hop influences, particularly Kanye West, and the special place Worthy Farm has in their hearts.
Before starting our conversation on the new record, attention first turned to Brexit, the band relatively dismayed at the result, something they would later address in their set. The duo also spoke about meeting each other, just through mutual friends it turns out ("We need a better story," Dan says. "The story of how I met Woody is so fucking embarrassing, I would never tell it out loud.") and their latest music video.
In "Good Grief", Dan's a decapitated head. What inspired that?
Dan: We wanted to make something that was quite surrealist and bizarre as it's always a nice space to be as creative as you like in music videos. I'm obsessed with film and cinema and there are so many of these things about being in a band where you get these mad opportunities and one of them is to make these mini-movies. Some bands are totally fine with being filmed in the studio miming, but I think it's way more fun to try and make something weird and different. Across all of our video, and as things have progressed, we've been able to do more weird things and managed to work with amazing directors. This one took six days in Spain and was really fun even though I personally don't like being in videos. I find it really cringy, and I said as a joke I'll be in it and lip-sync if I'm a decapitated head on the floor. Now we're in this bizarre place where that's a reality, and seeing the reaction from people is a lot of fun, as is flipping what a music video really is.
Wild Worlds is out soon (release date just announced as 9 September). How has your sound progressed from the first record?
Dan: We harkened back to our first two mixtapes from before the album where we took a lot from film soundtracks and film quotes, as well as covers of songs, to make these two things of continuous music, at the time inspired by Frank Ocean and The Weekend who were just putting music out for free. Then we made our record which was more, first album, straight down the line, 12 separate songs. Since then, we've done another mix tape and we wanted to nod quite heavily towards that. The new album flows like a mixtape and has different quotes from films and documentaries and jumps around in styles a lot. There's some more hip-hop production style stuff and Will did a lot more.
Will: I only played bass on the first album, but we never consciously thought we don't want to use guitars. We got halfway through and realised we don't have any guitars and then decided we weren't going to, which then gave us this whole load of leeway when we did play guitars.
Dan: [Jokingly] Oh my God, we've totally changed our sound. This is crazy.
Will: For everyone else, obviously guitars are quite a common thing.
Dan: But we had never heard of these things with six strings. We want the album to be a record. Our songwriting, my vocal, make it what it is, they make it a Bastille album. "Good Grief" is probably one of the least surprising tracks on the album.
Will: There's stuff which is just me on guitar and Dan singing but also really electronic and hip-hop based, as well as everything in-between.
Dan: There's a lot more guitar, but also these massive string arrangements. More horn riffs and big sounding trumpets. We made a lot of music and was really hard to cut down.
How many tracks did the record end up being?
Dan: It's 19 tracks long, which is the deluxe one, which we're seeing as the proper one. But there's also a 14-track one for people who don't care as much.
That sounds more like a hip-hop record than indie album.
Dan: It's not hip-hop at all, in that we're not rapping. But I look to an album like [Kanye West's] My Beautiful Dark Twisted Fantasy and Kanye's ability to just go off on a random tangent. Hopefully, our album will be quite disorientating, going from epic production to the track where it is just me and Will doing a guitar song in one take. It's very much something we've taken from that genre which we love.
Something like Kanye's The Life of Pablo, it's quite a scattershot record, going from soul to dance.
Dan: It's his ability to not give a shit. He'll go from this hard sound to some beautiful old soul tune, it's that ability to just cut it off. Our album isn't quite as jarring as that but I think there's something interesting there. For us, it's more about not giving a fuck about genre; I don't think many people do anymore. I think that's president in hip-hop albums, like when Kanye gets Bon Iver to sing on an album; it doesn't matter if it's a Kanye album. We're trying to emulate that in that we have other voices coming in as quotes left, right and centre, and instrumentation coming in from anywhere. We'll see what people think, but essentially out medium is this three or four pop-song base, which I think is the thing that holds it all together.
Will: We've always been more about, not so much having a distinctive sound, but Dan's songwriting and the way he sings. It still sounds Bastille. On the last album, it might not have seemed that way, but we tried to make that as diverse as possible. We didn't go into that thinking this is the Bastille sound.
Dan: For people who listened to out first record and actually engaged with it, the diversity is there. Just because it happened to have good songs that did well on the radio, people just heard those and thought that's what we do, and that's just how it works.
When writing, were you consciously thinking you wanted to make radio-friendly songs?
Dan: Not at all. I love pop music and I don't see it as being one particular thing. Any genre you can have these massive songs. Regardless of genre, I see pop as anything from a rock tune to a hip hop track or a soul tune that is just lyrically interesting, melodically memorable, and will stand the test of time. Not that we see ourselves remotely like that, but we write songs that have some meaning and I love big hooks, a big chorus, and that won't remotely change that. That's the medium we live in, and it's all up for grabs, up for debate, and that's why we have fun experimenting.
Let's quickly talk about Glastonbury. You guys played a secret set a few years ago?
Dan: Last year. We were going to do one this year, but today is a big day for us. Playing on The Other Stage is a huge deal for us. We played here 10 years ago and it's my favourite weekend of the year.
Will: I'd say it's our most significant gig to date.
Music festivals guide 2016

Show all 20
Dan: Maybe it's not, but we've put out our first piece of new music in a while, we've got our album coming out soon, and it's an interesting opportunity to play some new songs at the festival that means the most to me, personally.
Will: I think for all of us. For British bands particularly, it's the big one. To actually have gone from playing tiny little campfires on Thursday night to this phenomenal stage is huge.
Dan: The last time we played here was four or five years ago and I bought my ticket. We got booked onto the Rabbit Hole and the Strummerville campfire stage, but they couldn't get us any tickets and we were a four-piece band, so Kyle had to get snuck in, and him and this other dude had to climb into the back of this sofa that was put into the back of a lorry to get smuggled in. He had to get there four days early and had to sleep in a merch tent for three days straight. Eventually we all got in but had to get our gear brought in by someone else. Then we carried four people's worth of gear through the mud to a campfire, and that was our first gig at Glastonbury. We were like 'fucking hell, we're playing Glastonbury, this is amazing.'
Will: The excitement and anticipation around it, because that was when we were first getting somewhere, it was quite nice. Being on a proper stage four years late, it feels like it has all come full circle.
Dan: I can't express how much I love Glastonbury. Three years ago we played three festivals around Europe, one in Germany and two in Holland, and I bought a Glastonbury ticket, camped Wednesday and Thursday night and then had to leave on Friday to play these festivals. I just wanted to be here, even before the music started.
Will: Dan even bought a ticket one year when we were playing the John Peel stage because he didn't believe it.
Dan: I didn't believe we'd get booked, I even applied for my ticket this year. I ain't taking anything for granted.
Wild World comes out 9 September.
Join our new commenting forum
Join thought-provoking conversations, follow other Independent readers and see their replies