Grammys 2019: Cardi B wins Best Rap Album
Cardi B quits Instagram after explosive rant following Grammy win
'I'm sick of this s**t,' she said on social media
Cardi B has quit Instagram following an explosive rant after winning her first Grammy.
The artist won the Best Rap Album award at this year's event, becoming the first solo female to ever take home that particular trophy.
While seemingly a cause for celebration, some social media users criticised Cardi, leading to a long, now-deleted video post and the deactivasion of her Instagram account entirely.
"I've been taking a lot of s**t today. I'm seeing a lot of bulls**t today and I saw a lot of s**t last night, and I'm sick of this s**t," she said.
Refending her track "Bodak Yellow" being nominated for two awards last year, but filing to win either, she contined: "I work hard for my motherf*****g album. I remember last year when I didn't win for 'Bodak Yellow' and everybody was like, 'Cardi got snubbed.'
Grammys 2019: The best hats and headpieces worn on the red carpet

Show all 8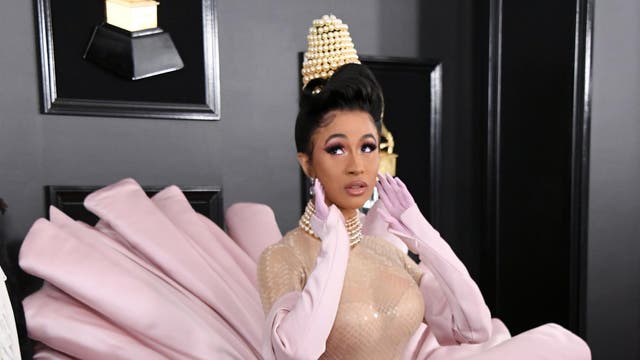 Now this year's a f*****g problem? My album went two-time platinum, my n****r, and every chart that there was, my album was always Top 10. Number one album, as well."
Cardi noted that she spent countless hours in the studio working on the album Invasion of Privacy, despite being pregnant with daughter Kulture Kiari.
"I locked myself in the studio for three months," she continued. "Didn't go to sleep in my bed sometimes for four days straight while pregnant! While everybody was harassing me like, 'You're not gonna do it, we know you pregnant, your career's over'."
Cardi deleted the video, instead sharing a picture of a post made by Chance the Rapper congratulating her on the win. She wrote alongside it: "Slept in the studio on leather sofas for three months straight, migraines, in Atlanta in Miami away from my family. I have four songs that couldn't make the album cause my nose was so stuffy bro I was huffy puffy."
She concluded: "THANK YOU EVERYONE THAT SUPPORTED ME AND LISTEN. I'm thankful and grateful and again thank you to all the artist that gave me a feature."
Join our new commenting forum
Join thought-provoking conversations, follow other Independent readers and see their replies