Chance the Rapper releases The Big Day featuring Nicki Minaj, Bon Iver, Shawn Mendes and more
Chicago artist dropped the record after a slight delay from its scheduled 26 July release date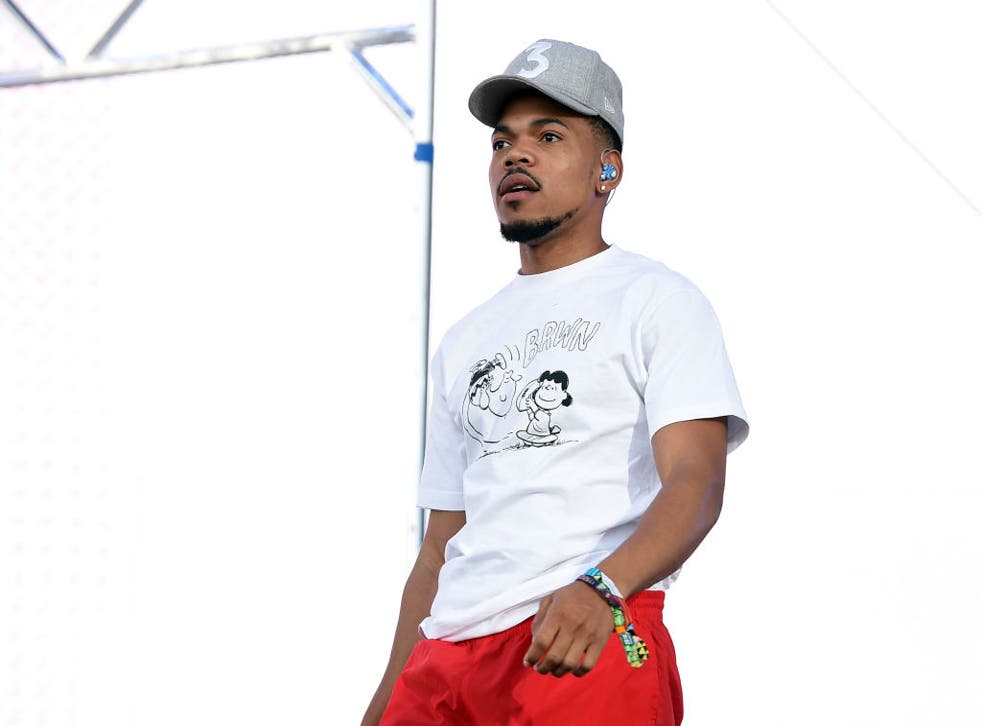 Chance the Rapper has finally released his anticipated debut album The Big Day, featuring a number of star collaborations.
Bon Iver, Benjamin Gibbard and Francis and the Lights are among the featured artists to appear, along with Timbaland, Shawn Mendes, Murda Beatz and Chance's own father, Ken Bennett. The record is something of a family affair, with Chance's younger brother Taylor Bennett, also a hip hop artist, appearing on the album as well.
Nicki Minaj appears on "Slide Around" and the closing track "Zanies and Fools," which also features legendary Broadway duo Rodgers and Hammerstein. Megan Thee Stallion is on "Handsome" and Gucci Mane performs a guest turn on "Big Fish".
See the full tracklist, below:
1 "All Day Long" (Ft. John Legend) 
2 "Do You Remember" (Ft. Benjamin Gibbard) 
3 "Eternal" (Ft. Smino)
4 "Hot Shower" (Ft. DaBaby & MadeinTYO)
5 "We Go High"
6 "I Got You" (Always and Forever) (Ft. Ari Lennox) 
7 "Photo Ops" (Skit) 
8 "Roo" (Ft. CocoRosie & Taylor Bennett) 
9 "The Big Day" (Ft. Francis and the Lights) 
10 "Let's Go on the Run" (Ft. Knox Fortune) 
11 "Handsome" (Ft. Megan Thee Stallion)
12 "Big Fish" (Ft. Gucci Mane) 
13 "Ballin Flossin" (Ft. Shawn Mendes) 
14 "4 Quarters in the Black" (Skit) 
15 "5 Year Plan"
16 "Get a Bag" (Ft. CalBoy)
17 "Slide Around" (Ft. Lil Durk & Nicki Minaj) 
18 "Sun Come Down"
19 "Found a Good One (Single No More)" (Ft. Murda Beatz)
20 "Town on the Hill"
21 "Our House" (Skit)
22 "Zanies and Fools" (Ft. Nicki Minaj)
The best albums of 2019 (so far)

Show all 67
The Big Day is released after Chance's acclaimed, Grammy-winning 2016 mixtape Coloring Book.
The record has been the subject of discussions by the Chicago artist for years, with a number of references to how it would be different from his self-released mixtapes.
"Something that you can consider an album, it might not be physical, or a disc or something, but an album that comes with its own live show is important," he said in 2017.
Between his own releases, Chance has made a number of high-profile guest appearances on hit singles including DJ Khaled's "I'm the One", and "Don't Cross Me", from Ed Sheeran's recent No .6 Collaborations Project album.
The Big Day is available on major streaming services.
Join our new commenting forum
Join thought-provoking conversations, follow other Independent readers and see their replies