The Independent's journalism is supported by our readers. When you purchase through links on our site, we may earn commission.
Eagles of Death Metal fans launch campaign to get band to number one following Paris attacks
They hope to get the band's cover of Duran Duran's 'Save A Prayer' to the top of the charts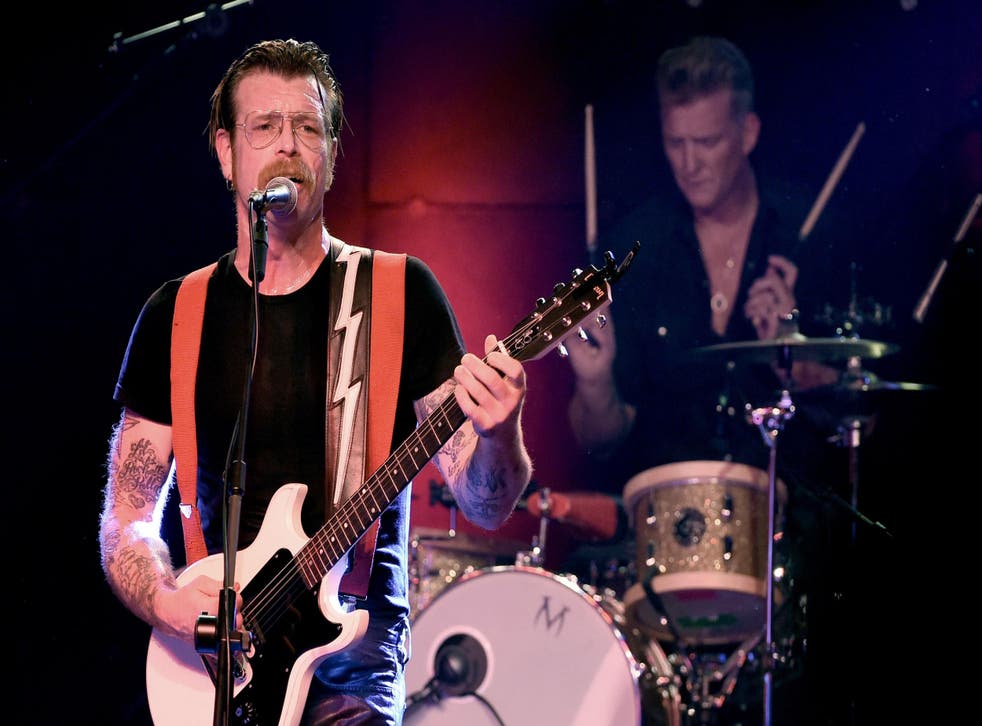 Fans of Eagles of Death Metal have begun an online campaign to get the band's cover of Duran Duran's "Save A Prayer" to number one following the tragic terror attacks in Paris.
The Facebook group, which currently has almost 3,000 supporters, was set up "to show our solidarity against terrorism and support for peace".
Over 100 people were killed in Paris on Friday night, many of whom were attending an Eagles of Death Metal concert at the Bataclan theatre.
The group continued: "We thought it would be a nice gesture to put their brilliant version of "Save A Prayer" to the UK No.1 spot as a show of support to the band and all of those affected."
Reports have stated how some people believe the campaign to be in "poor taste" and that royalties should be donated to the victims. Whether Eagles or Duran Duran would take the money is currently unknown.
Members of the US band were all confirmed safe. However, their merchandise manager Nick Alexander was reported to be the first Brit to die in the attacks.
"I spent a lot of time with Nick, but the thing about the touring merch job, it's one of the more thankless jobs," drummer Patrick Carney of The Black Keys, who had worked with Alexander but was not in Paris, told Rolling Stone. "You do it because you just want to travel and you're interested in meeting new people and it's really hard work. It's not the job you take if you're into partying… He was just a sweetheart, that guy."
So far, 129 people have been reported dead, with 352 left injured from the attacks that have left the world shaken. One man inside the Bataclan had posted live updates to his Facebook account about the attack, writing in one: "Alive. Just cuts... Carnage... Dead bodies everywhere."
The world mourns Paris attacks - in pictures

Show all 25
You can support the "Eagles Of Death Metal For No.1" Facebook page here.
Join our new commenting forum
Join thought-provoking conversations, follow other Independent readers and see their replies