EXP Edition: American 'K-pop' group raise eyebrows in Korea
Band have been criticised for their lack of training and the fact that they don't speak Korean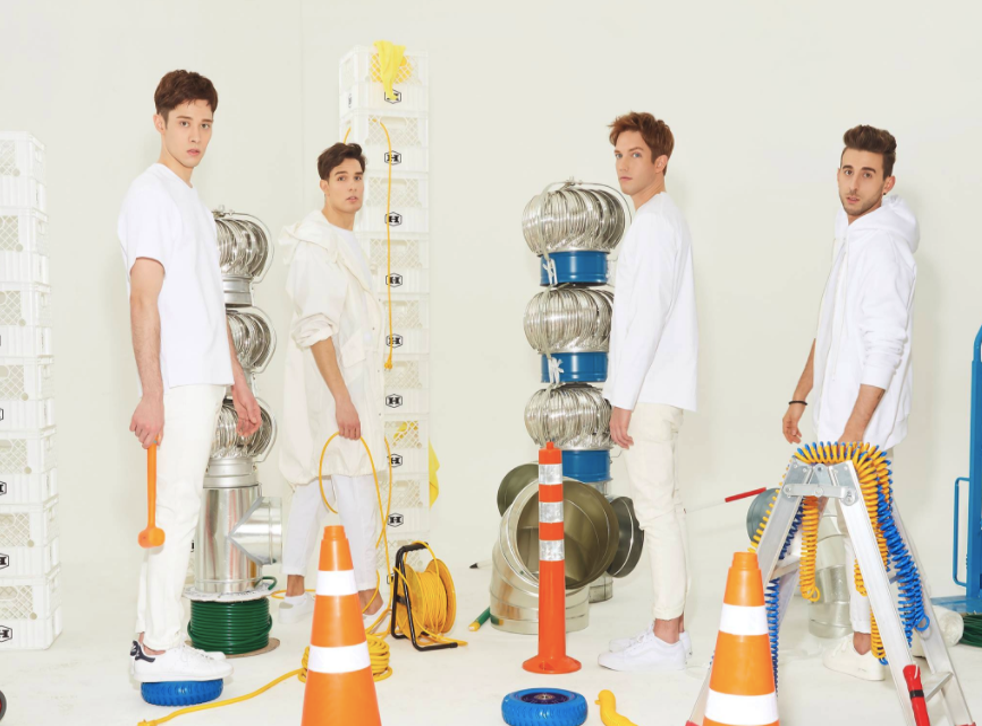 An American band have raised eyebrows in Asia after announcing themselves as a K-pop group when none of its members are Korean.
EXP Edition, whose tagline reads "born in NY, made in Seoul", is made up of four men from the US.
They are: Koki Tomlinson (half Japanese and German); Frankie DaPonte, Portuguese; Hunter Kohl, from New York; Šime Košta, from Croatia.
The band's website says that, while none of them can speak Korean, they have moved to South Korea to study the language and record their debut album.
They released their debut single 'Feel Like This' along with a music video this week - suffice to say it hasn't gone down well.
One of the main complaints is the band's obvious lack of training compared with the average K-pop group, as the genre is known for videos that feature impressive choreography and dance routines.
Fans have accused the group of making music in Korean because they noticed its rise in popularity both in South Korea and outside of the country.
"Please just debut as an American group what is this mess," one wrote.
Another commented: "I could actually write an essay about this because it makes me so f***ing angry. A lot of people believe we are mad because they are a 'new Kpop group' that doesn't consist of 'cute Asian boys' and that we're just being downright racist.
"No, that is not the reason why EXP are getting so much hate at all. It's the fact that they believe putting the Korean before the word pop is going to automatically gain them recognition and popularity when the groups we stan [stalker fan] trained for YEARS just to debut."
Many artists in South Korea undergo rigorous training at academies dedicated to K-pop from a young age, and can train for over a decade before they make their official debut in the fiercely competitive industry.
Enjoy unlimited access to 70 million ad-free songs and podcasts with Amazon Music Sign up now for a 30-day free trial
Sign up
However the band seems to be more of an art project by one Bora Kim, who was studying an MFA at Columbia when she decided to start a K-pop group and explore "what K-pop and what K-pop fandom is".
"I wanted to see what would happen if I made American boys into K-pop performers, by teaching them how to sing in Korean and act like Korean boys, and complicate this flow/appropriation even more, since I'm in New York, where so many talents are just one online recruitment ad away," she said in 2015.
She added that she wanted to explore how K-pop has impacted views of Asian masculinity.
"We were amazed how the concept of gender operates in K-pop boy bands," she wrote. "These boys are tailored to attract straight young females, originally, but the presentation of their sexuality is very complicated. A lot of people in the U.S., when encountering K-pop idol groups for the first time, express their confusion about the gender role and sexuality that these boys convey.
"For example, a young group of pretty boys with great skin start rapping in a hip-hop music video while wearing a lot of make-up. What does this mean? Who is the target audience? It is totally gender-bending and experimental, but, at the same time, it is very typical, mainstream K-pop. And the acceptance of this strangeness (in the eyes of Western audiences) started to happen when Korean economic prosperity reached a point where it was enough for the entertainment industry to produce high-quality pop culture products.
"Cultural barriers or mistranslation are overcome by the shiny framing/packaging of pop. And that's where I want this project to go in the long run. The biggest obstacle is funding, of course, but I do want to have the language of the commercial in order to convince people and to get people's attention and start the dialogue on the politics of our cultures."
Join our new commenting forum
Join thought-provoking conversations, follow other Independent readers and see their replies