Foo Fighters cancel two tour dates after Dave Grohl breaks leg from falling off stage
The band have been forced the cancel two dates in Holland and Switzerland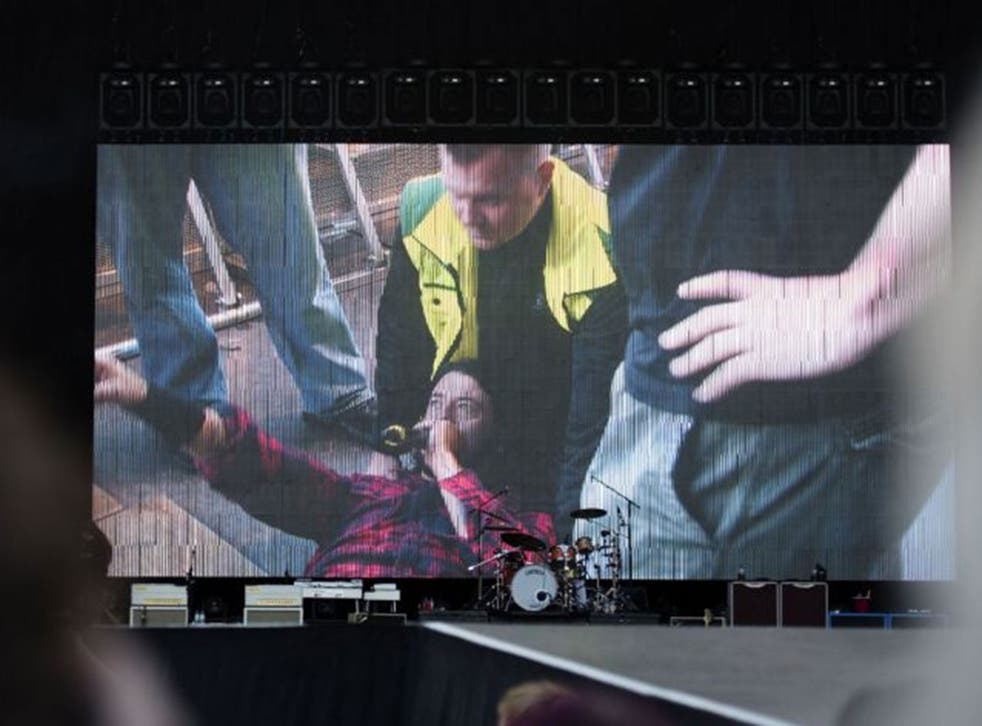 Foo Fighters have cancelled two tour dates after Dave Grohl sustained "at least one fracture" when he fell off the stage during a concert in Sweden.
The band will no longer pay their scheduled performances at the Pinkpop Festival in Landgraaf, The Netherlands, on Sunday 14 June and the AFG Arena in St Gallen, Switerzland, on Monday 15 June.
It is not known yet if they will be able to play to Wembley Stadium dates later this month.
Grohl fell off the stage into the audience during a performance in Gothenburg after missing a ramp. He told the crowd "I think I just broke my leg" but returned to the stage to finish the show 15 minutes later.
A statement released by the band confirmed Grohl has sustained at least one fracture in his leg.
"While the full extent of Dave's injuries are still being determined, it was confirmed at a post-show hospital visit that he sustained at least one fracture," it said.
"As a result Foo Fighters have been forced to cancel their June 14 appearance at the Pinkpop Festival as well as their June 16 show at the AFG Arena in St Gallen, Switzerland."
The band are due to play two dates at Wembley Stadium on 19 and 20 June before headlining Glastonbury on 26 June.
A statement on the Wembley website said: "We are aware of the incident last night involving Dave Grohl and are in contact with the event organisers, who at this stage have no further information.
"As soon as we have news from the artiste this will be made public."
Glastonbury officials have yet to reply to a request for comment about whether the Foo Fighters will still be able to headline the festival.
Join our new commenting forum
Join thought-provoking conversations, follow other Independent readers and see their replies