Grammys 2015 roundup: The awards ceremony was manic and laced with politics
From Sam Smith to Barack Obama: this is what happened last night in LA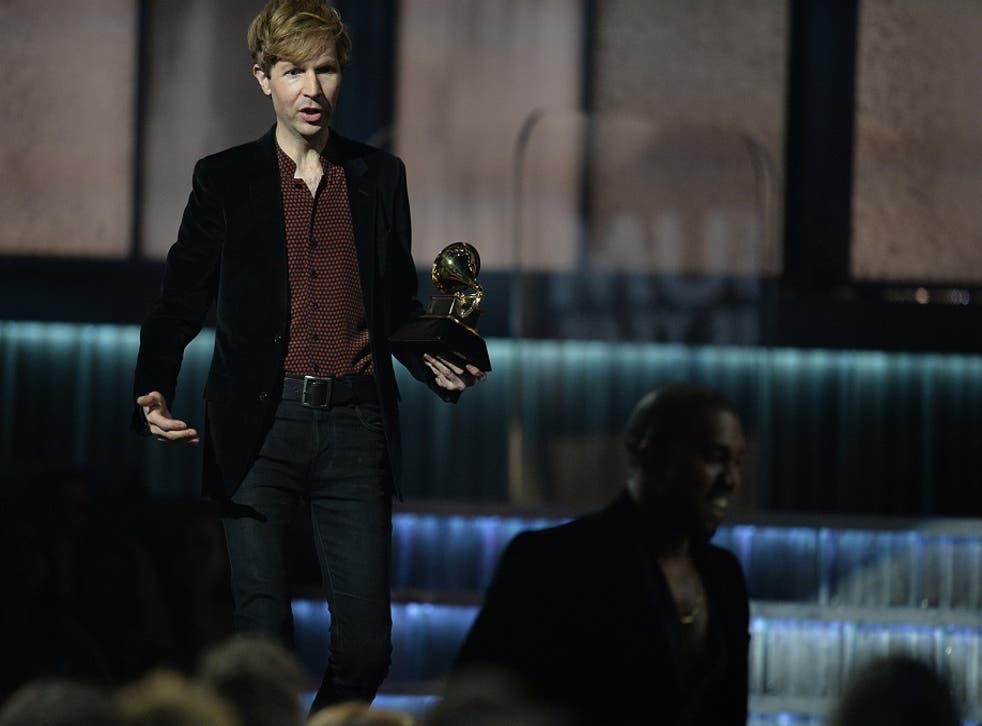 If the Baftas is awards season's most polite ceremony, then the Grammys, which took place several thousand miles away in Los Angeles last night, might just be its most bonkers.
No one cares too deeply about which musician wins a Grammy, besides the winners, the losers and Kanye West. But the spectacle is a superb excuse for snide social media commentary, and the tweeting began early last night, as Rihanna turned up in a pink loofah repurposed as a gown; Sia hid beneath a vast, Fraggle-inspired hairpiece; and Madonna flashed her fishnet-clad buttocks while dressed as a matador – not something you'd catch Dame Judi Dench doing on a red carpet.
Grammy Awards 2015: The winners in pictures

Show all 14
In other Brit-related developments, James Corden appeared onstage to introduce a performance by Ed Sheeran, ahead of Corden's debut as the new face of the Late, Late Show on CBS, the network that broadcasts the Grammys in the US.
The biggest bombshell from a ceremony that sorely lacked surprises came when Beck's acclaimed Morning Phase was named Album of the Year, upsetting front-runners Smith and Beyoncé – and Kanye, who rushed the stage in a near re-run of his 2009 antics (when he interrupted Taylor Swift's acceptance speech to praise Beyoncé), only to think better of it at the last moment.
Pharrell performed in a costume that drew comparisons to the bellboy in Wes Anderson's BAFTA-winning The Grand Budapest Hotel, and there was a further Oscar flavour to the evening, which concluded with a version of the Academy Award-nominated song "Glory", by John Legend and Common, from the Martin Luther King biopic Selma.
A somber note was struck by the posthumous award for comedian Joan Rivers, who died last year but not before recording Diary of a Diva, which was named Best Spoken Word Album. President Barack Obama also appeared during the ceremony, in a video message urging an end to sexual assaults on college campuses as part of the administration's "It's On Us" campaign.
Throughout the evening, old and new acts collaborated (or should that be 'collided'?): Voice coaches Jessie J and Sir Tom Jones joined forces for an underwhelming take on the Righteous Brothers' "You've Lost That Lovin' Feeling", and there were duets, too, from Hozier and Annie Lennox, Usher and Stevie Wonder, and Lady Gaga and Tony Bennett, who won Best Traditional Pop Vocal Album for their LP, Cheek to Cheek.
One of the most hotly-anticipated performances of the night was the stripped-down single, "FourFive Seconds", featuring Kanye, Rihanna and Paul McCartney. Yet the evening's inter-generational love-in was exposed at least partially as a pose when McCartney stood up to clap along to "Mr Blue Sky", by Jeff Lynne's ELO, in front of a sea of baffled faces apparently too youthful to remember the Electric Light Orchestra. When he noticed the cameras were on him, McCartney quickly sat down again.
Join our new commenting forum
Join thought-provoking conversations, follow other Independent readers and see their replies