James Franco and Seth Rogen parody Kanye West and Kim Kardashian in 'Bound 2' spoof video
The actors produced the 'epic' video while shooting new film The Interview
Jess Denham
Monday 25 November 2013 19:24 Comments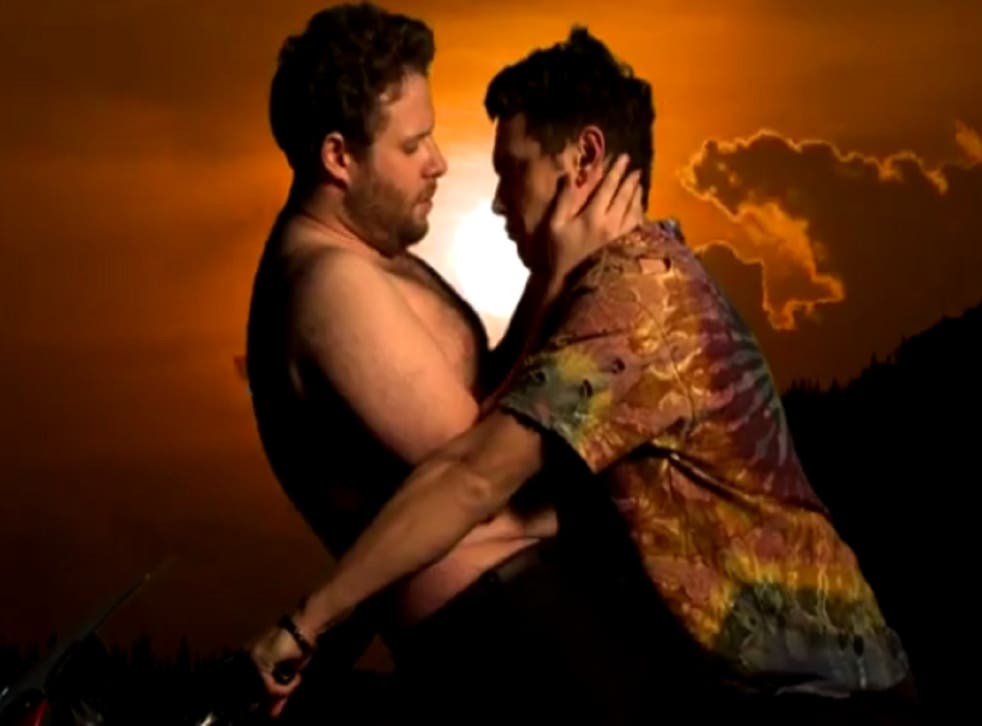 It is a performance from two leading actors that nobody thought they would see.
Kanye West revealed his music video for "Bound 2" last week and now, James Franco and Seth Rogen have parodied the US rapper in their own 'unique' version.
Best known for his breakthrough role on Freaks and Geeks, Franco plays Kanye while comedian Rogen becomes a distinctly hairier Kim Kardashian for the motorbike-straddling shots.
A message to accompany the video reads: "While on the set of their movie, The Interview, James Franco and Seth Rogen felt inspired to recreate their favourite new video. Shot. For. Shot."
Entitled "Bound 3", the video does not disappoint in its professionalism (nor its weirdness), as Franco mouths along to Kanye's rap and Rogen turns on some smouldering sex appeal for his shirtless scenes.
Even the majestic white horses from the original video make a dramatic appearance against an epic backdrop of mountains and golden-rimmed clouds.
Judging by the passion with which "Bound 3" is acted, these two might just find themselves up for Oscars next year...
Register for free to continue reading
Registration is a free and easy way to support our truly independent journalism
By registering, you will also enjoy limited access to Premium articles, exclusive newsletters, commenting, and virtual events with our leading journalists
Already have an account? sign in
Join our new commenting forum
Join thought-provoking conversations, follow other Independent readers and see their replies