Led Zeppelin ask judge to throw out 'Stairway to Heaven' copyright case
The band's lawyer argues that the plaintiff has failed to prove copyright infringement
Jess Denham
Tuesday 21 June 2016 09:13 Comments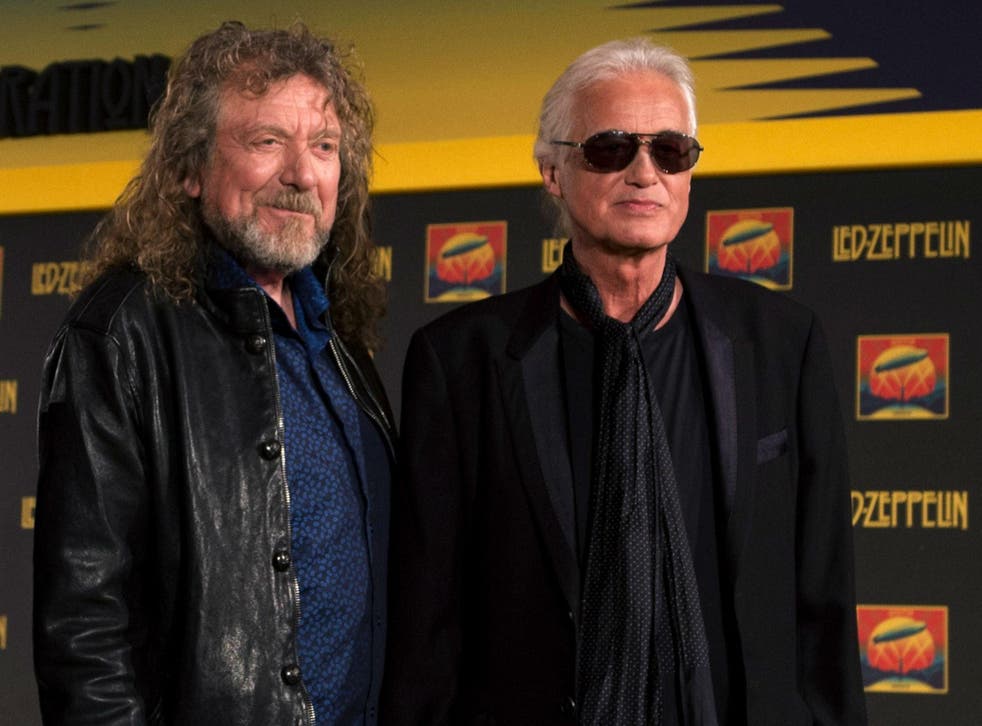 Led Zeppelin's lawyer has urged the judge to bring a stop to the "Stairway to Heaven" copyright trial, claiming that the plaintiff has failed to prove that the rockers stole their iconic riff from Spirit's song "Taurus".
Peter Anderson, who is representing guitarist Jimmy Page and frontman Robert Plant in a Los Angeles court, asked US District Judge Gary Klausner to bring a halt to court proceedings on Monday. "Plaintiff rested and failed to carry his burden of proof on multiple issues," he wrote in a motion to dismiss.
Page and Plant are accused of stealing key notes from Spirit's 1968 instrumental track. Klausner ruled in April that "Stairway to Heaven" bore "substantial" similarities with "Taurus" after Michael Skidmore, a trustee for late Spirit guitarist and composer Randy California, real name Wolfe, filed a lawsuit alleging that Page had been inspired to write his hit after touring with Spirit in the late Sixties.
The musicians both deny the accusations, with Page claiming he first heard "Taurus" two years ago and Plant insisting that a Mary Poppins song had more of an influence upon him. Much of their camp's argument has focused on whether Skidmore has the right to sue, with Anderson claiming that the plaintiff's testimony means Wolfe "assigned his renewal rights to [Spirit's publisher] Hollenbeck", therefore making Hollenbeck the owners of "Taurus".
Led Zeppelin argue that the descending chromatic four-chord progression in contention has been popular in music for 300 years but Klausner determined earlier this year that the similarities "transcend this core structure", giving Skidmore and lawyer Francis Malofiy reason to claim copyright infringement.
Led Zeppelin appear in court

Klausner is expected to hear arguments on Anderson's motion to dismiss when the trial resumes later today. Anderson claims Malofiy failed to prove members of Led Zeppelin were familiar with "Taurus" before resting his case and argues that experts did not present a convincing case that the tunes were similar enough to amount to plagiarism. He also claims the plaintiff failed to show actual damages from any infringement or present evidence of "Stairway to Heaven" revenues.
An economist testified that Led Zeppelin works that include "Stairway To Heaven" earned nearly $60 million (£40.9 million) in revenues in the past five years, but that included other works as well and did not include manufacturing costs or other expenses that could be deducted.
Anderson has asked Klausner to make the judgment before the case goes to the jury. The motion is fairly typical after the plaintiff rests in a case.
The trial continues.
Additional reporting by Press Association
Register for free to continue reading
Registration is a free and easy way to support our truly independent journalism
By registering, you will also enjoy limited access to Premium articles, exclusive newsletters, commenting, and virtual events with our leading journalists
Already have an account? sign in
Join our new commenting forum
Join thought-provoking conversations, follow other Independent readers and see their replies