Madonna urges music industry to deal with ageism 'taboo' after Radio 1 playlist snub
Radio 1 says age is not a factor in its decisions based on merit and 'relevance'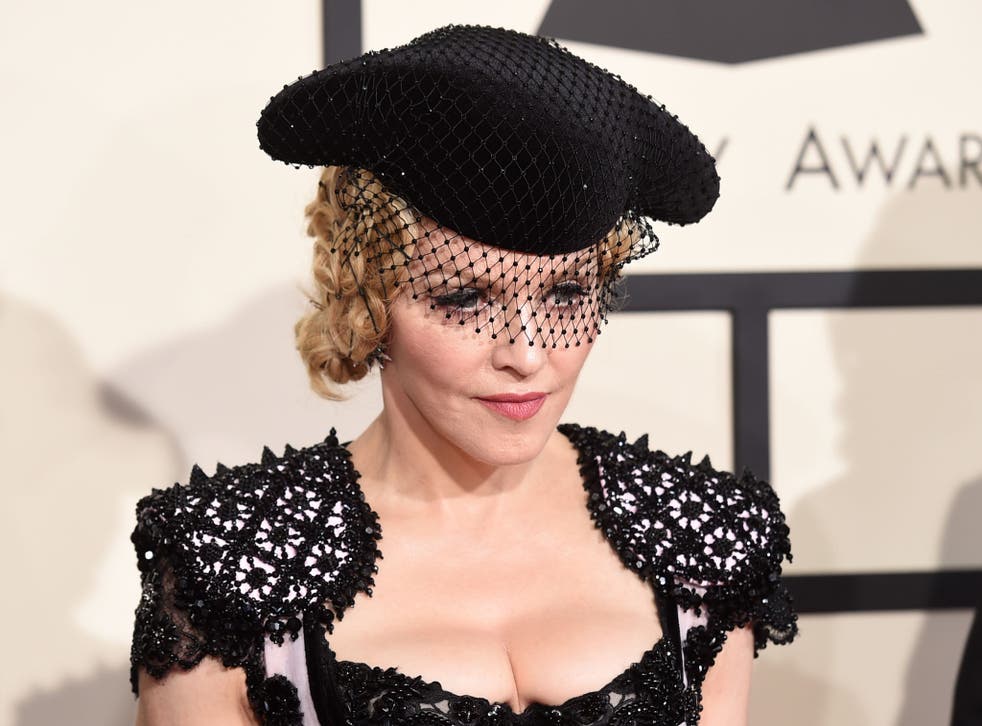 Madonna has blamed the "taboo" of ageism for Radio 1's snub after it dropped her latest single from its playlist.
The BBC station has repeatedly said an artist's age is never a factor in selecting songs, which are based solely on musical merit and "relevance" to its young target audience.
Madonna told The Sun she was "shocked" by her exclusion as her new album Rebel Heart heads towards becoming her 12th UK number one.
"I was like, 'Wait a second. Shouldn't it be to do with whether you wrote a good, catchy pop song?" she said.
"My manager said to me, 'If you're not in your twenties, it's hard. You might get your record played in your thirties. There's a handful of people who do - Pharrell [41] got lucky. But if you're in your fifties, you can forget it'.
"Really? Is that how it's broken down? I'm so stupid. I didn't know it was anything to do with my age. I just do my work.
"We've made so many advances in other areas - civil rights, gay rights - but ageism is still an area that's taboo and not talked about and dealt with."
The 56-year-old's latest single, "Living for Love", was not included on the playlist that dictates Radio 1's most played songs but that does not mean it can never be aired on the station.
Annie Mac, who took over from Zane Lowe on the influential evening show, told The Independent last week that she would "represent the landscape of new music honestly".
Enjoy unlimited access to 70 million ad-free songs and podcasts with Amazon Music Sign up now for a 30-day free trial
Sign up
"I'm a lifelong Madonna fan and I played her on my Friday show," she added.
"She was produced by Diplo, who is one of the biggest artists on my show. If I'm excited by a song, then I think it's going to be all right to play it."
A spokesperson for Radio 1 said no artist's age is ever taken into consideration and decisions are based on "musical merit and their relevance to our young audience on a case-by-case basis".
Brit Awards 2015

Show all 37
But BBC News reported that the station turned its back on Madonna long before "Living for Love" was released, with its 49-year-old head of music saying it had "moved on" more than a year ago.
George Ergatoudis, who chairs the weekly playlist meetings, was asked in February 2014 whether he would play Madonna's next single if she agreed to appear at Radio 1's Big Weekend.
"We've got to concentrate on [people aged] 15-30," he said.
"We have to bring our average age down. That's something we're very conscious of.
"The vast majority of people who like Madonna, who like her music now, are over 30 and frankly, we've moved on from Madonna."
The policy has not stopped 72-year-old Paul McCartney being played, via his collaboration Rihanna and Kanye West on "Four Five Seconds", or many artists over the age of 30 like Foo Fighters frontman Dave Grohl.
"Living for Love" is currently at 53 in the UK singles chart after reaching a high of 26.
Madonna was performing the song at the Brit Awards when she fell down a flight of stairs on stage during a spectacular wardrobe malfunction, before getting up to complete the performance.
Her latest album, Rebel Heart, was outselling the current number one from Noel Gallagher's High Flying Birds by three copies to one after 24 hours on sale, the Official Charts Company said.
Join our new commenting forum
Join thought-provoking conversations, follow other Independent readers and see their replies