Michelle Obama launches hip-hop album with Blink-182 and Run-D.M.C. artists
The LP, titled Songs For A Healthier America, include tracks such as 'Veggie Luv' and 'Get Up Sit Up'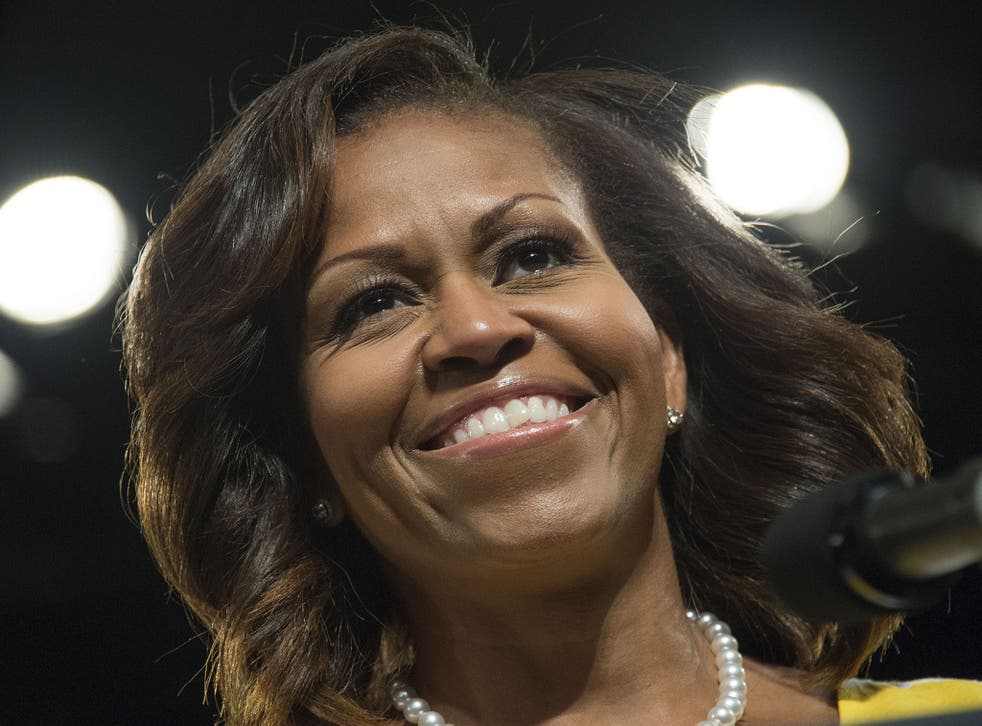 Michelle Obama is launching a hip-hop album aimed at improving America's health, featuring Blink-182 drummer Travis Barker and hip-hop pioneer D.M.C.
The First Lady won't sing on the tracks, but she will appear in the videos. The album will be distributed in schools across America.
The song titles include "U R What You Eat", "Veggie Luv", and "Get Up Sit Up".
D.M.C., of Run-D.M.C. fame, will perform on the rather less catchily-named "Hip-Hop FEET (Finding Exercise Energy Thresholds)". Other well-known stars on the album include singer Jordin Sparks, Matisyahu and Ashanti.
According to Politico, the songs have been put together by the Partnership for a Healthier America and Hip Hop Public Health, and will be titled Songs For A Healthier America.
The full tracklist is:
'Everybody' (ft. Jordin Sparks, Doug E Fresh, Ryan Beatty, Artie Green, Dr Oz and the Hip-Hop Doc)
'U R What You Eat' (feat. Salad Bar (Matisyahu, Ariana Grande, Travis Barker))
'Let's Move' (ft. Doug E Fresh, Artie Green, Chauncey Hawkins, Easy AD)
'Just Believe' (ft. Ashanti, Gerry Gunn, Artie Green, Robbie Nova, Chauncey Hawkins)
'Veggie Luv' (ft. Monifah and J Rome)
'Hip-Hop FEET (Finding Exercise Energy Thresholds)' (ft. DMC, Artie Green, and Chauncey Hawkins)
'Stronger' (ft. Shayna Steele, Jeremy Jordan, Our Time, Nils Lofgren)
'Give Myself A Try' (ft. Ryan Beatty)
'Jump Up (It's a Good Day) Let's Move Version' (ft. Brady Rymer and the Little Band That Could)
'Hip Hop LEAN' (ft. Artie Green)
'Pass the Rock' (ft. Iman Schumpert and Artie Green)
'Good Living' (ft. Ashton Jones)
'Beautiful' (ft. Daisy Grant and Artie Green)
'Change the Game' (ft. The Happiness Club and Naledge)
'Wanna Jump (Let's Move)' (ft. Paul Burch and WPA Ballclub)
'Mother May I?' (ft. Amelia Robinson)
'We Like Vegetables' (ft. Los Barkers!)
'Get Up Sit Up' (ft. Ian James and Ricky Baitz)
'One Step Forward' (ft. Samite)
Join our new commenting forum
Join thought-provoking conversations, follow other Independent readers and see their replies