Mumford and Sons fail authenticity test as first UK Americana chart launches
The genre has now been rewarded with a dedicated listing compiled by the Official Charts Company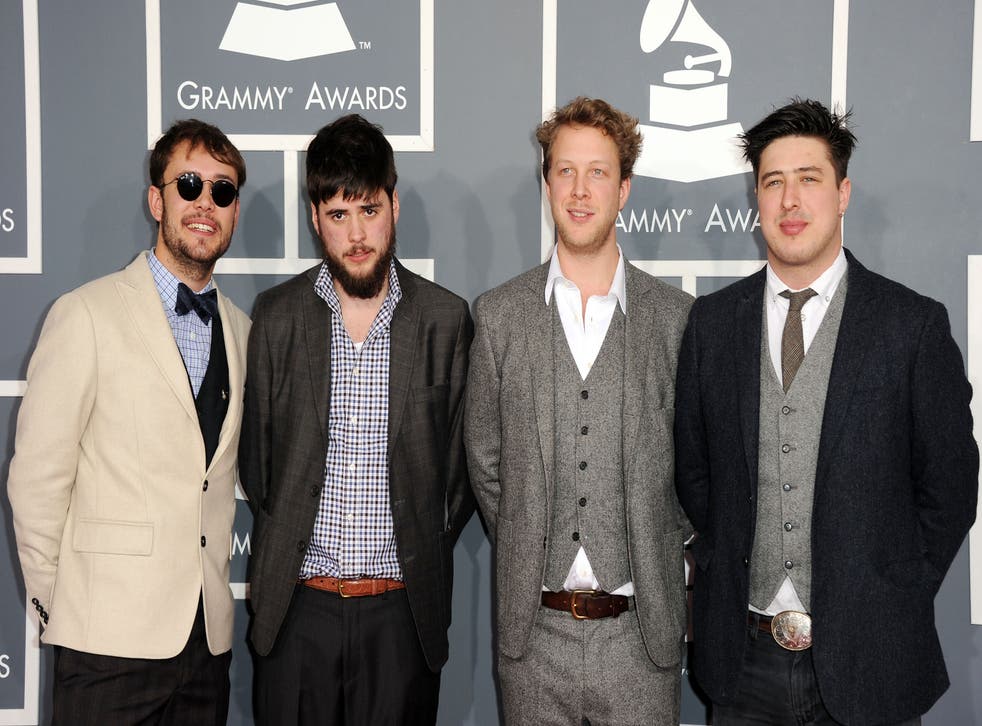 The Swedish folk duo First Aid Kit qualify but Mumford & Sons do not. The UK's first dedicated chart for "Americana" music has prompted a debate over which artists are sufficiently "rootsy" to merit a place in the weekly rundown.
A flourishing genre among British fans, Americana, a term first applied in the mid-90s to a wave of US artists who rejected the Nashville country mainstream's slick productions, has now been rewarded with a dedicated listing compiled by the Official Charts Company (OCC).
The US singer-songwriter Elle King tops the first chart, which defines Americana as "contemporary music that incorporates elements of various American roots music styles, including country, roots-rock, folk, bluegrass, R&B and blues." Louisiana singer Lucinda Williams, Father John Misty and Sufjan Stevens also feature.
However Americana is not restricted to American artists. Stay Gold by First Aid Kit, the Swedish sisters who became Samantha Cameron's favourite group, was the best-selling Americana album of 2015.
King Charles, the London singer whose background is the elite St Paul's School rather than a dirt-poor Southern shack, is at number three with his new album, Gamble For A Rose.
However Mumford & Sons, who emerged sporting "dustbowl chic", taking banjos, folk and bluegrass-inspired instrumentation to the top of the global charts, are excluded from the chart.
Mumford left Americana behind after abandoning banjos for a rockier direction on their last album, said Omar Maskatiya, OCC Chart Director. "Most people agreed that Mumford's last record went in a more mainstream direction," he argued. "If they went back to a more alt-folk feel and brought the banjos back they would not be precluded from consideration going forward."
Americana's popularity will be reflected at the inaugural UK Americana Awards, which take place next week in London. Bob Harris, who introduced the first chart rundown on his Radio 2 country show, will host the event featuring Billy Bragg and producer Ethan Johns.
The UK Americana Music Association, which is staging the awards, said the genre "incorporates elements of various American roots music styles, including country, roots-rock, folk, bluegrass, R&B and blues, resulting in a distinctive roots-oriented sound that lives in a world apart from the pure forms of the genres upon which it may draw. While acoustic instruments are often present and vital, Americana also often uses a full electric band. Distinctive English, Scottish, Welsh and Irish musical styles are combining with the elements of American roots music to create something unique and exciting."
Enjoy unlimited access to 70 million ad-free songs and podcasts with Amazon Music Sign up now for a 30-day free trial
Sign up
Maskatiya admits there was a "debate" over whether to include banjo-strumming King, who describes herself as a "soulful-rock n' roll artist" and is shooting up the pop chart with her radio-friendly single Ex's & Oh's.
The Staves, a folk rock trio of sisters from Watford, will qualify but The Shires, the first homegrown country band to break into the UK top ten, are deemed too mainstream – they top the OCC's separate official country countdown.
Maskatiya said: "We're not looking to exclude artists generally, the ideas is to give a platform to more new releases. We're asking record labels to submit entries. We launched the chart because Americana sales are very healthy. It's compiled from sales from 6,000 stores and streaming."
The genre can encompass soul-rock band Alabama Shakes, indie group The War on Drugs and new country star Kacey Musgraves, according to the chart compilers.
The UK has stolen a march on the US. Billboard publishes 100 genre charts including folk and bluegrass but has no Americana listing.
First Aid Kit said: "We're honoured to receive this prestigious prize. For us Americana is the finest genre and we're delighted just to be considered part of this fascinating world of music. The fact that so many people listen to us and care about our music in the UK is incredible."
Americana joins progressive, R&B, indie, rock & metal, dance, jazz & blues, urban, Christian and Asian among the genres now compiled by the OCC.
Popularised by the US roots music magazine No Depression, Americana became a popular US radio format, giving airtime to artists including Gillian Welch and Wilco. Bob Dylan's recordings with The Band in the late-60s have become a touchstone for Americana artists.
First Americana album chart
1 Love Stuff - Elle King
2 The Ghosts Of Highway 20 - Lucinda Williams
3 Gamble For A Rose - King Charles
4 Stay Gold - First Aid Kit
5 Carrie & Lowell - Sufjan Stevens
6 Nathaniel Rateliff & the Night Sweats - Nathaniel Rateliff & the Night Sweats
7 Islands - Bear's Den
8 1989 - Ryan Adams
9 I Love You, Honeybear - Father John Misty
10 Pond Scum - Bonnie "Prince" Billy
Official Charts Company 2016
Top-selling Americana albums of 2015
1 Stay Gold - First Aid Kit
2 Tracker - Mark Knopfler
3 Shadows In The Night - Bob Dylan
4 Sonic Soul Surfer - Seasick Steve
5 Sound & Color - Alabama Shakes
6 Lost In The Dream - War On Drugs
7 Carrie & Lowell - Sufjan Stevens
8 Before This World - James Taylor
9 Islands - Bear's Den
10 I Love You, Honeybear - Father John Misty
Join our new commenting forum
Join thought-provoking conversations, follow other Independent readers and see their replies