Music industry won't find stars of tomorrow without radical action to stop venue closures, says report
Jeff Horton, who has run the 100 Club for three decades, said the live music scene in London had been 'decimated'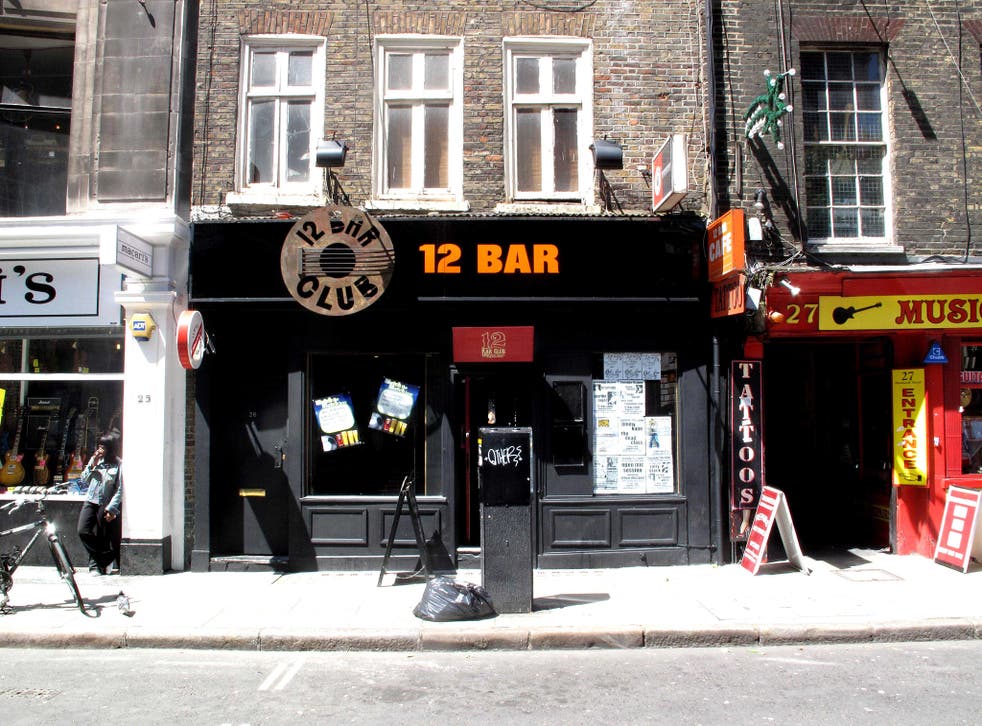 The music industry will be unable to find the stars of tomorrow unless radical action is taken to halt the closure of live venues, a new report warns.
Nearly 50 grassroots venues have shut down in London in the last eight years – a third of the total – with smaller clubs under threat from rising rents, licensing restrictions, noise complaints and developers.
Among the recent closures highlighted in "Grassroots Music Venues Rescue Plan" published on 19 October is that of 12 Bar Club on London's "Tin Pan Alley", where Adele, The Libertines and Jeff Buckley previously played.
It shut its doors for the final time this year, following much-loved Soho venues including Madame Jojo's and the Marquee Club
The 12 Bar Club was forced out of Denmark Street – dubbed the "birthplace of the British music business" where the Rolling Stones and the Kinks made their first recordings – by redevelopment in January despite protests and petitions supported by musicians including Pete Townshend and Marc Almond.
"People cherish those venues because of their history," said Jeff Horton, director of the 100 Club, another much-loved venue in the capital. "In the bigger picture it's a crucial part of London's economy."
While the owner of the 12 Bar Club has since relocated to Islington, the report reveals that the threats to music venues in the capital are increasing, with total numbers falling from 136 sites to 88 since 2007.
Mr Horton, who has run the 100 Club for three decades, said the live music scene in London had been "decimated" in recent years.
UK news in pictures

Show all 50
"This report is hugely important," he said. "This gives us a chance to change the landscape back to where it was a few years ago."
Enjoy unlimited access to 70 million ad-free songs and podcasts with Amazon Music Sign up now for a 30-day free trial
Sign up
He warned that a failure to support music at the grassroots would have an impact on talent feeding the UK's £3.8bn music industry and would cut off the supply of young musicians to the festival circuit in five years.
Mayor of London Boris Johnson set up a music venues trust taskforce, chaired by Mark Davyd, which produced the report released on 19 October.
Mr Davyd said: "Any night in London you can still see 60 different stages with 180 brand new bands. It's cheap, it's local, it's affordable. We need audiences back in these venues."
He added: "Let's take all of the cost out, let's put support behind them. The music industry needs to come in and let's have the thriving venues in London we so desperately need."
The report makes several recommendations to help support music venues – including reviewing licensing and other restrictions on the venues and calling for a cut in business rates. "The core cost of running a music business is ludicrous," Mr Davyd said.
The authors pointed to support for the application of Agent of Change principle, which puts the burden on developers to plan for potential conflicts between those living in new buildings and the noise from existing live venues.
As recommended in the report, the Mayor's Office will look at appointing a "night economy champion" to bring together venues with other groups including businesses, residents, and emergency services.
The task force also called for a London music development board to be set up to take over its work and push through the recommendations.
Musician Frank Turner, who played at the Olympic opening ceremony in 2012, said without the spaces for new talent to experiment "music in London will die a slow death and the UK will lose a huge part of its culture," he added.
Mr Horton added: "If the proposals are embraced we will have caught it in time. It's not too late, but if things were allowed to continue it would be looking pretty grim."
As for the 12 Bar Club, which had its Denmark Street leaving party in January with an all-day party with dozens of live bands, the task force revealed Consolidated Developments could retain the site as a music venue, as part of a plan with the GLA and Camden Council to make Denmark Street a "music zone".
Join our new commenting forum
Join thought-provoking conversations, follow other Independent readers and see their replies