New vinyl singles chart sends pop back to 70s
Vinyl is enjoying a resurgence ahead of Record Store Day this coming weekend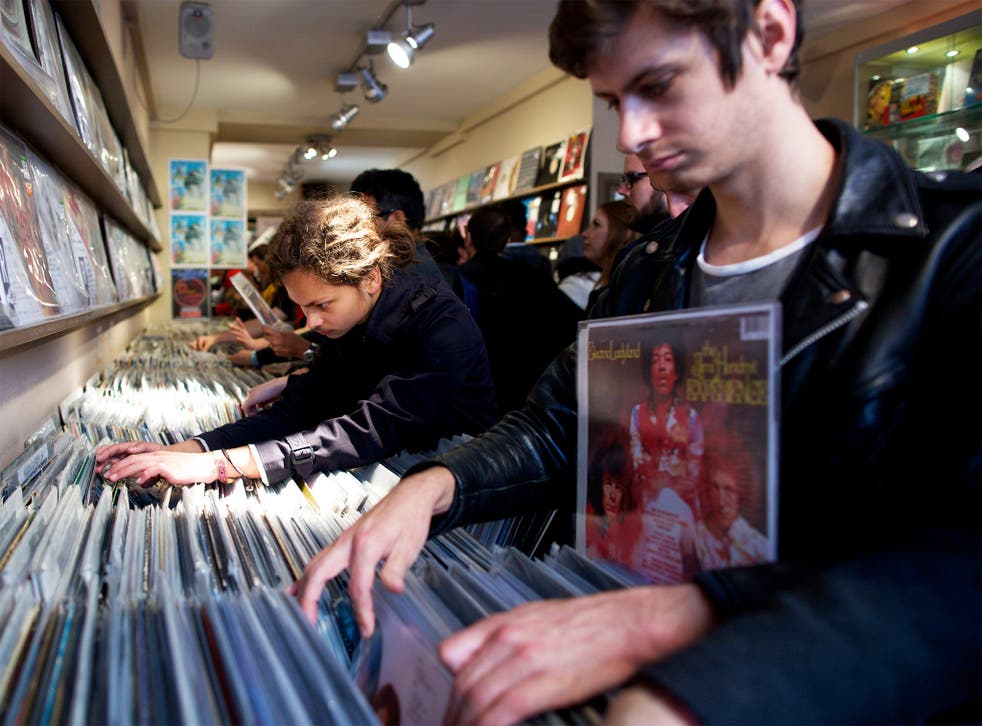 The singles chart is going back to the 70s with the revival of a vinyl-only countdown.
A 23% surge in vinyl singles sales this year has prompted the Official Charts Company to announce a new weekly rundown which removes downloads, CDs, streaming and other contemporary formats to reveal the best-selling 7" and 12" singles sales alone.
The chart illustrates that rock music, banished from today's dance-dominated official Radio 1 chart, remains the overwhelming choice of vinyl fans, just as it was nearly 40 years ago when the singles chart began to incorporate new formats beyond the 7" single.
The best-selling vinyl single of the decade is "Life On Mars" by David Bowie, originally a top 3 hit in 1973, which was re-released as a 7" picture disc to mark its 40th anniversary.
Noel Gallagher enjoys three of 2015's best-selling vinyl singles but the year's top ten includes new bands who have yet to break into the official chart.
Slaves, a two piece punk band from Tunbridge Wells in Kent, feature with their single, "The Hunter". Blossoms, a psychedelic rock band from Stockport, make the top ten with "Cut Me And I'll Bleed".
Scottish post-punk band The Twilight Sad also have a top ten hit in a list whose guitar-heavy content is similar to the weekly Indie Chart of the 80s and 90s.
10 best record players for £100 or less

Show all 10
A vinyl-only albums chart will also be produced, reflecting BPI figures showing that LP album sales, at 1.3m in 2014, are now at their highest level since the heady days of Britpop in 1995.
Led Zeppelin, Arctic Monkeys and Royal Blood are vying to knock Gallagher off the top of the 2015 best-sellers list, boosted by a 69% LP sales increase against the same period in 2014.
Alex Gaskarth, frontman of All Time Low, the US punk-pop band whose new album Future Hearts, is this week's vinyl best-seller, said: "What I love is that there are different worlds of vinyl fans; there's the audiophiles who swear by the sound of vinyl, the people for who like owning it as a collector's piece, and then groups like our fans who buy a vinyl of our record simply so they can hang it on their wall." He added: "Vinyl makes a real event out of music; you go into a record shop and have to search out what's there."
Enjoy unlimited access to 70 million ad-free songs and podcasts with Amazon Music Sign up now for a 30-day free trial
Sign up
The vinyl charts launch coincides with Record Store Day, which takes place on Saturday. More than 200 UK stores will participate in the event which celebrates the culture of independent record shops. Collectors are expected to form overnight queues for exclusive, limited edition vinyl releases by artists including Bruce Springsteen and Foo Fighters.
However smaller record labels say they are struggling to get their releases on to shelves because the remaining vinyl pressing plants are commandeered by major labels to produce releases by big-name artists.
Martin Talbot, Chief Executive of the Official Charts Company, said: "With vinyl album sales up by almost 70% already this year, vinyl junkies could well have snapped up 2 million units by the end of this year – an extraordinary number, if you consider sales were one-tenth of that just six years ago.
"This growth underlines the continuing resurgence of this much-loved format, whether you're a fan of Arctic Monkeys, Noel Gallagher, Led Zeppelin or David Bowie."
Phil Barton of leading vinyl retailer Sister Ray Records in London, said: "The resurgence in vinyl sales has been a great boost for the independent trade. The launch of the Official Vinyl Charts tells the world that a format that is loved and revered is more relevant now than ever - far from being a curiosity, vinyl is the go-to format for many music fans."
The first Vinyl Single No 1 is Underworld/Heller/Farley remix of Frankie Knuckles' "Baby Wants To Ride". It's been put out on the anniversary of the DJ's death.
Karl Hyde of Underworld said: "We're honoured to be Number 1 in the UK's first Official Vinyl Singles Chart. Vinyl has always been a hugely important part of what we do as Underworld. We started out selling 12"s of our records from the back of a car; it's still our format of choice when buying music and it's fantastic that it's undergoing such a resurgence."
Bestselling vinyl albums of 2015 so far
1. Ballad Of The Mighty I - Noel Gallagher's High Flying Birds
2. The Dying Of The Light - Noel Gallagher's High Flying Birds
3. Young Americans - David Bowie
4. Uptown Funk - Mark Ronson Ft Bruno Mars
5. Hope For The Future - Paul Mccartney
6. The Hunter - Slaves
7. Cut Me And I'll Bleed - Blossoms
8. Handsome - Vaccines
9. In The Heat Of The Moment - Noel Gallagher's High Flying Birds
10. I Could Give You All That You Don't Want – The Twilight Sad
Join our new commenting forum
Join thought-provoking conversations, follow other Independent readers and see their replies